For many women, not just those in consensual D/S relationships, the act of intercourse can be more psychologically stimulating than physically stimulating.
For men, penetration can be the 'end goal' if you like, but women are much more aroused by psychological stimulus.
Dry humping, sometimes referred to rather cliche like, as outercourse therefore shouldn't be seen as a province for teenagers, or as second rate activity. It deserves a place all of its own.
For some, dry humping can be a truly powerful experience, and proper stimulating can lead to amazing sexual activity.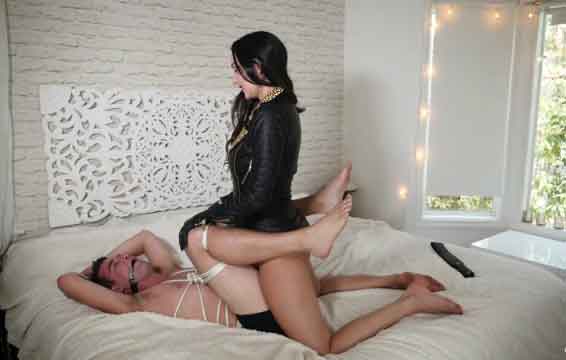 While the penis can be stimulated by dry humping, the clitoris is primarily much easier to stimulate this way for many women.
What is Dry Humping
So, first off, what exactly is dry humping.
Dry humping refers to the sexual activity where direct contact between genitals doesn't happen. The 'dry' reference means that no fluids are exchanged.
Largely the genitals are stimulated by rubbing or touching through the clothing.
Women can 'dry hump' by rubbing their vagina against a partner's leg, knee, thigh, genitals or any body part they feel like.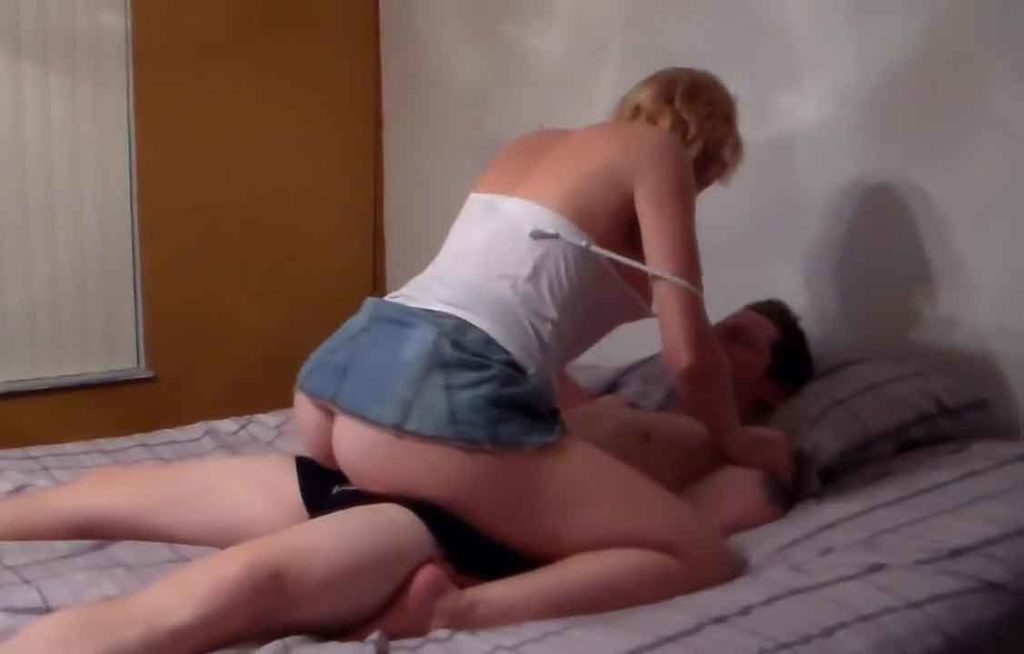 Can You Orgasm With Dry Humping
While you may think dry humping is for awkward relationships, or experimenting young adults, there is evidence that dry humping is making a bit of a comeback.
With no penetration or exchange of fluids it can actually be quite erotically charged.
Many people try it, even if it isn't talked about much.
So why shouldn't a mistress or a domme in a relationship use it. It has some powerful psychology behind it, if used correctly.
The fact is, as a mistress or domme, you can make dry humping very clitoris focused, and as such definitely orgasm while trying it.
While normal sexual activity involves both male and female genital stimulation, dry humping can be controlled by the female, and not involve stimulating the male at all. Therefore, he can 'perform' for longer.
Is Dry Humping Safe?
Well, as there is no fluid transmission, then things like STDs and pregnancy are no longer possible.
Direct genital contact, can still transmit HPV, HSV, trichomoniasis, syphilis, and HIV.
There is a small risk of transmission if fluids are allowed to seep through clothing, but being careful you can avoid this if you need to.
Either way, it's probably better to know your partner's sexual health if you don't know it.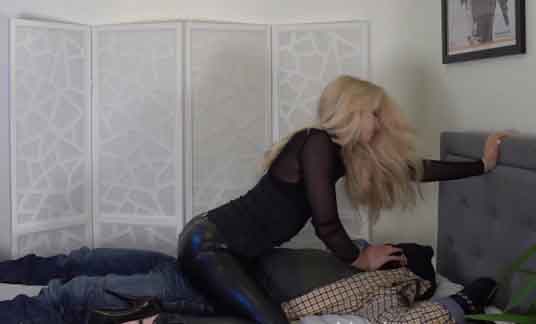 Clothing And Dry Humping
Since there is clothing between the stimulant and the clitoris then wearing something thin and silky will make it a lot easier to orgasm than if you wear something thick, and less flexible like denim or rubber.
To get the most out of dry humping as a mistress you need to put pressure on the clitoris, so in general, the thinner the clothing the better.
It's a question of making sure you know what is right for you. It will probably be something made of silk or cotton.
It's all about preference so try a few things.
The stiffer the clothing barrier the more friction there will be, which generates heat. This can be good but you need to know what stimulates you the best.
Ultimately just be careful your sub is not wearing anything that may catch and cause you pain, like a zipper. Where you decide to create the stimulation will have an impact.
Your Submissive As A Sexual Plaything
One of the good things about dry humping is that it allows you as a mistress to take a bit more charge over your own pleasure.
You can control the frequency, pressure and rhythm for your own orgasm.
So dry humping could be considered to have the best elements of masturbation and the intimacy of sex with a partner.
And that is completely true for an equal partner. However, as a mistress you can add an element to dry humping that eludes maybe a normal dry humping partnership.
It allows you to turn your submissive male into a sexual toy for your pleasure.
A vanilla couple might simultaneously stimulate the genital areas so that they are both equally satisfied, but you can orient the situation so that you get maximum pleasure, while your submissive can watch you.
There's a great power dynamic to be had using your submissive as the toy or instrument of your own pleasure.
Ironically, your male submissive will very much like this. You'd think that he would require his own release, which is true. But being used in this way will be what he expects from his mistress.
Trust me, I know.
I love it when my mistress orders me into a position, like lying on the bed or sitting on a chair, before she saunters over. Watching her in sexy gear, grind and rhythmically stimulate herself to orgasm is a special treat I always enjoy.
Using me as a sexual toy is a huge turn on. I love watching her take control of her own orgasm, and just using me as the instrument of her pleasure.
I love it just as much when she dismisses me as I am no longer needed. My mistress has come, and used me to do it.
Essentially it's a very dominant thing to do, and as such within a consensual domme / sub relationship it will make your sub love your dry humping sessions.
Some Ideas For Dry Humping
So dry humping is safe, and as a mistress it can be a tremendous tease for your sub. Within the confines of a healthy relationship it will reinforce your domme position.
So while you can dry hump consensually, it is a good idea to use the natural mistress power dynamic and use your sub as a sexual plaything. Like a 'living doll' if you will.
Especially as he will love watching you orgasm, knowing he is just an 'instrument' to your orgasm, and not directly influencing it.
The idea that you would use him to orgasm in an unequal way is a turn on.
So with that, here are a few ideas on what you might want to try.
Tip: Vocals can make a real difference here for the enjoyment of the sub. If the mistress is riding and grinding using the right language this will enhance the sense of submissiveness. Mistress should order the sub into position and just tell him he will be used to make her come.
With the correct language you can set the tone for the dry humping you want to perform.
Saying 'would you get on the bed and lightly part your legs' is very different from 'get your fucking useless carcass on that bed, lie down, face up and part your legs. I don't want to hear another peep from you until I have cum. Got that?'
Setting the tone correctly will enhance both your enjoyments from it, if that's what you desire.
If he likes being thought of as useless then talk to him as such with comments about how this is the only way you get enjoyment out of him.
In general he likes the thought of you dominating him like this so as you dry hump him and feel your orgasm building then saying things like
Your mistress is coming, you want me to come don't you
Will certainly enhance his experience
* * * * * * *
Leg grind: Order the slave onto his back, preferably on a bed and to separate his legs. You can then straddle one of his legs and ride his leg, using his thigh muscle to stimulate the clitoris.
The chore slut: When your slave is doing a chore, particularly if he is naked, or dressed up as a humiliation, such as in a french maid outfit, get him to stop what he is doing. Perhaps pinch or slap his ass beforehand. Bend him over a countertop or a table and splay his legs, by tapping them apart with your feet. Stand behind him in a dominant fucking position and slam into him a few times as if your were taking him doggy style. Mention that you are getting your pussy wet, and then find a position and grind until you orgasm.
Couch dry humping: Sit on the couch and spread your legs at the edge. Get you sub to kneel between your legs and grind away. For added fun you can get him to wear a penis extender under his underwear to grind against.
Snake: Get him to lie down on the bed face down, and lie on top of him, and grind against his ass or thighs. This is a great position to whisper in his ear, so you can maybe tell him that you want to strapon fuck him soon. The position is a good precursor to that. Grab his hair for additional effect while you are grinding on him.
Queening: Get him to lie on his back with his hands by his sides. Position him so you can brace against a headboard if you'd like. Essentially you can then straddle him and use his face to stimulate your clitoris.
The Spoon: On a bed get him to lie on his side. Spoon up to him and get him to place a hand behind his back so he can rub against your genitals.
The Chair: Get a sturdy chair and sit him in it. Feel free to bind his legs and arms so he is sexually helpless. You can then straddle him and grind rhythmically against whatever part of him you desire. Again, for fun you can get him to wear a sheath or penis extender and rub up against that.
Hip rider: Get him to lie on his back. Feel free to handcuff him behind his back if you like. You can then mount his pelvic area and bring yourself to orgasm. An advantage of this one is that you can speak really clearly into his ear. It allows you to tease him really easily.
Get A Convincing Open Letter To Send To A Prospective Dominant
The easy way to get your partner to think about trying a Female Dominated Relationship
Trying to talk to your partner about the benefits of a female led relationship can be hard. Use this open letter to help or to prompt constructive dialogue.