Welcome to an exhilarating exploration of the captivating world of pegging, where desire and power merge in an exquisite dance of domination and submission.
Quite the intro to the article that, hunh?
While pegging offers a diverse range of experiences, from sensual play to intimate lovemaking, there exists a realm that beckons to those seeking something more—a realm of complete surrender.
In this article, we invite you to delve into the intriguing realm of total surrender, where male submissives find profound arousal and fulfillment in relinquishing all control to the whims and desires of their dominant female partners.
It's quite a ride because to an onlooker, any scene could look dangerously unequal, but therin lies the attraction. The submissive revels in helplessness as he is unashamedly taken advantage of.
So get ready to embark on a journey that pushes the boundaries of pleasure as we unravel the allure and intense sensations of submissive objectification within the realm of pegging.
It is an exploration of power dynamics, emotional connection, and the transformative journey of transitioning from a submissive to an object of desire.
Discover how the path of complete surrender can ignite profound passion, unlock new realms of pleasure, and forge an extraordinary bond between dominant and submissive partners.
For those seeking total submission through sexual exploration, this option may be for you.
As we navigate the depths of submissive objectification, we invite you to cast aside inhibitions and embark on a journey of self-discovery and sensual exploration.
What is Total Surrender Pegging
So, what are we talking about here?
In the realm of pegging, total surrender is an extraordinary experience that delves into the depths of power dynamics and intense submission.
It involves the complete abandonment of control by the submissive and the emergence of the dominant mistress as the ultimate authority.
While some women like to be 'taken' by a man and all that entails, a total surrender pegging is the male equivalent.
Within the agreed-upon boundaries, the submissive willingly embraces the role of an object, existing solely to fulfill the desires and pleasures of the dominant partner.
Total surrender in pegging goes beyond the realm of equality or care commonly found in other dynamics.
It is a space where the dominant partner becomes consumed by a potent mix of power and lust, reveling in the exhilarating control they hold over the submissive.
Here, the submissive male is fully objectified, reduced to a vessel solely for the dominant's gratification and fantasies.
Take a look at any pegging video where the mistress seems to revel and delight in her actions and you will see what I mean.
There's a certain yin and yang going on. The dominant has extreme authority, and the submissive is a mere sexual object, purely there for the gratification of the mistress, at least in the scene.
The psychological effect of being pegged by a mistress who is objectifying you is a unique dynamic, the mistress holds absolute authority.
There is no pretense of equal footing or mutual exchange; instead, the focus is on the complete objectification of the submissive.
Every touch, command, and action is carefully designed to reinforce the dominant's position of power and the submissive's role of subservience.
The language is harsh and centered around pure lust, making the submissive a mre object for the pleasure of the mistress.
Engaging in total surrender with pegging requires a deep level of trust, open communication, and clear consent between both partners.
It is an exploration that pushes the boundaries of pleasure and power, allowing individuals who are drawn to the allure of submissive objectification to discover profound levels of ecstasy and fulfillment.
Often, the submissive might be bound, or at least has his moility restricted.
Men are naturally stronger and normally being bound or restrained can add authenticity to the power play.
Some men will prefer just to comply on demand to an extremely authoritative sexually aggressive female, but others might prefer the tease and humiliate element.
Everyone makes different choices.
Total surrender in pegging is a thrilling and intense journey, unlocking new dimensions of pleasure and pushing the limits of power dynamics.
It is an experience that demands a profound understanding between partners and a shared willingness to explore the depths of dominance and submission.
The Intensity of Pleasure: Unveiling the Ecstasy of Being an Object in Pegging Dynamics
When it comes to pegging, the experience of being an object brings forth a captivating intensity of pleasure that taps into the deepest realms of submission.
It goes beyond just the physical stimulation, reaching a profound level of connection where the dominant mistress exerts complete control, allowing the submissive to surrender and revel in unparalleled ecstasy.
At the core of this intense pleasure can lie the exquisite sensation of prostate stimulation.
The prostate, a small yet highly sensitive gland, becomes the epicenter of pleasure during pegging.
As it is skillfully massaged and stimulated, waves of bliss radiate throughout the submissive's body, intertwining with the psychological surrender that being an object entails.
With the dominant mistress firmly in control, the submissive can fully relax into a state of surrender like never before.
Knowing that every movement, touch, and thrust is orchestrated by the mistress, the submissive finds solace in relinquishing control.
This surrender nurtures a profound sense of vulnerability and trust, creating the perfect environment for the intense pleasure of being an object to flourish.
In this dynamic, the dominant mistress becomes the guiding force behind the entire experience.
She dictates the rhythm, depth, and intensity of the pegging encounter, ensuring that every action serves to fulfill her desires and the submissive's surrender.
This level of control allows the submissive to embrace their role as an object completely, shedding any responsibility or decision-making and immersing themselves in the blissful sensations that unfold.
As the pleasure intensifies, a captivating submissive aura envelops the experience.
The submissive becomes consumed by the dominant's control, fully immersed in their desires and whims.
This surrender and submission create a unique synergy, where the pleasure of the submissive becomes intricately entwined with the power of the dominant, culminating in a profound exploration of pleasure and submission.
Through complete surrender and trust, the submissive can embark on a journey that unravels the exhilarating ecstasy of becoming an object, discovering the extraordinary depths of pleasure that lie within the realm of pegging dynamics.
How To Start with Total Surrender Pegging
Are you ready to dive into the realm of total surrender pegging?
If it all sounds very interesting, you might be wondering what steps are involved.
This transformative experience holds immense potential for intense pleasure and profound power dynamics.
In this section, we will walk you through the essential steps to embark on this journey with your partner.
From building trust and open communication to creating the perfect atmosphere and engaging in meaningful rituals, these steps will be your roadmap to embracing the full surrender and exploring the depths of pleasure that await you.
Get ready to unlock a world of exhilarating sensations and intimate connection as you venture into the realm of total surrender pegging.
Step 1: Establish Trust, Communication, and Safewords
Before embarking on the journey of total surrender pegging, it's crucial to establish a strong foundation of trust, open communication, and safewords.
Safewords are essential tools that allow the submissive to express their limits or discomfort during the experience.
Discuss and agree upon safewords that can be used to pause or stop the activity if needed.
Step 2: Explore Fantasies and Desires
Take the time to explore each other's fantasies and desires surrounding total surrender pegging.
Engage in candid conversations about specific scenarios, power dynamics, and role-playing elements that ignite excitement and anticipation.
Sharing these intimate thoughts will help you align your desires and deepen the connection between you and your partner.
Step 3: Define Roles and Boundaries
Clearly define the roles of the dominant and submissive within the context of total surrender pegging.
Discuss and establish boundaries, both physical and emotional, to ensure a safe and consensual experience for both partners.
Knowing and respecting each other's limits will create an environment of trust and allow for the exploration of intense pleasure.
Step 4: Prepare for the Experience
Prepare both physically and emotionally for the total surrender pegging experience.
Gradually introduce anal play and utilize appropriate toys or training tools to ensure that the submissive is physically ready.
Additionally, engage in open and honest conversations about any concerns or fears, providing reassurance and support to each other throughout the preparation process.
Step 5: Create the Right Atmosphere
Set the stage for an immersive and fulfilling total surrender pegging experience by creating a welcoming and comfortable atmosphere.
Consider elements such as lighting, ambiance, and even sensory enhancements like music or scents that can heighten the overall experience.
Designing a space that nurtures intimacy and erotic exploration will enhance the pleasure for both partners.
Step 6: Engage in Rituals and Preparations
Incorporate rituals and preparations that intensify the sense of surrender and power dynamics within your dynamic.
These rituals can include special attire, pre-scene rituals, or established protocols that emphasize the submissive's objectification and reinforce the power dynamic between you and your partner.
Step 7: Initiate the Total Surrender Experience
Embrace the established roles and power dynamics as you initiate the total surrender pegging experience.
Allow the dominant partner to assume complete control, guiding and directing the entire encounter.
The submissive partner fully surrenders to their desires, embracing their submissive role with complete abandonment.
Step 8: Communicate and Adjust
Maintain open lines of communication throughout the experience.
Regularly check in with each other, using both verbal and non-verbal cues to ensure comfort and enjoyment.
Be responsive to each other's needs and be willing to adjust or modify actions as necessary, always prioritizing the well-being and pleasure of both partners.
Step 9: Aftercare and Debriefing
After the total surrender pegging experience, engage in aftercare, which involves providing emotional support, reassurance, and physical comfort to both partners.
Take the time to debrief, discussing the highlights, challenges, and emotions that emerged during the encounter.
This process allows for emotional connection, reaffirms boundaries, and nurtures the overall well-being of both partners.
Step 10: Reflect and Evolve
Reflect on the total surrender pegging experience together and identify areas for growth and improvement. L
earn from each encounter, deepening your connection, exploring new avenues of pleasure, and evolving within the dynamic of total surrender.
Allow yourselves to adapt and grow, embracing the journey of exploration and self-discovery.
Remember, these steps are meant to serve as a general guide, and it's essential to tailor them to your own requirements.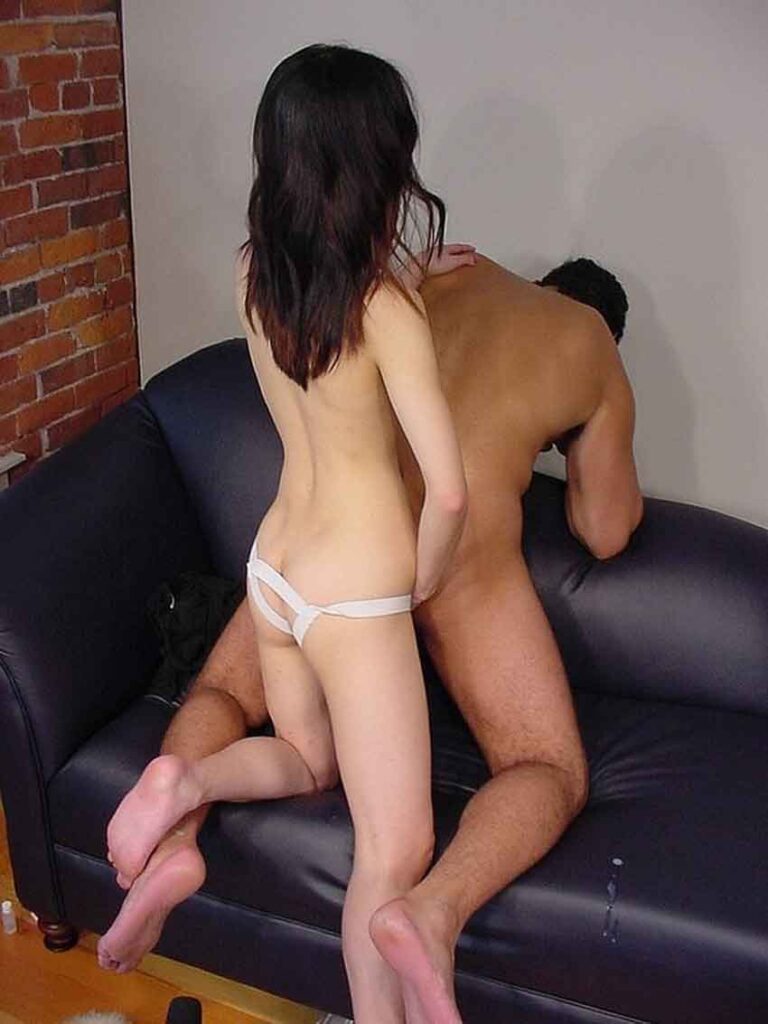 Exploring Fantasy and Role-Play: Enhancing the Experience of Submissive Objectification in Pegging
When it comes to total surrender pegging, not every couple wants to make it a permanent part of their dynamic.
However, for those who seek to dive into the realm of complete submission, fantasy, and role-play can be a thrilling avenue to explore.
By embracing different scenarios and roles, the experience of submissive objectification can be taken to new heights.
In the realm of fantasy play, the female dominant can embody roles that naturally exude authority and control, such as a confident police officer, a seductive nurse, or a strict headmistress.
These roles provide a fertile ground for power dynamics to come alive, as the submissive willingly surrenders to their mistress's dominance and obeys her every command.
By incorporating fantasy and role-play into your pegging encounters, you add an extra layer of excitement and depth to the experience.
The psychological and emotional aspects of these scenarios can intensify the pleasure of submissive objectification, creating a space where both partners can explore their desires and enjoy the thrill of surrender.
To make the most of your fantasy and role-play sessions, open communication and consent are essential.
By sharing your fantasies and understanding each other's limits, you can create a safe and enjoyable space to embrace these imaginative encounters.
Remember, the goal is to deepen the connection and pleasure between the dominant and submissive partners.
Through the magic of fantasy and role-play, you can unlock new levels of excitement, intimacy, and satisfaction in your total surrender pegging adventures.
So, let your imagination run wild and explore the power dynamics that await you.
Some Safety Tips for Total Surrender Pegging
When engaging in the exhilarating world of total surrender pegging, it's crucial to prioritize safety to ensure a positive and enjoyable experience for both partners. Here are some important safety tips to keep in mind:
Lube is your best friend: Make sure to use ample amounts of high-quality water-based lubricant. This will enhance comfort, reduce friction, and minimize any potential discomfort or risk of injury during penetration.
Consent and open communication: Always maintain open and honest communication with your partner throughout the entire experience. Obtaining enthusiastic consent from both the dominant and submissive is essential. Regularly check in with each other and ensure that everyone is on the same page before proceeding with any activities.
Establish clear boundaries: Take the time to discuss and establish clear boundaries before delving into total surrender pegging. It's important to know what is off-limits or uncomfortable for each partner and to respect those boundaries at all times. Remember to revisit and reassess boundaries as you continue exploring.
Safewords for safety: Establish a safeword or a non-verbal signal that the submissive can use to communicate their comfort level during the pegging session. This provides a reliable means to pause or stop the activity if necessary, ensuring the emotional well-being and safety of both partners.
Create a safe environment: Prioritize creating a safe and comfortable physical environment for your pegging experience. Remove any potential hazards, ensure proper lighting, and consider using a supportive surface for the submissive's comfort. It's also helpful to have any required supplies easily accessible.
Prioritize aftercare: Aftercare is essential, especially when engaging in intense power dynamics. Set aside time for emotional and physical aftercare following the pegging session. This can include cuddling, gentle conversation, reassurance, or any activities that promote emotional connection and well-being.
Remember, safety should always be the top priority when exploring total surrender pegging.
By emphasizing communication, consent, and maintaining a safe environment, you can fully embrace the intense pleasure and vulnerability that this dynamic offers while ensuring the well-being and satisfaction of both partners.
Conclusion
In the realm of total surrender pegging, where power dynamics, trust, and intense pleasure intersect, an intriguing experience awaits both dominant and submissive partners.
Throughout this article, we've delved into the depths of this unique form of pegging, exploring the concept of complete objectification, the exhilarating intensity of pleasure it can offer, and various ways to enrich and embrace the experience.
It's important to recognize that total surrender pegging isn't a one-size-fits-all practice.
Every couple has their own preferences, boundaries, and desires when it comes to exploring their sexual dynamics.
Whether you find fulfillment in sensual play, engaging in role-play scenarios, or fully surrendering yourself, the key lies in engaging in activities that genuinely resonate with both partners, fostering a profound sense of connection and fulfillment.
As with any sexual exploration, open and honest communication, enthusiastic consent, and prioritizing safety are crucial.
Engage in meaningful conversations about boundaries, desires, and expectations, allowing for an ongoing dialogue of understanding and respect. Utilize safewords as a means of clear communication, create a safe and comfortable environment, and remember to prioritize the well-being and aftercare of both partners.
Total surrender pegging offers a unique opportunity to delve into power dynamics, experience intense pleasure, and embrace vulnerability.
It can be a thrilling and transformative journey when approached with mutual respect, trust, and a willingness to explore new realms of pleasure and intimacy.
As you embark on this path, honor what resonates with you and your partner, always placing a premium on each other's well-being and satisfaction.
May your exploration of total surrender pegging deepen your connection, amplify pleasure, and open up new horizons of intimacy within your relationship.
Embrace this experience with enthusiasm, genuine care, and a shared commitment to explore the boundaries of pleasure and surrender.
Get A Convincing Open Letter To Send To A Prospective Dominant
The easy way to get your partner to think about trying a Female Dominated Relationship
Trying to talk to your partner about the benefits of a female led relationship can be hard. Use this open letter to help or to prompt constructive dialogue.