A new mistress will find herself in many situation that might need to have some thought over.
In a female dominant relationship the mistress will ultimately know quite well her partner.
If the male submissive in 'brat' like in his behaviour then knowing how to combat the challenge to their power is almost esential in the armory of the mistress.
Make no mistake about it, any submissive who engages in behaviour that directly challenges the authority of the mistress needs to be dealth with.
That's what 'brat' behaviour is.
It's the wilful attempt to challenge the dominant with 'what are you going to do about it' attitude.
That needs to be stopped in its tracks.
Luckily there are ways.
But first, a small detour into a definition
The Difference Between A Brat And Topping From The bottom
There can often be a fine line between these two, and one can easily lead into the other.
This would be true for most new to the femdom role in a female led relationship – from both sides.
A male submissive might easily do both, accidentally quite possibly as they explore the new dynamic.
It's important that the mistress dominant understands though.
A male submissve male newly aqainted with the female dominantion might have a ;bratty' personality and not really know what they are doing.
It's quite possible for a male submissive to 'top from the bottom' without it being their intention.
So 'bratting' and 'topping from the bottom' are two seperate things.
Topping from the bottom is simply leading the dominant from the submissive role.
It's a calculated play often by expereinced submissives who are really trying to lead the dominant.
Bratting, as in 'brat princess' is an attitude of sassiness, mouthy, or otherwise disobediently playful for the purpose of getting attention of testing authority.
If the submissive brat succeeds it can quickly turn into 'topping from the bottom'.
Although being a 'brat' can be a playful thing, the dominant must jknow how to end it when they don't want it to continue or suspect topping from the bottom will commence.
Which leads nicely onto the steps to combatting bratty behaviour.
1. Remove Their Control
To a brat the playful disobedience is their control. While they are being a brat they feel they can dictate a situation.
It's their form of taking control, being challenging, trying to call the shots themselves and otherwise attempt to dominate.
It's a feedback loop whereby the control gives them the confidence if not challenged.
Removing their control eliminates their power.
A male dominant can physically often use strength to stop and palyfully use his strength back.
Remembering of course that the submissive will have a safeword if they are truly abhored by any dominant move.
A female can often have the same effect though by either issuing a sharp barking command intended to shock like 'stop what you're doing right now and strip naked'.
Alternatively a femdom mistress can twist the ear of the male submissive and move them to another room
Any bratty comeback can be met with a stern 'unless I hear your safe word you are going to do exactly as you are told.
A mistress can then put a collar on them and leash them to an object, thus completely eliminating their 'high and mighty stance.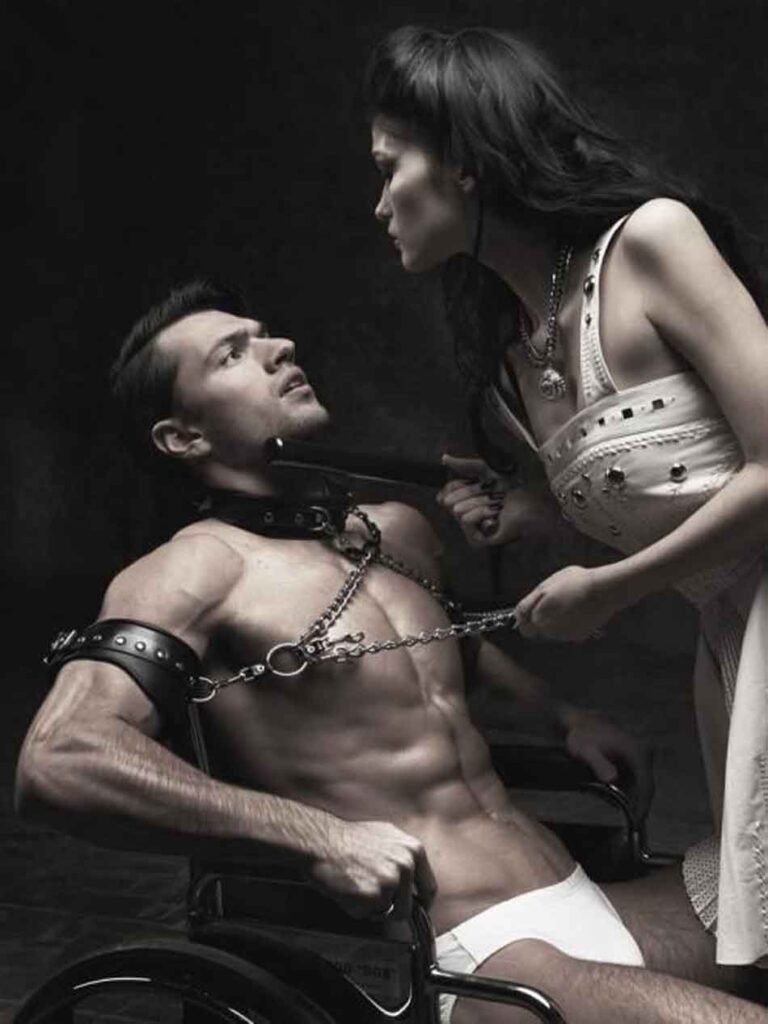 2. Reduce Their Ego
Reducing a submissives ego is not reducing their value or sense of self worth.
It's essentially the concept of getting the submissive back in to the submissive mentality and emotionally.
It's about making them more receptive to the dominants wishes.
The term is the 'inferior postion' but it refers to the power exchange dynamic not anyone's truth sense of value.
A submissive signed up for this power exchange so they will want the dominant to draw a line under their behaviour and enforce it.
Brat behaviour is an attempt to act like an 'alpha' male and the female dominant needs to assert the alpha status.
A good way to reduce the ego of a male is to make him strip naked while the dominant remains clothed. The situation is called 'Clothed Female Naked Male' or CFNM for short.
Adding a little humiliation also works.
Maybe the mistress institutes some feminization of the submissive to make them slightly humiliated and makes them do a few chores.
Whatever works in taking their ago down a peg or two can help deal with brat behaviour.
3. Reinforce The Dynamic
Depending upon the level of bratty behaviour, a mistress will often need to 'up their game' slightly to deal with it.
Brats are normally looking for attention using aggression and are trying to provoke a response.
Some brats are even deliberately testing your backbone as a femdom.
Whatever their reasoning is, it doesn't matter.
The fact is that a femdom will need to reinforce the dynamic.
A femdom might need to be calm but match the intensity and aggression so the submissive knows their place.
The key would be not play entirely into their hands.
A femdom can match their intensity but respond in a way the submissive may actually not expect or want.
The 'brat' submissive may be pushing the dominants buttons, and perhaps even making sexual overtones.
The femdom to respond to the brat behaviour may decide to strip the male naked and make him have sex with a blow up doll for example.
The submissive got the buttons he was pushing but not in the direction he was aiming for,
Get A Convincing Open Letter To Send To A Prospective Dominant
The easy way to get your partner to think about trying a Female Dominated Relationship
Trying to talk to your partner about the benefits of a female led relationship can be hard. Use this open letter to help or to prompt constructive dialogue.