When talking in the BDSM community so much of it focuses on power exchanges, and punishments that are feted out if a dom or domme is displeased.
However, this is not the only reason to like a power exchange dynamic within a relationship.
Many people would like a form of femdom, without the extremities normally associated with it. They want to practice a a gentler kind of femdom, if you will.
What Is Gentle Femdom
Dissecting the phrase, gentle is obvious and femdom is just a contraction for female domination.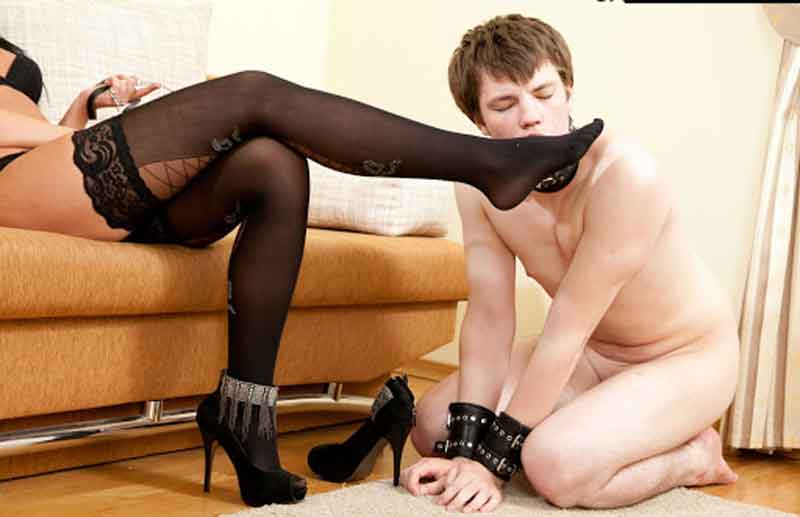 So, in essence gentle femdom is female empowered domination of a male that will typically not include the pain or humiliation aspect of punishments. It appeals to kinky submissives rather than lifestyle choices.
Often abbreviated to GFD, it can also be known as caring domination.
Practitioners of the art, think of this as a more affectionate domination that relies on more positive reinforcement to get the sub to comply. If punishments are to be administered, they are light and easily accomplished.
Think, mowing the lawn or washing up naked rather than whips, torture and canes that leave red marks.
For many, this is a much better practice. As an advantage it can be practised anywhere. The domme sets tasks that are not humiliating, and thus don't look out of place in public.
So the female is in charge with gentle femdom, but uses natural authority, the submissive's desire to please, along with positive reinforcement for tasks completed. She does not cane, or otherwise hurt her sub, but can seek to express her sexual preferences more dominantly. The domme can get her sub to excite her, by dressing or teasing the sub. Light acts of kink are generally accepted within her authority.
Gentle femdom can be kink based, lifestyle based or within the confines of roleplay. However, a sub may well perform tasks outside confined times if the reward is right.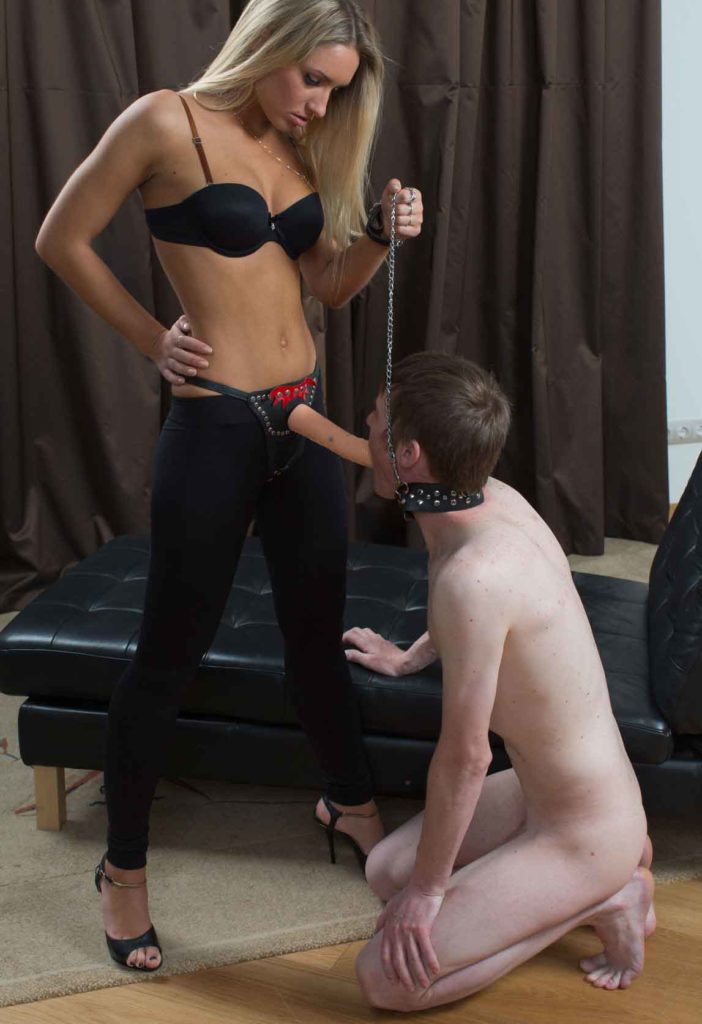 There is very much an erotic component to gentle femdom that many find highly attractive.
The key to gentle femdom is to set limits, know each others likes and dislikes and be aware of where the authority truly lies.
Task and Kinky Ideas
Below is a list of ideas, sometimes with both the task and the positive reinforcement aspect. Other times it can be considered the dommes right to ask.
You will know his limits, and how far he can be pushed.
This is by no means an exhaustive list, the world is just too creative. Neither are the tasks and rewards locked to each other.
Feel free to mix it up. Take the task from one option and apply the reward from another. Or indeed, come up with your own interpretation.
GFD 1 – Slowly get him comfortable in womens clothes. Maybe start with him wearing high heels as you watch a movie. If you can get away with it tell him it's your goal because you want a lesbian lover. Next add some frilly panties for the next movie. Then a garter belt and stockings, maybe even under the trousers. Keep going until you can have him in a sexy dress or costume. You can motivate him with 'you can only give me oral if you are wearing this' if that's what works. So much can be done if you can get him out of his comfort zone slightly.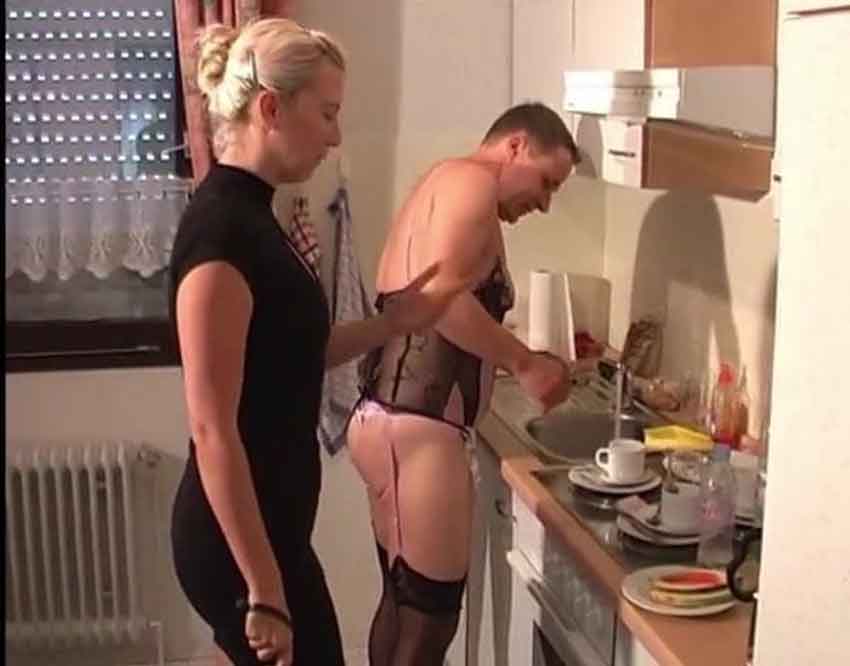 GFD 2 – Get him to ask permission every time he uses the toilet. He's such a mucky pup that he needs your help. Hold his penis for him as he urinates, and don't forget to do the shake when he has finished.
GFD 3 – Pick his grooming scents. Out shopping test a load and make him buy your favorites.
GFD 4 – Pick their clothes for the day. Everything.
GFD 5 – Get him to manicure your nails. And apply nail polish. These are the hands that tickle little ball sacs and stroke shafts. Show him that after he has finished.
GFD 6 – Get him to give you a shoulder rub for twenty minutes. Finally get him to fondle your breasts and give them a massage for a few minutes.
GFD 7 – Get him to prepare a bath for you. Make sure the water temperature is right, candles, good mood music and scented petals floating. Make him bring you some wine while you relax. Call for refills when you need. When you get out get him to dry you down. Tell him you're so relaxed you feel like receiving oral sex.
GFD 8 – Get a strap on your face dildo, and make him wear it. Enjoy pleasuring yourself.
GFD 9 – Make him prepare and lay out your clothes for the next day the night before. Get him to hold and help you into each item of clothing. Tell him to lick your clitoris a few times to bring you luck.
GFD 10 – Get him to wear a garter belt and stockings to bed. Snap the elastic occasionally and tease him mercilessly.
GFD 11 – Use a little motivational weight loss. Weigh him naked every week, and tell him to lose 1lb. Reward him with a further loss of weight by masturbating him.
GFD 12 – Have a pampering evening when you like. Draw up a menu of what you like and at what time. Get him to dress as a butler and make it happen for you. Reward his obedience by letting him give you oral.
GFD 13 – Make him clean your vibrator. A thorough wash, and a new set of batteries. When he's finished, test it out on his shaft. Then get him to clean it again.
GFD 14 – Tell him you want to train him as a private investigator so your friends can use him to check on their husbands. Get him reading surveillance books and give him random people to follow. If he does a successful follow, you might just reward him by letting him give you oral sex again.
GFD 15 – Get him to practice BDSM knots and show you. Tie him naked to a chair and tease him how you like from there.
GFD 16 – Make him an appointed barber for your pussy. On a regular schedule, get him to trim, shape, wash and generally clean the required area. Reward him by letting him perform again.
GFD 17 – Let him get some weights, or weight training gear. You want to see a bit more of a beefcake. Let him do some bicep curls, or press ups. Tease him about which nipple you will let him suck when he has finished.
GFD 18 – Get him to to read erotic literature to you for 20 minutes or so as you fall asleep.
GFD 19 – Start a daily exercise routine by getting him to do press ups at your feet. On every press up get him to kiss your foot. After he has kissed your 'stockinged' foot, get him to chant 'I adore my mistress', 'My mistress is to be obeyed', or 'I live under your command and desires'. Chant the line on every press up. If you feel like it, with your other foot push him down to your feet and resist the up stroke to provide resistance.
GFD 20 – Dry hump him whenever you feel like it. So many options here. You could get him to get naked, or into sexy clothes and ask him to touch his toes. Or when he is washing up, or polishing a table, walk up behind him, pull his hips back and tap his ankles apart until his ass is level with your groin. Exercise your right to be an alpha female status and dry hump him. Mention that you should shag your sluts more often.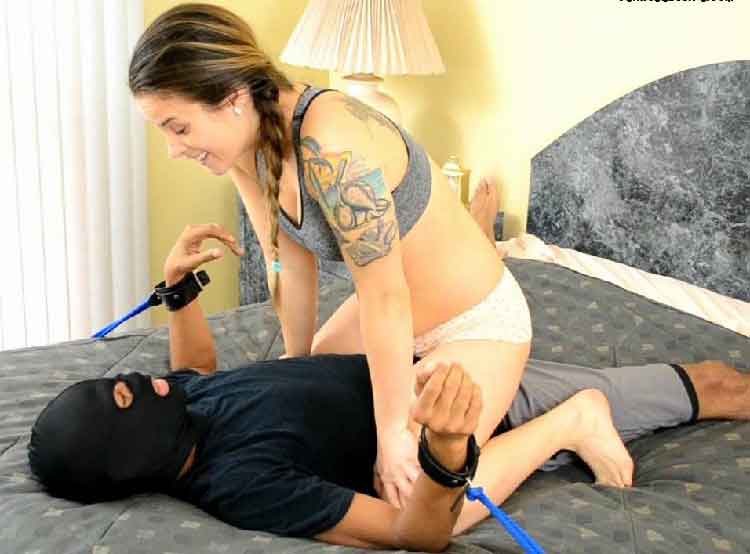 GFD 21 – Put a pillow on the floor and make him hump it. Pull his pants down and tell him to get going. Watch him, or help him get stiff at least. Tell him to stop as he looks to be about to cum.
GFD 22 – Stop him from standing up to pee. Tell him to sit down like a girl if he wants to urinate.
GFD 23 – Make him crawl everywhere, rather than allowing him to stand.
GFD 24 – Introduce him to being collared. Every time he wants to visit the toilet, put a collar on him and lead him to it. You can make him sleep with it on occasionally. Eventually you can use it for restraint, or leading him around where you want to.
GFD 25 – Get a little bell that you can ring when you require attention or need a task to be completed. Get him to arrive, saying 'yes Mistress, what do you desire?'.
GFD 26 – Out in public, have a secret signal that allows him to ask for permission to speak to someone. Have one in return that he needs to receive before he can talk to them.
GFD 27 – Get him to step into the bath when empty. Remove all his clothes and inspect his penis. Get some clippers and remove all his pubic hair. Tell him the silky panties he will be wearing will feel better now.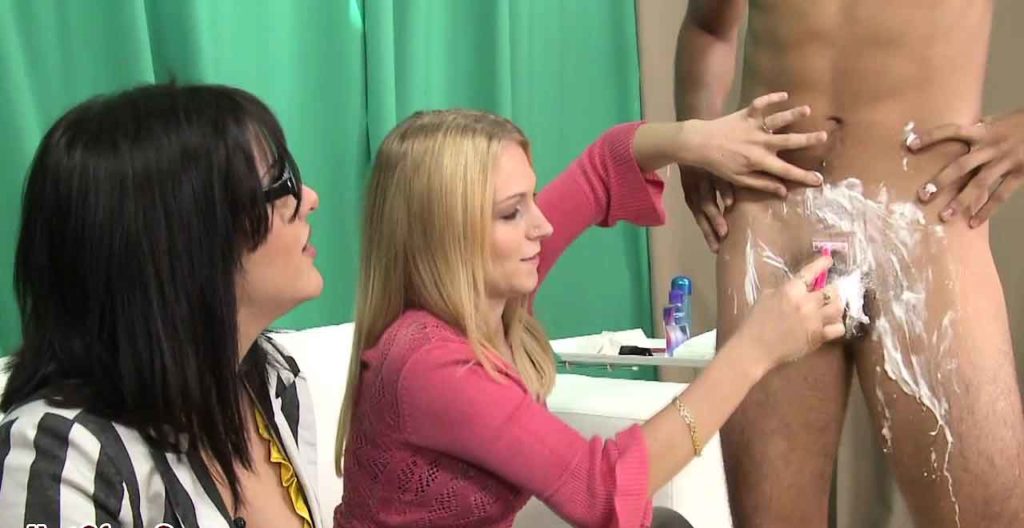 GFD 28 – Order him to get undressed, and face a window. Make him stand in view of the outside. You can wander up behind him occasionally and practise a bit of orgasm denial. Or let him clean the window. If you do it in a hotel, tease that we can see if he can hit some objects below.
GFD 29 – Start by getting him to wear some frilly underwear under his clothes and walk to somewhere nearby. Get him to take photo proof and send it to you. Once he has he can return. Then get him into a garter belt and stockings (along with the frilly panties) under his pants, and do the same some other night. Then add a bra, blouse and skirt. All under a raincoat if you like.
GFD 30 – If he ever gets a bit frisky, tell him to strip naked. Then put him in the shower and make it really cold. Make him stand in it for a bit and then get the shower head and spray his genitals.
GFD 31 – Make him show his devotion to the female form and your magnificence by making him practice a bit of pussy worship. Make him get on all fours opposite where you are sitting and face you. Works better with a skirt and stockings, but hitch up the skirt and spread your legs. Make him crawl really really slowly towards you. Stop him occasionally and make him recite some words, or a pledge of allegiance. Make him kiss you between the legs and recite his devotion once more.
GFD 32 – Make him lie on the bed, and with restraints shackle his hands and legs to each corner of the bed. Make your judgement, as to whether he should be naked, in a costume, or in some kinky female underwear. Remain partially clothed, but remove your underwear and straddle him. Make him lick you out till you orgasm.
GFD 33 – Get him to jerk off to your instructions. Tell him how to stroke, how to fast, what to rub it up against and tease all the way. If you feel like it, you can collect the cum and have a bit more fun. Smear it on him, make him lick his hands, put it on a biscuit and make him eat it. The list is endless.
GFD 34 – Train him to be a bit more immediate. Sometimes you want an immediate response without any delay. When you snap your fingers he is to come to you immediately and ask 'yes, mistress, how may I serve?'.
GFD 35 – Invent a game called 'mistress bingo'. List all your pleasures, each one on a seperate piece of paper. Then list all the light humiliation tasks for your sub, again each one on a seperate piece of paper. Mix then up in a bag, and randomly selects a winner.
GFD 36 – Get him to take a morning or evening selfie that would be slightly embarrassing if it got out and send it to you. Get him to do this every day. A selfie in womens underwear, deep throating a dildo, or a picture with his blow up doll. Endless creative ideas here.
GFD 37 – Every sub should have a little anal training. It can be a source of light humiliation or training for when you want to peg him. Get some beginner plugs and lube. Make him insert one, check he is wearing it and make him perform a task with it. Gradually increase the length of time slowly, and the size of the plug. When you can get a dildo up there, more possibilities for you exist.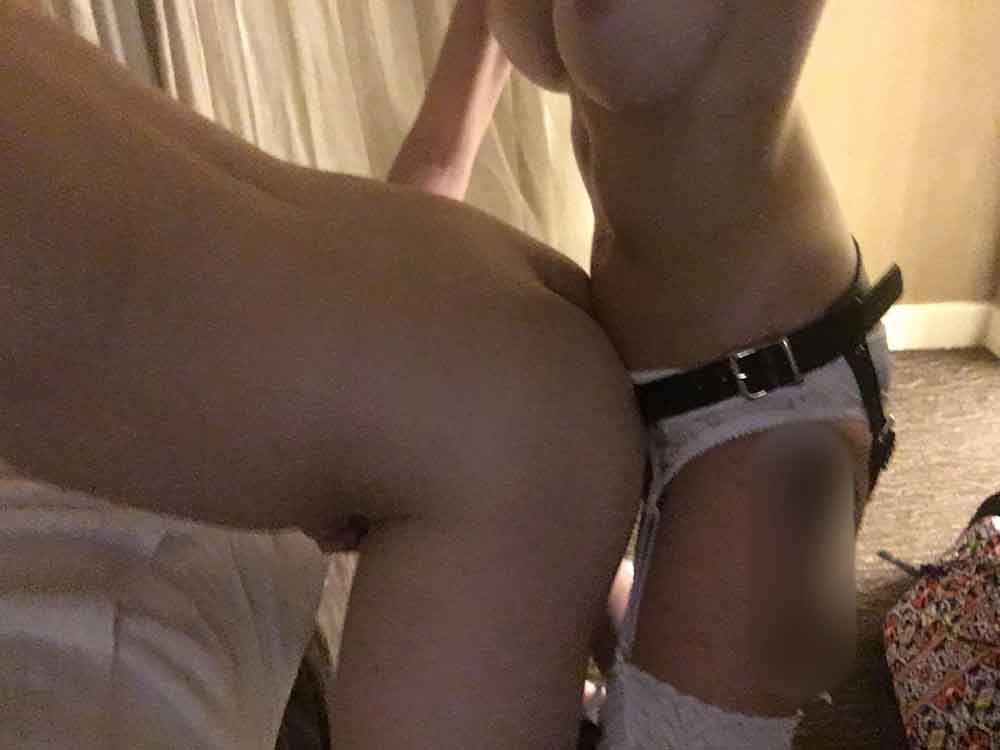 GFD 38 – Dress him as a schoolboy, put him at a desk. Give him some paper and a pen. Pick a part of your body and get him to write 500 words about how they worship that part of you. Or make a pledge of allegiance, write it out or just a story about why they worship your presence.
GFD 39 – In trying to cure his problem of not satisfying you, get him to masturbate in front of you a few times a day. As he 'edges' closer, get him to stop and pinch the tip to de-escalate. Do it a few times and test if it takes him longer to cum occasionally.
GFD 40 – Take a household chore and be really picky about how you want it accomplished. Take a simple item like a chair you sit on or the microwave. Not only are you picky but you are meticulous about this item's cleanliness. Get brushes, clothes, lint free clothes, sprays, small brushes, wipes, antiseptic sprays, polish, pretty much anything you can think of. Write down a long instruction list that has about 20 steps on how to perform the task. Inspect it thoroughly, even under a magnifying glass to find not a spec of dirt or smudge on it. Tell him you'll make him do it in a maids outfit if he doesn't do it well enough.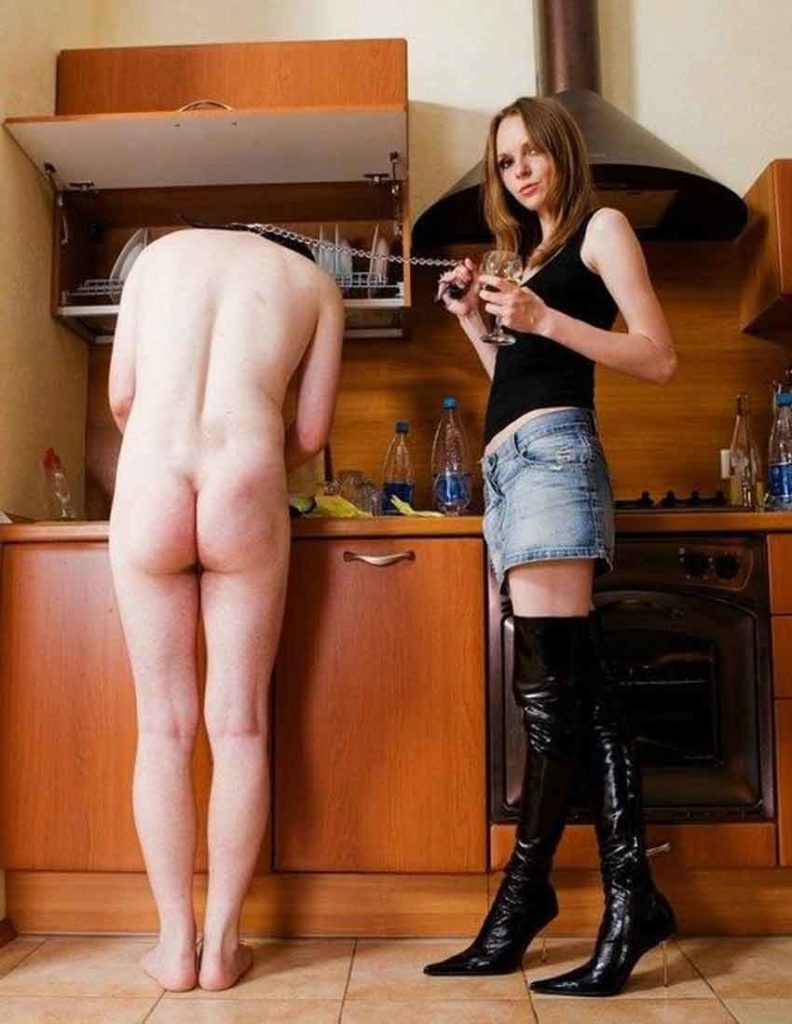 GFD 41 – Tie a bow around his penis or genitals. Get him to send either a video of it or photo of it while out.
GFD 42 – Write something on his buttocks in the morning. Tell him you want a photo while he is at work.
GFD 43 – Get several different pairs of frilly girly panties for him to wear. Make them different colors. Pick a color out for him but tell him to take the other colors with him. Get him to send a photo of the color panties he is wearing. Tell him to do an panty color change to a new color and send another photo.
GFD 44 – Tell him you have a busy day, so tell him to text you on the hour every hour all day asking for tasks to perform.
GFD 45 – Occasionally just ask for a naked photo to be sent to you wherever he is. Work, out shopping? Just give him the task and make him work out how it's to be accomplished.
GFD 46 – Lock him in a chastity cage and make him beg to be able to masturbate. Tease him by saying his begging might have more effect if he is dressed like a schoolboy. Or in a maids outfit, or whatever you want him to wear to make his begging more amusing.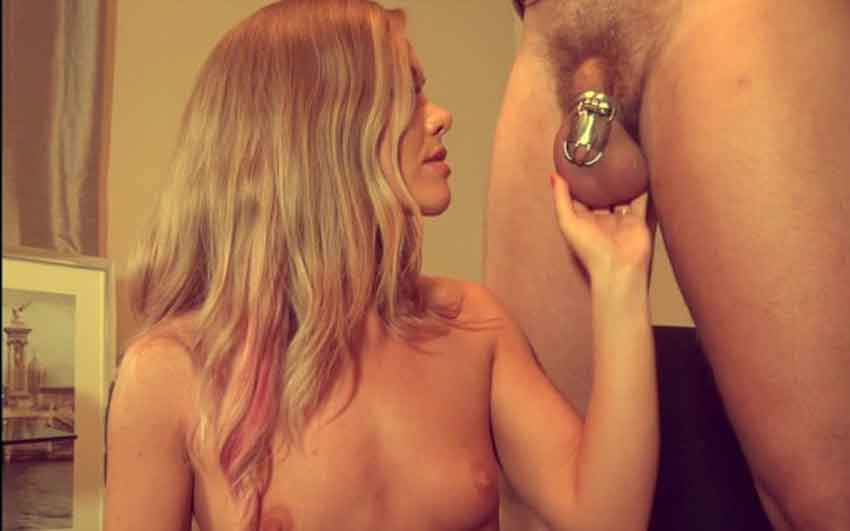 GFD 47 – When you have some time decide your sub should star in his own porn film. Think through a little scenario and give it a title (try 'the secret masturbator') and give him directorial tasks. Make him rehearse walkins, and lines. Record him from different angles and catch different angles. Pay special intention to the money shot. Make him act his orgasm face a few times. Give him all your recordings and tell him to make a film from it. Watch it with popcorn.
GFD 48 – Buy some BDSM weights for him and make him walk around the house. Once he gets used to them, you can make them heavier or take him on longer walks with them.
GFD 49 – When you go out, put some panties, garter belt, stockings and bra in your handbag. Put them in a bag. While in a mall, tell him to go and change his underwear somewhere and take photos and send you them as he changes.
GFD 50 – Wear a skirt but either remove your underwear or do it at the cinema. Make him give you oral.
GFD 51 – Make him your panty cleaner. Every night he is to meticulously clean your next day's underwear. Make him clean, wash, and then condition the fabric. He is then to dry and hang up over night. He must deliver it to you on a velvet cushion.
GFD 52 – When taking a trip, or at least a regular trip like driving to work, make him take his pants off and drive to work being naked from the waist down.
GFD 53 – At the end of the day, get them to list the thing they think is the worst way they have performed for you today. Spank them lightly if it's bad enough.
GFD 54 – Get him to make his own 'manhood cosy'. Or give him a design. Get him erect, or everytime he gets a bit frisky, you can 'pop it on'.
GFD 55 – List the interests of people at your work whose influence might be better for your career. Make him your research assistant for those interests. Make sure he keeps you up to date, on whatever sports, or political figures need to be monitored. Get him to message you the important stuff or do a report each week.
GFD 56 – Every night, get him to line up, hang properly or otherwise prepare your next day's clothes. After your shower, get him to hand you each item as you request it.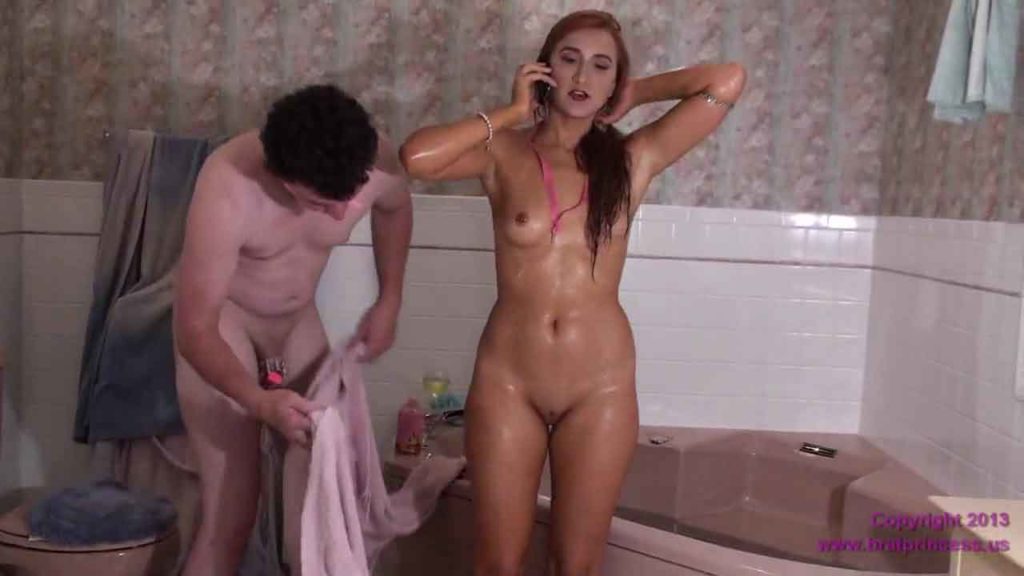 GFD 57 – Wait until you are making, or he is making something in a pan that is liquid, like soup, sauces or a stock. Leave it to simmer and take him to the bedroom. Make him give you oral until you are very wet. Get him to insert a dildo and finally make you cum. With the dildo, get him to stir the sauce, so it tastes of you. It works for milkshakes or drinks as well. Alternatively you can get him 'to release' as it were and stir that in if that works better.
GFD 58 – Of an evening make him cleanse, wash, rub, massage, oil and otherwise pamper your feet. In a word make him adore them and totally pamper them. Also, get him to rub off the bad skin on the heel. Also, he should take care of your toenails. As a twist, tell him to cum on them and rub it into the skin, before washing them.
GFD 59 – Give him female appreciation training every now and again. He must address any female as ma'am, open doors, and offer to perform tasks if any are presented.
GFD 60 – Detail a list of basic services you require of him, from food and drink preparation to light pampering when you desire. Maybe you like your nails done every night with a glass of wine. Or maybe you could get him perform basic body chores for you. Make him shave your legs in the morning while you brush your teeth or clean the shower immediately after you use it.
GFD 61 – Make him use his own cum as a polish for something. The toilet bowl maybe, but get him to scour the bowl with it after he has made his deposit.
GFD 62 – Start with an empty ice tray, half fill it and freeze it. Bring it out when it's frozen and either smear his own deposit on it, or you can make him make you orgasm and smear your own juices on the top of the frozen water. Add some more water and freeze. These cubes you can use to cool down his drinks at your amusement.
GFD 63 – When you are watching a movie, have some boiled sweets near you, or polos. Some type of hard sweet. Eat one yourself when you want to. When he wants one, hitch up your skirt and have no panties on. Smear the sweet in your juices, and place it in his mouth.
GFD 64 – Get him into a superhero costume, like Batman or Superman. While they are in the costume, make them extra subservient. Kissing your feet regularly, begging for your worship, asking permission for things, bringing you whatever you like. Get him to bend over and dry hump him to further make the power dominance known. Tell him you want some superhero cum if you feel like.
GFD 65 – Once you can edge him successfully, do it a few times and then put ice cubes down his underwear.
GFD 66 – Lock him in the bathroom, and hide his wallet. Then he can hunt for it, and you can not punish him with a spanking if he finds it in time. Dress him as a burglar to make it more funny.
GFD 67 – Get a penis extender and use it on him. Do it daily and measure it. Keep a record of the 'growth'.
GFD 68 – Turn him into a neighborhood watch warrior. Get binoculars, and a notepad, and make him keep an eye on what is going on outside. Keep informative notes, and message you if anything important is happening. Watch a movie while he is staring at the street.
GFD 69 – Tell him he needs to apply for his own position. You want a formal interview to make sure he has the right answers. Ask him about how he should prove his devotion, what punishments he thinks would be permissible. Dress really sexily, in stockings and tease him while he is giving answers. Rub your underwear, and ask what he's prepared to do to taste, or look at this.
GFD 70 – While you are in the bathroom before going out get him to get you into a garter belt and stockings. Make him put the belts on and make sure they are symmetrical and comfortable. An excellent one to tease him with this. Be brushing your teeth or on the phone while he is doing this maybe.
GFD 71 – Get him into a slip for bed, possibly with suitable sexy underwear. Or make him get out of bed, put it on and make you a coffee.
GFD 72 – Put some lipstick on him, and a bit of eyeshadow, before you watch a chick flick movie.
GFD 73 – Make him learn about some famous females throughout history, Joan of Arc, Marie Antionette, Marie Curie, or Amelia Earhart. Make him a walking encyclopedia or influential women.
GFD 74 – Make him wander around a womens underwear section at a mall for a bit too long. Make him take photos occasionally of some sexy garment. He should feel self conscious after a while.
GFD 75 – Do a bit of a female makeover on him. Sit him down, wash and shave him really smooth. Pluck eyebrows, face cleanser, scrub, moisturizer, powder his complexion. Eye shadow and lipstick make it very neutral so he just looks 'newer'.
GFD 76 – When going out, apply some female deodorant, and a bit of perfume.
GFD 77 – Use him to carry your handbag while out, especially when shopping.
GFD 78 – Make him kneel and beg for a sexual favor for the day. Or pleasure you.
GFD 79 – Get him to buy his own set of lingerie (frilly bra, silky panties, garter belt and stockings) and get him into this every time you want him to pleasure you. You can even peg him while he's wearing it if you prefer.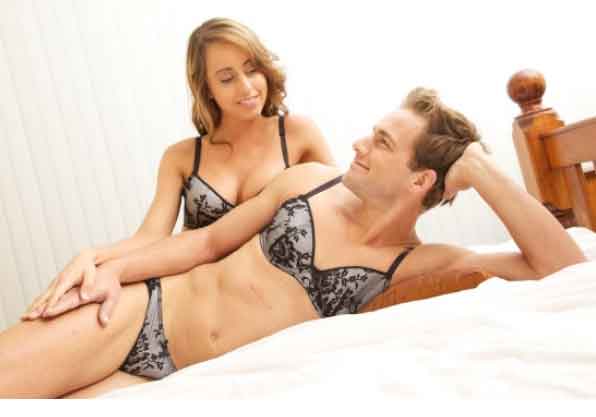 GFD 80 – With his own lingerie, tell him you want a lesbian romp or lover. Treat him as a girl in bed, and strapon him as a dominant lesbian.
GFD 81 – Get him a ladyshave for his legs and tell him to keep his legs silky smooth. Get him to put on stockings to see if they catch and he might have missed a bit.
GFD 82 – Get him an area to keep really neat and tidy at all costs. Anything from the cloakroom, to a bedside locker. Everything in there is to be stacked correctly and kept meticulously clean.
GFD 83 – On a party night, when you want to look glamorous, get him to wash your clothes the night previously. Get him to hand you the items individually as you need them to cloth yourself. After drying you with a soft towel, obviously. Tell him you think you look uber sexy and tell him you are going to flirt with other men at the party. Reward him how you wish for making you look sexy in the eyes of other men.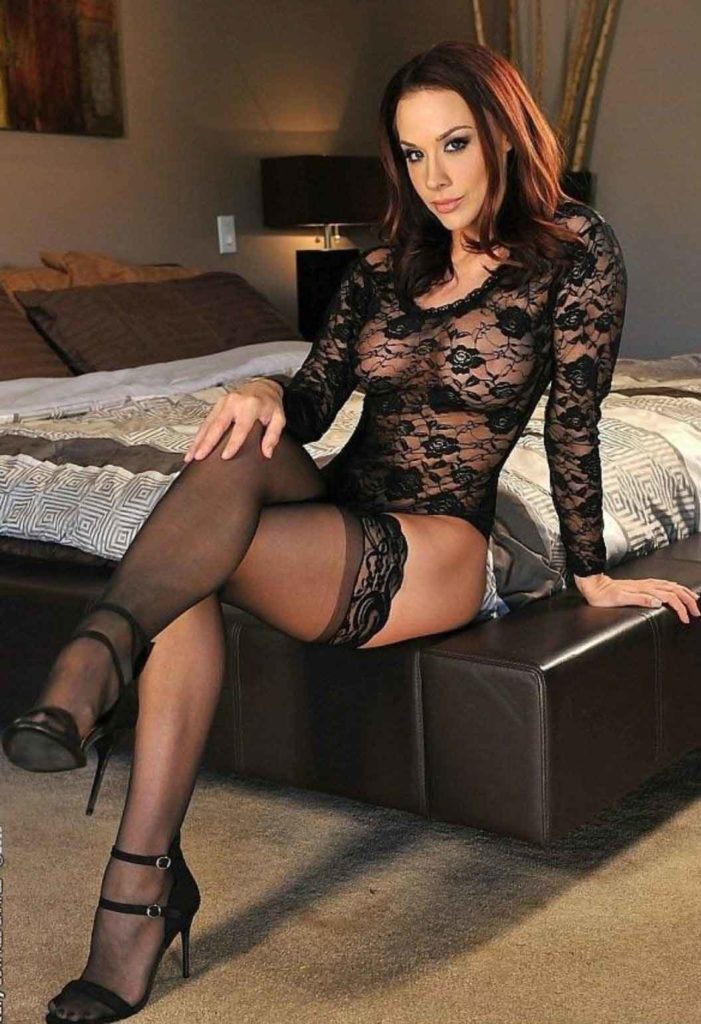 GFD 84 – Have a punishment reminder every month, or whatever time frame you deem appropriate. Dress in some dominant female attire, like a headmistress or a top businesswoman and make him naked or in female underwear. Put him over your knee and give him 10 strokes with a paddle. Or bend him over a table and apply a cane. It's a reminder of what he will receive, only harder, if he ever displeases or disobeys you.
GFD 85 – Believe it or not but you can make a replica of a penis nowadays by creating a mold and then adding silicone to set. Get him to clone his own penis. Also buy a dildo a few inches bigger. Get him to give you oral sex, and then insert his cloned penis. After a bit, ask him to insert the bigger one so you can actually orgasm.
GFD 86 – Get him a waitress outfit. Make him look as good a waitress as you can. Get him to make you coffee very specifically, like a specific number of granules and a water temperature of 194 degrees Fahrenheit. Be really picky and precise. Make him deliver it as the waitress.
GFD 87 – Also have a sexy nurse outfit for him. Whenever you want a pill for a headache or to take some multivitamins, or even a healthy smoothie, make him get into the nurse outfit to deliver it for you.
GFD 88 – He should also have a maid outfit. You will need quite a few cleaning tasks done, from bathroom cleanliness to vacuuming. He should be in a french maid outfit to perform these tasks.
GFD 89 – Get him a schoolboy outfit or schoolgirl outfit for naughty boy or girl contemplation. If he spills a drink, is late, or otherwise displeases you slightly, make them dress in their school uniform and stand in the corner facing the wall.
GFD 90 – Whenever there is a gift to be given, a tribute or otherwise he is presenting you with something, make him get into a fairy outfit to deliver the surprise.
GFD 91 – For when you feel like pampering, make him dress up as an air stewardess. Make him ask you if there's anything else regularly. Would you like your cushion plumped, another blanket or do you require any further assistance.
GFD 92 – Use one of those print on demand services like teespring or printful, and have fun ordering some items for him. You can order an apron with 'Mistress please peg me' or a t-shirt with 'I am owned by my mistress' or a plate with 'this meal has some special sauce from mistress in it'. Be creative and have fun.
GFD 93 – Get him to pretend he's a prostitute, and you are his client. Get him to really flirty and put you at ease. Wear a strapon, and get him to ask what you like etc. Tell him your desires and let him please you for the 1USD you will pay them.
GFD 94 – Tell him you want to go for a drive to somewhere remote. Get him to wear stockings, panties and heels if you like. Pull over somewhere where you won't be disturbed, and get him bent over the trunk. Strapon him like he is the last slut on earth.
GFD 95 – Tie his hands behind his back and put a collar on him. Put him on a lead and make him give you oral sex. Direct his head wherever you want it to go.
GFD 96 – Get him a penis extender. Make him wear it while he gives you oral. Play with the tip on yourself.
GFD 97 – Grab him lightly by the hair more to move him. Especially as you are receiving oral.
GFD 98 – Make sure you have pre negotiated language that he finds a real turn on. Whisper it to him when you want him hard, or at inappropriate times if it's amusing to you.
GFD 99 – Tie some clothes pegs together on a string, and clip them onto him somewhere. Make him give you oral and rip them off as you orgasm.
GFD 100 – Train him to understand that after any orgasm you are still in control. His obedience doesn't end with him ejeculating. He must remain submissive afterwards. Whenever you have let him release, whether on your shoes, or whether you have had him hump a pillow, give him tasks afterwards to let him know.
GFD 101 – Make him become a catwalk model.make him dress up if you can, makeup, skirt, dress, stockings, and make him model some shawls or pashminas that you own. Put some background music on and sit in one room, while he can use another room as the 'backstage'. Give him a list of things to model, even handbags that you are wondering about. Teach him to walk in high heels first though.
Get A Convincing Open Letter To Send To A Prospective Dominant
The easy way to get your partner to think about trying a Female Dominated Relationship
Trying to talk to your partner about the benefits of a female led relationship can be hard. Use this open letter to help or to prompt constructive dialogue.