The term used in polite circles of 'sissy play' or 'sissification' is an extremely broad term. Both terms refer to a consensual emasculation of a submissive male at the hands of a trusted female dominant, most likely a life partner.
Participants already engaged in 'sissy play' often do so with ample reward, yet there is still a stigma attached to this type of fetish, particularly if venturing into the field alone.
Men often feel ashamed or experience great hesitancy when exploring their interest in sissification.
It can be a great stumbling block when wondering how to approach their female partner on how they might explore this area of play.
So read on, if you want a useful guide on how to engage in sissy play.
Basics Of Sissy Play Or Sissification
If we start with the stereotypical definition of feminization of a male submissive it might be defined as 'a fetish whereby a male submissive consensually gives away power for the purposes of taking on the role of a sissy which precipitates sexual humiliation and arousal'.
This doesn't really get to the heart of the matter though, as, on the face of it, it seems somewhat demeaning and even contradictory.
The etiquette of Femdom is that women are naturally superior and are expressing their desires above the more submissive males.
In sissy play with the aforementioned definition, it portrays the sissy as a female who is inferior, more naturally submissive, and is often objectified within sexual humiliation.
So whereas Femdom describes women as superior and confident, the other, sissy play, objectifies the sissy and upholds that as a woman they are inferior and submissive.
So which is it?
To sidestep this landmine it might be better to think of feminization as a satirical spin on traditional gender roles.
This makes a great deal of sense if you think about it because a lot of the play revolving around feminization and sissy play takes the submissive male, dressing them in a very feminine way, and involves a lot of gender stereotyping along with adopting an appropriate female persona.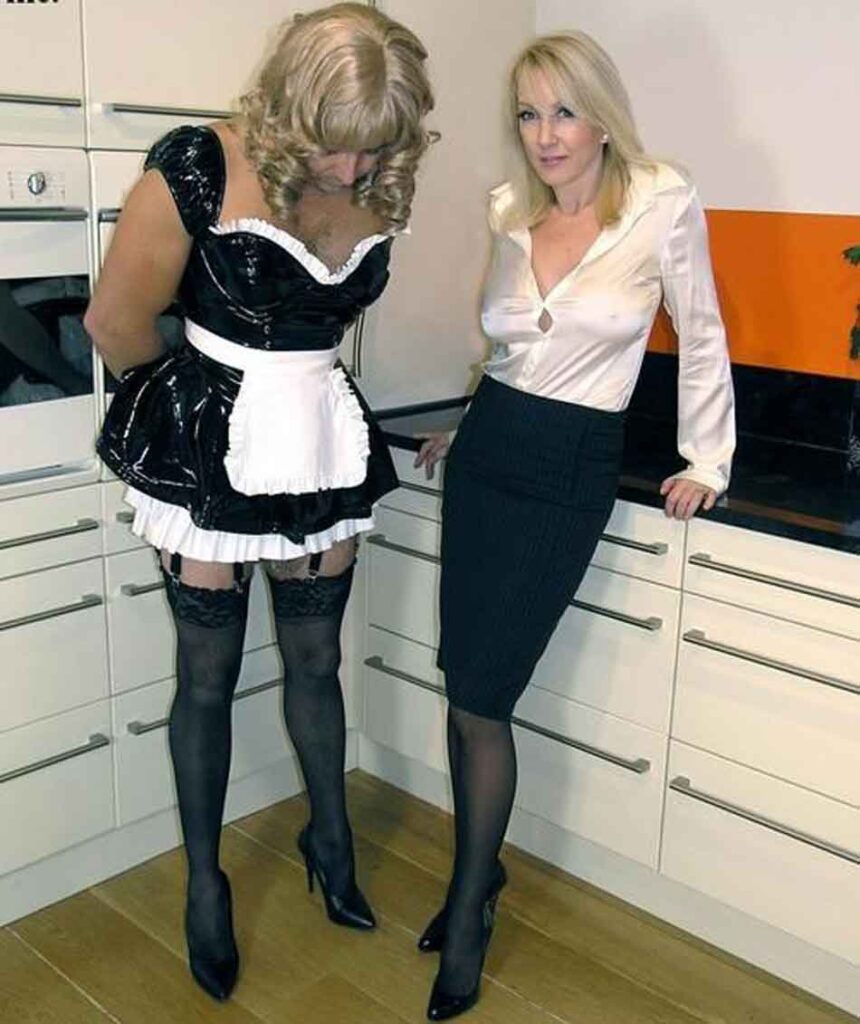 Benefits Of Sissy Play For The Female
Whilst it might be tempting to think of feminization as a purely male fetish as it centers around the emasculation of the submissive male there can be distinct benefits to a female dominant in this area.
The feminized submissive can gain perspective on the typical female gender role and in so doing attain great empathy for women who are still going through life confined by these beliefs and roles.
While the feminized male takes on the expectations of a submissive female the female dominant can often reflect and grow in strength when progressively thinking about how far the gender roles might jve changed. Some inner healing work in other words.
The feminized male can often be a visual appreciation of how far society has come and how stereotypes are more naturally broken in the modern era.
Types Of Sissification
When engaging in sissy play within a partnership everything should be consensual and natural within the dynamic, however, there are a few styles that are typically adhered to and enjoyed.
Common themes might be:
The challenge for any aspiring female dominant is to first determine the specific area of interest for the submissive before assigning any tasks, chores, orders, or play.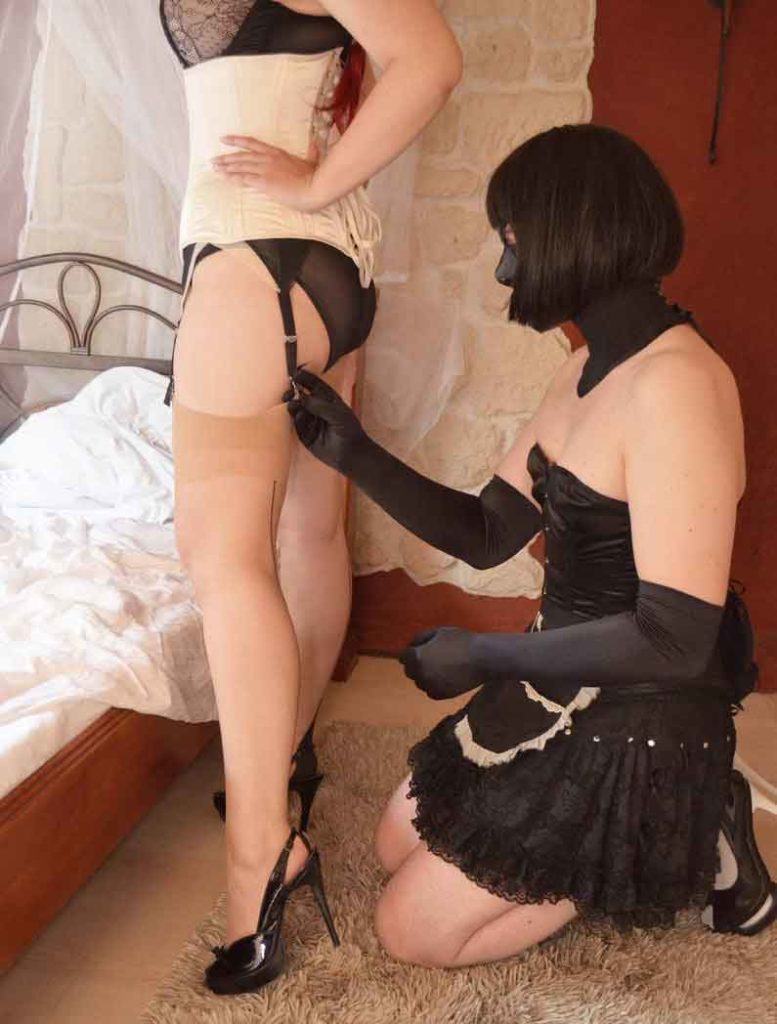 Benefits Of Sissy Play For The Male
Like any type of male submissive to a female dominant, the opportunity to lose yourself in play is at the heart of the attraction.
Many men will enjoy the play for the ability to take a break from the normal and mundane in order to escape into sissification play, specifically taking a break from masculine normality.
Some men enjoy dropping the masculine culture in order to embrace femininity, to throw off the shackles of male responsibility once in a while.
For others, it goes further than just relaxing, they can completely let go, and embrace softness, gentleness, and empathy.
Others enjoy trying to connect with women, to try and get in the headspace, and the exploration of their feminine side allows them to do that.
They can embrace their femininity in a comforting environment, set aside any masculine pretensions, and be responded to as a female which provides a thrilling alternative.
The common theme for most men willing to try feminization allows a mental escape from their masculine self. It's their form of subspace.
Most men who enjoy feminization aren't gay or bisexual according to the studies, so this escape from masculinity appears to be a highly attractive feature of this kink.
It's often the release valve they need to escape from masculine roles and responsibilities.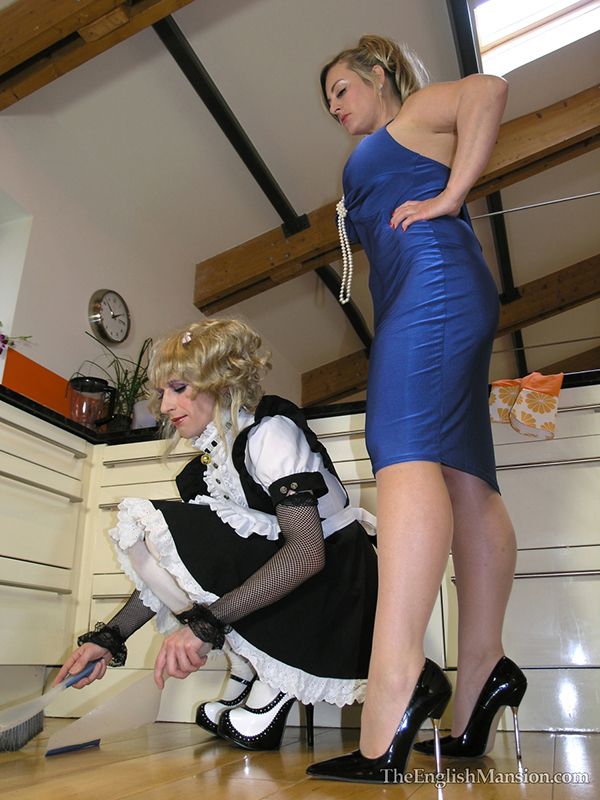 Training For Sissy Play
It's common for a submissive male wanting to engage in feminization to go through a 'period of training' where they learn feminine etiquette.
Their usefulness for maximum service to the female dominant comes from them embracing their feminine energy.
Depending upon their preferred type os sissy play, say a service sissy, this will require different rules and training than that of a sissy slut.
However, to each style their are some commonalities that could be included in the training of a sissy.
Consider;
Sissy attire: – what types of clothing is appropriate, dressing for a specific body size, accentuating feminine features, skirt and show types, how to accesorize.
Sissy hair and make up: – application and looks, styles, highlighting, how achieve a certain look, lipstick choices.
Sissy grooming: – skin care, hair care, facial hair removal, leg shaving,
Sissy femininity: – how to sit in a skirt, how to walk in heels, how to flirt, and how to take on sexual positions.
Sissy communication: – speak less coursely, adjusting the voice, softening the tone, asking permissions, manners,
Sissy interests: – building an interest in female preferences in art, books, activities.
Sissy domestic service: – the teaching of washing, cleaning, sewing, laundry, washing delicates, and cooking of favorite meals.
Sissy sexual servitude: – application of chastity devices, preparation for pegging, how to please a dominant lover, sexual aftercare.
A sissy needs to be trained in all the above areas.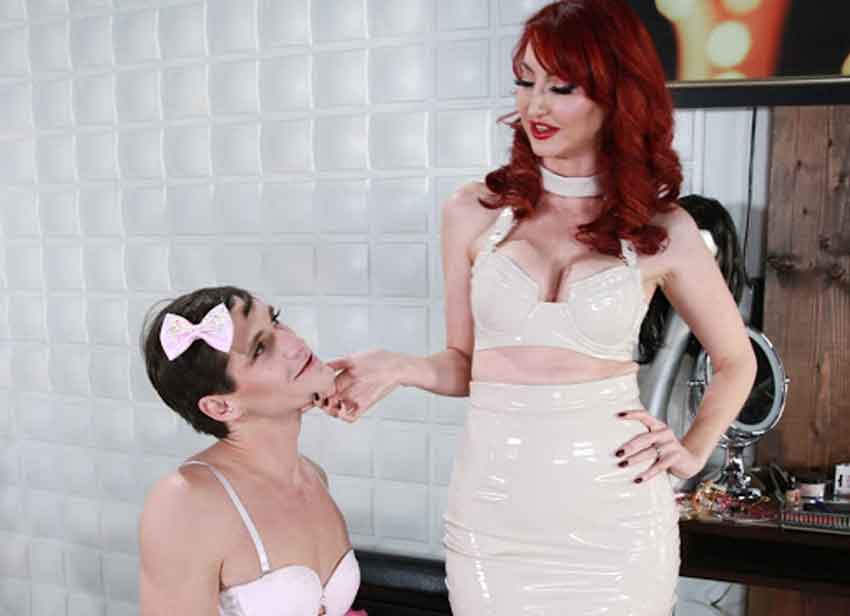 Some Sissy Training Guidelines
To maximise the principles of sissy play there are no firm rules, it's just a matter of escapism for the sissy and the female dominants enjoyment of the power dynamic.
Have fun: – Feminization shouldn't be a chore or grind. As mentioned before, consider it a parody of traditional gender roles.
Seperate play: – It's useful to think of being a sissy as separate from the 'male' or 'female' genders. This creates ample play room.
Useful goal: – The goal of the female dominant and the feminized submissive should be to make the sissy emphathasize more with women. It's a privilege for the female dominant to allow the sissy to explore this feminine space with her.
Comfort: – Anything pertaining to ritual humiliation for 'being a sissy' shouldn't be used.
Uplift women: – The female dominant shouldn't use language or training that amplifies the message that women are weak and submissive – it undermines her own position.
Names: – Both participants should come up with a name for the sissy, particularly effeminate names are better rather than names that can also be male, like Alex.
Training: – The training of the sissy should include many things but anal training and regular use of chastity should be considered. This way, the sissy can be used discretionally. The sissy should be trained for the skills the female dominant wisher her to have, not just the fetishes the male desires.
Development: – the speed and direction of the sissy persona should naturally flow and not be rushed or pigeonholed early on. Allow development to be organic.
Inclusive: – The female dominant is as much a part of play as the feminized male, and both should find the time enjoyable. Encouragement of the female dominant to take pride in her sissy training and the submissive should consider her actions as a reflection upon her female dominant.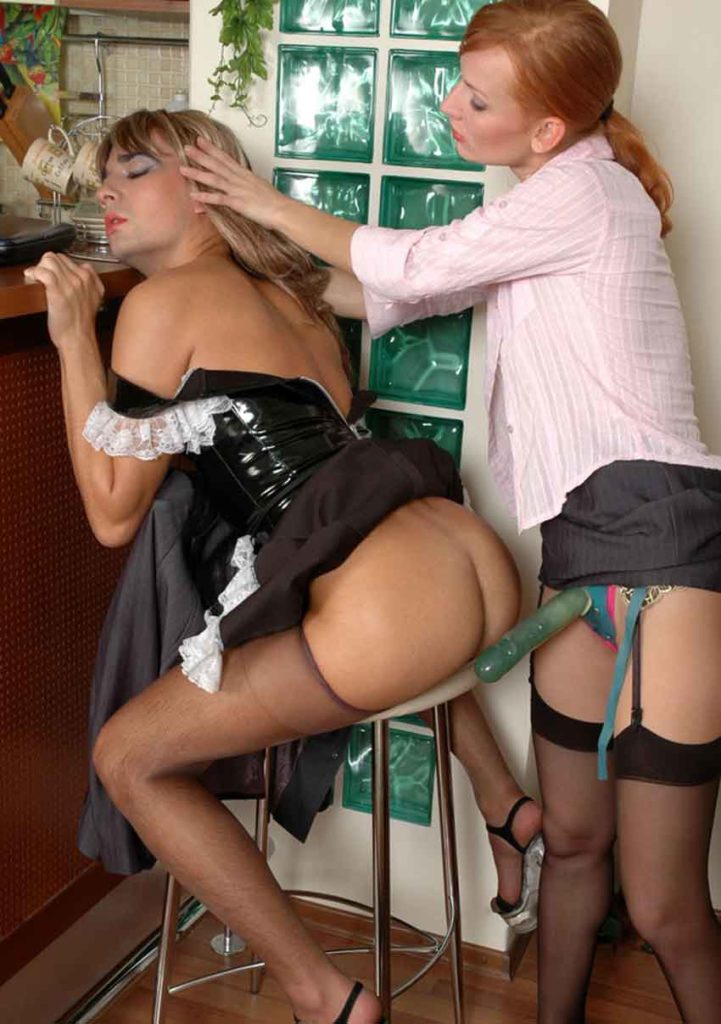 Conclusion
Feminization play isn't just for the male submissive but needs to be embraced by the female dominant as well.
A lot of men wanting to engage in sissy play with their partner focus on their fetish interests and forget that the female dominant should find some fun in the play as well.
From a feminized male point of view, you will more free and easy with play when your female dominant partner is also enjoying herself, so it's important to keep a set of balanced needs.
Whether it's the female dominant helping out with make-up, shopping for female attire for her submissive, or whether it's more pursuing the elements of sexual domination through chastity devices and pegging, this input is vital to the power dynamic.
A male engaging in sissy play should be open about how the female dominant partner wishes to play, and to construct the 'sissy' to be well behaved, compliant, well mannered, and coy.
Get A Convincing Open Letter To Send To A Prospective Dominant
The easy way to get your partner to think about trying a Female Dominated Relationship
Trying to talk to your partner about the benefits of a female led relationship can be hard. Use this open letter to help or to prompt constructive dialogue.