This is more common than you think and many can take this to the 24/7 level. Decide if that's for you early, but most are happy within a roleplay element.
Most men have to come out to their partner about it at some point, especially if the desire is strong, and that's OK. It may have taken you by surprise, or maybe he has expressed to you to explore more roleplay as he enjoyed the small feminization that have been given him as punishments.
Many are enthusiastic, and eagerly jump into women's clothes when you tell them. Some have to be coaxed.
Often during a humiliation scene where you make them wear female clothes they will admit that they quite liked it at a later point.
Chat about how he sees your role as a domme. Does he see you as the male role model or the sexy chick he lives with during the roleplay.
Basic Fundamentals Of The Sissy Maid
Most of the time a sissy maid fantasy is more of a roleplay fetish, not a deep down desire, especially if they are naturally confident males.
The fetish stems from a humiliation aspect, and handing over all their thinking on the issue. They want you to take away their masculinity, and dish out tasks, to remove decision making from them.
It will be connected to a sexualisation fetish, most likely.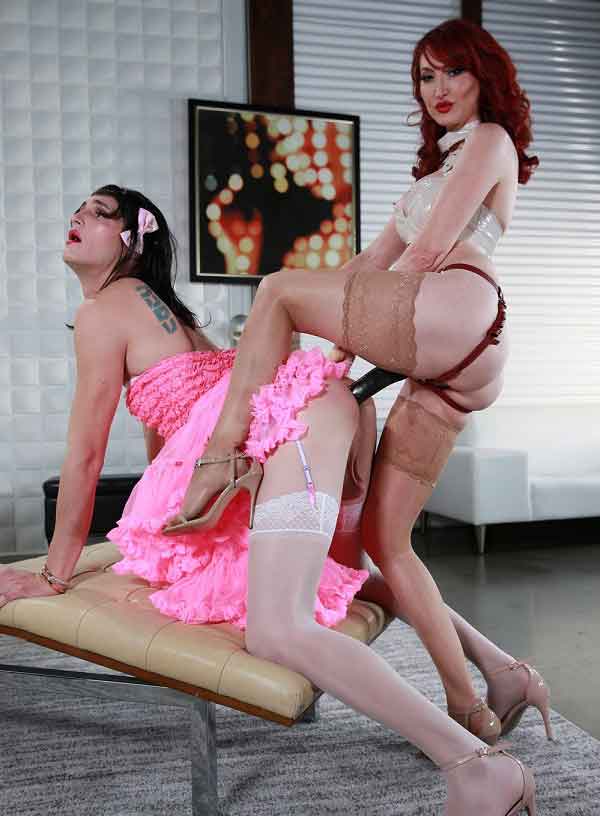 However, it's not all about him, and you should be comfortable with the role.
At the heart of the sissy maid fantasy is forced feminization. He has a desire to not only look like a girl, but be treated like a maid. In other words he expects tasks consistent with being a maid.
Have the conversation about what he likes about it, what he expects from you and ideas for tasks and punishments.
Rightly or wrongly he will expect some abuse, both verbal and physical. Certainly some humiliation.
Ask about what type of domme he wants from you for the roleplay.
Consider
Most likely, a dismissive dominant is the route of a good sissy maid fantasy. He will be expecting you to be disdainful and humiliate them at most opportunities. Not all the time, but it is likely to be the heart of it.
If he does a good job of something, show surprise as normally he is totally useless. The sissy maid is continually trying to earn you respect. It is devoted roleplay normally, and they are there to serve your domestic chores and sexual whims.
Set time limits if necessary, it is a roleplay after all.
He will expect you to find fault with his work or chores. Even if he tries his best, he may well enjoy the struggle to please you. Being hyper critical of his efforts is normal with this fantasy.
TIP – Often when you give him chores he may shrug, not do it with enthusiasm or he may try to be cheeky. Nip this in the bud immediately. A good face slap is totally within your scope. He has disrespected your authority. Make it sting slightly and put on a face like you are scolding a child. Tell him to NEVER do that again. You can angrily tell him why you are annoyed and you are quite prepared to administer a severe punishment if he does that again.
It is quite acceptable to sexualize him when you refer to him. Using terms like man-pussy, sexy ass slut, or commenting on breasts would be totally normally.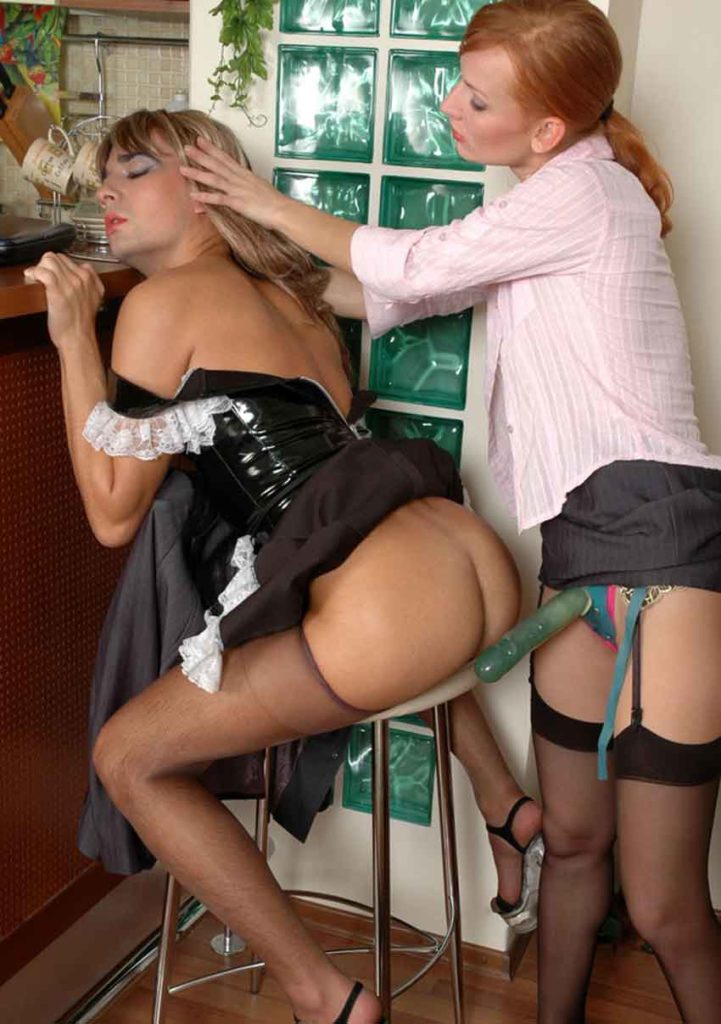 Also feel free to ask him how he gives head, or asking him how good a shag he is. Again feel free to be dismissive and comment that his oral sex technique is probably awful, or you bet he just lies there when shagging.
Treat him like a dirty slut for her thoughts, and continually berate their sexual ability.
TIP – If you are unsure what he wants, get him to print out some sissy maid stories online and use a yellow marker to mark the bits he likes. Get him to write his thoughts down on the story, or what he would expect differently. You can use this to educate yourself
It's quite acceptable to do the domestic chores in uniforms. Getting him to perform duties in appropriate costumes would be normal. Maybe a slutty costume for the kitchen stuff, or even just a bra and panties with an apron. Something different for the bathroom. When he polishes your finest table though, he should be dressed as a french maid.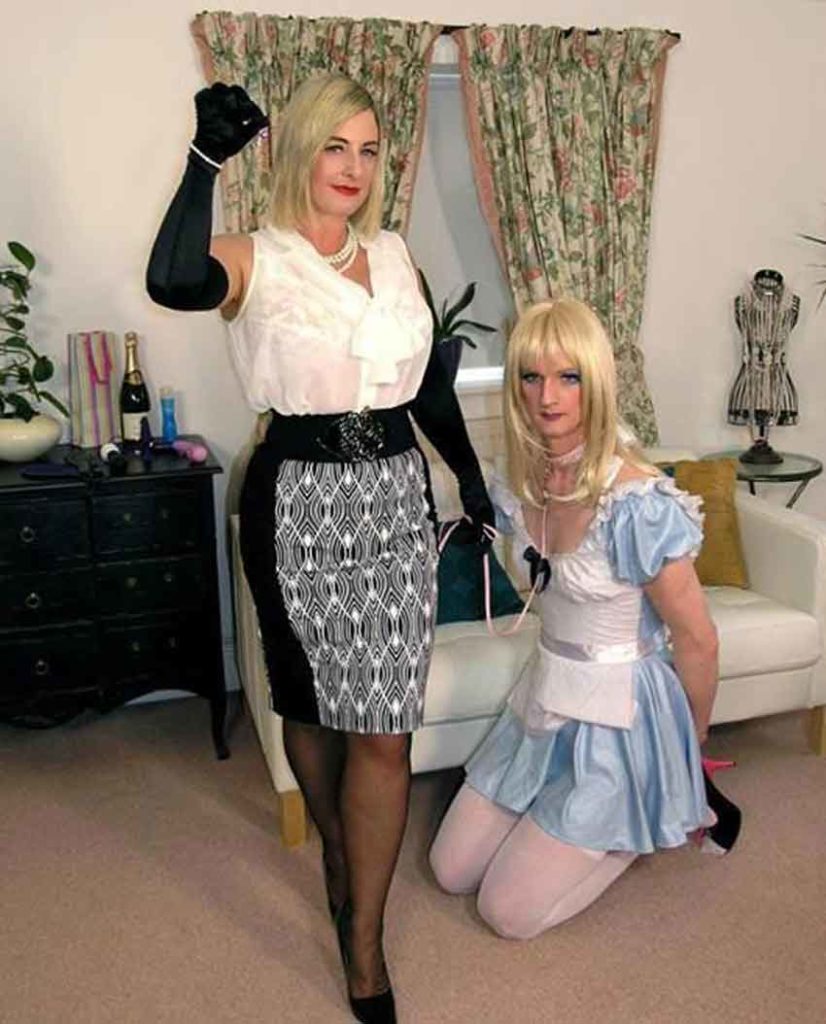 Femdom Maid Training
While some subs have a very clear definitive idea of it, a lot of males find they like it as you were giving out humiliating tasks.
Sissy maid training is the procedure for every sissy maid. They have duties to perform, and your desires are unquestioned.
There should be 100% effort and concentration to his chores and he should do it without complaint. Severe punishment can be the outcome otherwise.
When you do the training or during the roleplay you should look very glamorous. Give him the ideal to aspire to. Look as sexy as you can in stockings and smart attire.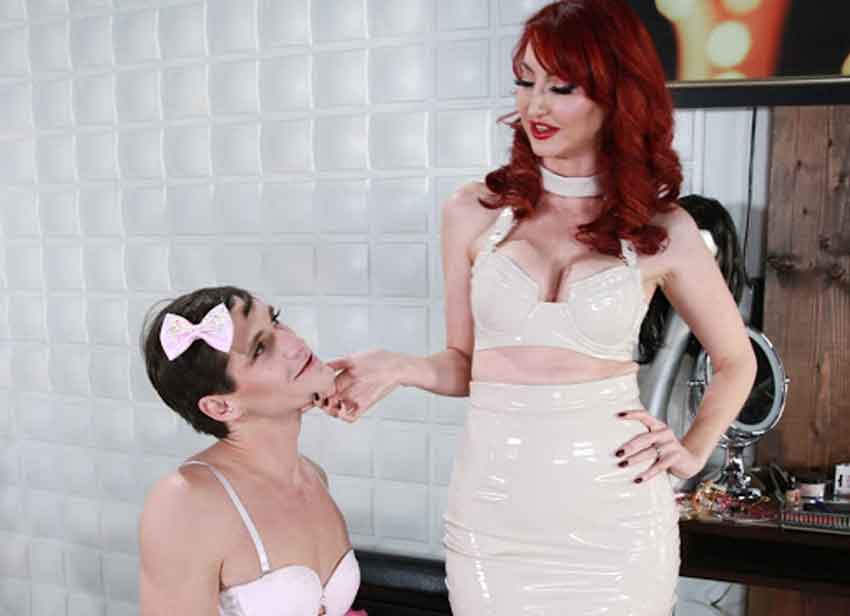 Give simple and clear instructions that don't have ambiguity.
TIP – Some sissy maids have to be coaxed out of their shell. Maybe your sub realized he liked the feminization from another roleplay, and asked about it. Difficult to jump to a french maid slut from that, so start small. Washing up in bra and panties, and high heels, then uniform, then wig, then make up over time as he becomes more accustomed to it.
Assessing Your Sissy Maid
The very first thing you will want to do is inspect your sissy maid. Make him parade to a spot and stand up straight. Walk around him
As an approach but not limited to you should inspect different elements of his appearance.
Demeanor – Is he appropriately attired, is his body stance respectful of your authority, is there a smirk on his face that a good slap would remove. Are all his bottoms done up? Essentially does he look like he took time to be your maid. Does he smell nice enough to be in your home. Douse him in perfume if he doesn't. Cheap stuff.
TIP – Berating him for general choices is normally fine. If you see a blonde wig, you can easily comment that 'brunettes give better head' or that he looks more like a prostitute than a maid. Does he shag for money in his spare time?
Wig – Check it's secure, the hair is well brushed, is he trying to copy you? Is it clean, does it look like they take care of their hair.
Make up – Lipstick, eyebrows, eye shadow, nothing should escape your critical eye. Get him to improve, or give him lessons if necessary.
Clothes – Is everything clean. This is a sissy maid, how are they going to clean stuff if they are dirty. Do they look like you expect. Is the attire suitable to your requirements. Are the stockings laddered?
Fingernails – Are they clean and well manicured? Are they polished well? Check for knicks or roughness as bad fingernails can damage fine stockings.
Underwear – Time to check his underwear and bra. Get him to lift his top. Feel free to criticise or sexualize his breasts. Tell him 'those look a bit saggy' or 'bet loads of guys have seen those' for example. Then check his panties. Are they too slutty or frilly enough for you. Snap the suspender elastic to check he has fastened them properly.
Ass inspection – Maybe some gloves for this one but get him to bend over and pull his panties down a little bit. Pull his cheeks apart and check he is clean, even there. Again, your maid needs to be clean before they are allowed to clean your house.
Shoes – Are they appropriate and well cleaned. A sissy that can't even take care of her shoes needs to improve her ability. Are they well polished or just thrown on. Check the soles and the heels. If there is dirt on them make them lick it off, or suck the heel clean.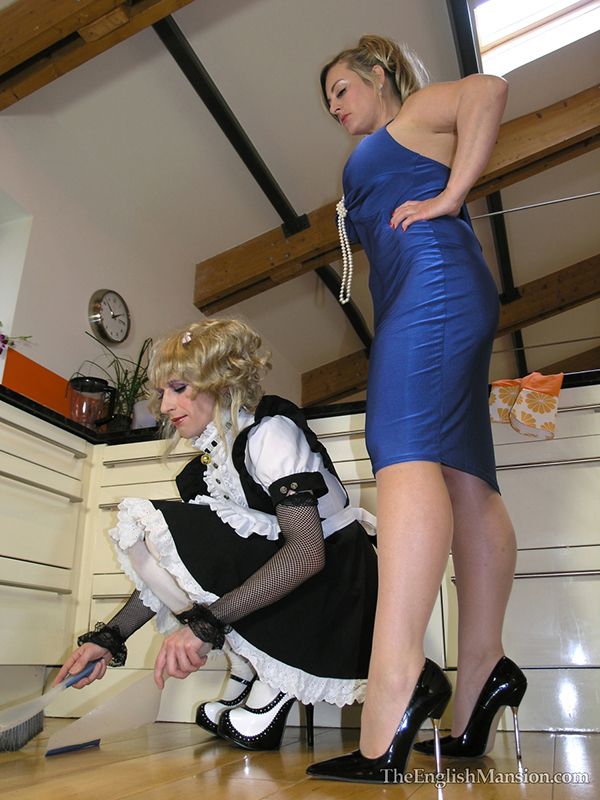 Cleaning products – check the cleaning products, and if they haven't brought any, really berate them. You want to see proper sponges, and environmentally friendly products. Where is the toothbrush for taps?
Sissy Maid Chores
I'm sure you can think of a thousand things that your sissy maid can do and make easier for you.
If you fancy, make a checklist of things for your sissy maid to do on a weekly, daily or even monthly timeline before any rewards are dished out.
Getting them to wash delicate lingerie is quite a good one. A thorough hand wash of your finest silks and velvets.
Basic chores can be;
Floor cleaning
Washing up
Bathroom
Food prep
Vacuuming
Keeping closets neat
Cleaning sex toys
Polishing tables
Cleaning windows
Take him through the house room by room and tell him how you expect it to be cleaned, how thoroughly, and with what.
You may want the shower nozzle to be meticulously clean so scour and use a toothbrush to get everywhere.
He will expect you to find fault with his chore ability but make it consistent. If he has done a good job you can reward the sissy later.
Kink Practices For A Sissy Maid
The practices can be used as rewards or punishments, depending upon what you have previously agreed.
TIP – Practice laughing, ass slapping and face slapping. I hate to break it to you but if it doesn't feel authentic then much of the authority is lost. A lot of women sort of slap lacking any power. The technique is a bit flimsy so get to know how to slap properly. Laugh like you are genuinely amused at his humiliation. It adds lots to his love of the roleplay.
Pegging – The art of a strapon to a biological male. Dressed as a sissy maid, or whatever you have put him in, as well as you being a dominant sexy domme some form of pegging will probably called for. As he will probably want this a part of the sissy maid roleplay, it should be viewed as a reward.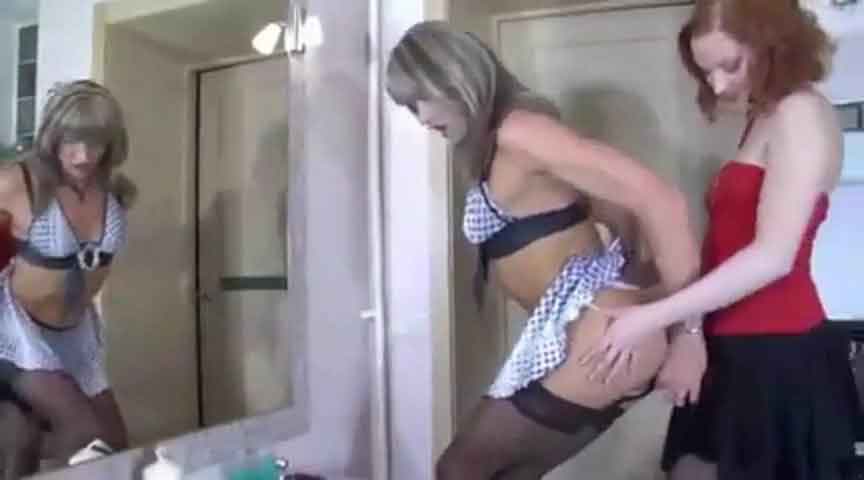 TIP – If you are not sure, and sometimes this is the better tease while he is washing up or polishing the table. Get him to bend over a bit more. Tell him to continue his task and splay his legs a bit by kicking them apart gently. Start fondling his ass, and pulling up his skirt. Then dry hump him. Hold his hips and thrust into him. Add a few comments like 'bet you want a good f*****g don't you', 'all sissy sluts need a good banging to keep them in line', or 'gonna drop my load into you soon'.
BJ practice – As a tease, well before you give him any reward, you can always get him to practice his technique. As a sissy maid it might be normal for you to consider them a bit of a slut. All good sluts need to know how to give oral. Either stop what he is doing occasionally and get him to kneel in front of you or lie on the bed and get him to kneel over you. Get his technique up to your standard.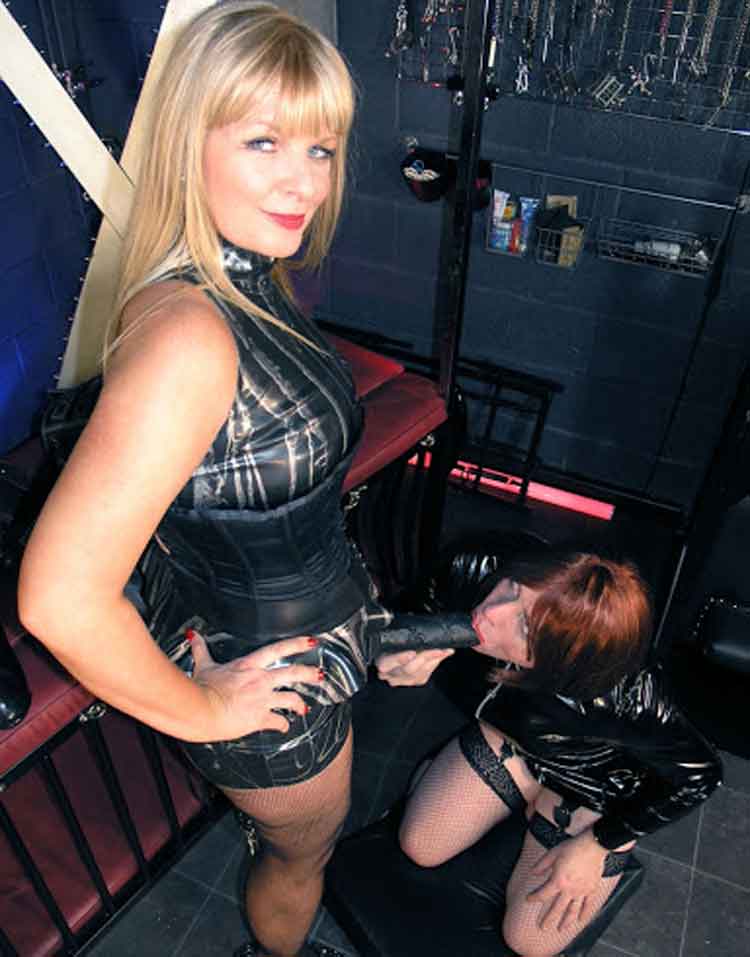 TIP – An opportunity to really make an oral expert here. Don't take simple stuff as acceptable. Really get him into it, you want ball tickling, shaft licking, tip kissing and some deep throat. Make him gag and get the strap on really wet. Make the appropriate noises as if he was really pleasuring you, although at the start you may want to mention that 'as a slut I thought you'd be better at this', before giving him instructions.
Masturbation – Do this when you want to, but you can always plunge your hand down into his frilly panties and ask 'is my dirty little slut wet down there'.
Butt plug – To add a bit of humor of interest, you can make him clean with a plug in. Maybe one with a little tail.
Flogging / Caning – Depends on what you have agreed but these are punishments for tardiness, not doing a thorough job or just for your own amusement really.
TIP – If he does release his load at any point the sissy maid roleplay should continue. He doesn't get to end it.
Get A Convincing Open Letter To Send To A Prospective Dominant
The easy way to get your partner to think about trying a Female Dominated Relationship
Trying to talk to your partner about the benefits of a female led relationship can be hard. Use this open letter to help or to prompt constructive dialogue.