Fantasy role playing for couples is part and parcel of life. You both have different interests and desires. Naturally, you want to explore and get closer to your partner.
The art of female domination, though and your desire to be a sub is a personal thing and many feel a bit awkward bringing it up.
In many ways it might be nice to break her in gently to the art of domming and see if she likes it, is good at it, or you really want it. It might very well be a conversation you'd rather have after a little bit of a test drive, so to speak.
All perfectly natural.
And there's no better way to do that than through the art of roleplay. It allows each of you to 'get into character' and perform a little, fun, and sexy routine for some harmless fun.
That being true, then it stands to reason that through roleplay your female, and soon to be domme partner can
It's also possible that your female partner isn't sure but doesn't mind trying it, and if that's the case then these following fantasies can be used in much the same way.
But what kind of roleplay? There's so much on the internet to confuse everyone twice over.
So if you'd like to get those domme juices flowing then, grab a coffee, and continue reading
But first, what isn't the right thing.
The Types Of Fantasy That You Don't Want
Often, learning the right thing to do can be easier to explain and understand by showing you what you shouldn't do. And so it is here.
When trying to give a little test run for domming, the last thing you would want to do is do the exact opposite.
A domme and subservient relationship is characterized by a consensual power disparity. In my case it is very 'on/off'. We kind of know each other and know when to turn this side of us on and off. That comes with practice.
We agree set times as well. It's a personal choice and doesn't move beyond our own confines.
Thus, any fantasy that doesn't contain a natural power disparity won't encourage, influence or give your partner a chance to explore that side of her through natural and encouraged roleplay.
Many, many men say that the maid fantasy is one to be treasured. The sexy french maid and the aroused hotel guest, is perfectly fine as a fantasy, just not ideal for encouraging female domination.
Other include;
Soldier
Bored housewife
A fireman who saves you
Model fetish
Damsel in distress fantasies
You get the idea. They all provide a power disparity the wrong way. You can play with them and make them OK, but for many, it won't feel real. More men are soldiers and fireman for example.
The other sort of roleplay fantasy you don't want is the one which is male-focused or would naturally perhaps put the male in a more commanding position.
Something like the handsome male police officer and the speeding babe doesn't fit our purpose
The Types Of Fantasy That You Want To Encourage
OK, so knowing what you don't want might then give you a flood of ideas for what might want.
You are essentially after a roleplay where the female character has is the controlling presence, the natural authority in the scenario.
It doesn't have to end that way, especially as a roleplay but they give you some room to slowly increment the natural power disparity.
I'm sure your creative juices are flowing, but allow me to suggest a few to get you started.
Fantasy 1 – The Naughty Nurse
An old male cliche fantasy for sure but with a twist that is natural and sure to provide plenty of excitement if you both get into the role.
Naughty nurse – The sub arrives for a checkup and get shown to a room, where there is a fabulous looking nurse, she looks really sexy. She tells you to sit down, and asks a load of questions for her form.
She then tells you to stand up and take off your shirt. Maybe she is a little impatient with you. She measures your heart beat and notes it down, seductively getting close to you. She seems to be enjoying teasing you. Any advance is met with a 'calm down there Romeo'. She lightly shoves you back into the chair, giving you a wink. She examines your pupils, teeth, gums, and checks your upper body, making notes.
She looks at and asks you to lift your tongue and say 'arghhhh'. She quips – 'you know how to use that thing do you?'
She orders you to stand up again and tells you firmly. Right, take off your socks. When you have done that, she tells you to undo and take off your pants. She walks around you, eyeing you provocatively.
She then orders you to take off your underwear. You are now standing naked in front of her. She tells you to touch your toes 3 times and stand straight. She then walks up to you and holds your sac in the palm of her hand,
'Cough' she says. You do. 'And again'. So you do. 'Seems all right down there as well. Know how to use that do you?'
You can probably imagine what might happen next, you can add a rubber glove and a 'bend over' if she is up for it.
The point is that this fantasy allows the female to go as far as you both agree in her commanding position.
Fantasy 2 – The Headmistress
No idea how common this is, but there is good power disparity in this one and plenty of scope for ideas of punishment. If the girl is a bit new you can tone up or down as necessary.
The Headmistress – You've been sent to the school headmistress again after school. You've been caught looking up girls' skirts one too many times. Entering the office she motions you to the chair opposite her desk. You're nervous as the headmistress is a sexy bombshell, showing a wonderful cleavage.
She finishes scribbling what she is doing and looks at you dismissively. 'What am I to do with you?' she gives you the lecture that young schoolgirls deserve better than your lecherous efforts.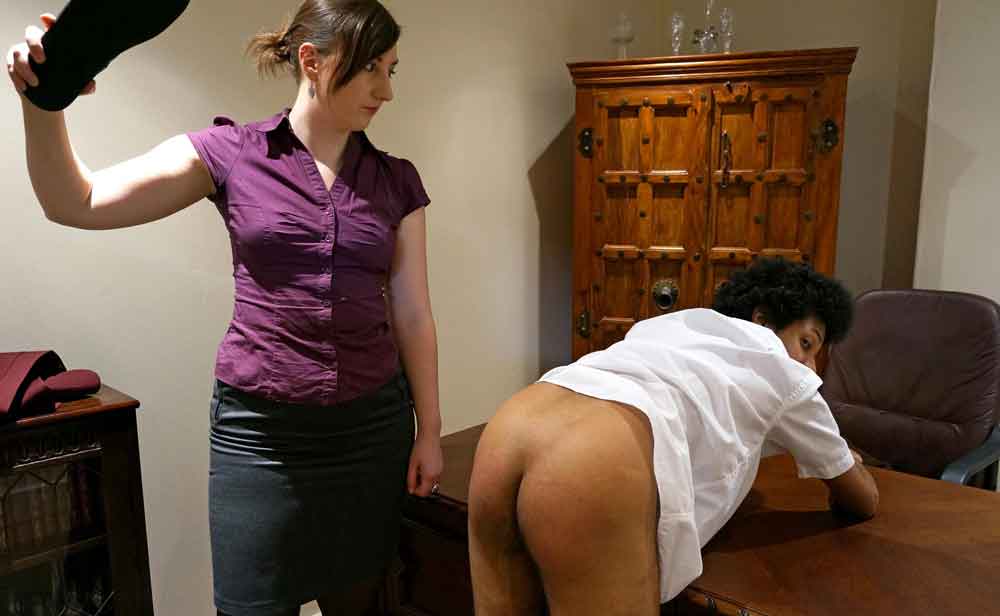 She comes around the front of the desk and sits in front of you, spreading her legs slightly. You can see her underwear. I know what you want, but I have to punish you first to protect the schoolgirls (a chance here to make the punishment as light or as pleasingly harsh as you are both comfortable with – a small cane to the backside, a small cane to your privates to to try negative enforcement on you).
Finally, the headmistress comes around the front again, gets you on your knees. She says she believes in rewards for good behavior. She knows that you have hormones controlling you. She will give you some instructions and if you do a good job, you can have another reward next week.
You nod, and she says 'right, now take off my panties with your teeth'.
Frankly, you can go anywhere with this one, but the whole scenario is controlled by the female. Plenty of scope for tease, which is the essence of a domme controlling you.
Fantasy 3 – The Bitchy Boss
Again, good power disparity with this one. The female can be as bitchy as she feels like, and really act out grievances and power trips.
Most girls have a good grasp of life awareness to get into this one.
The bitchy boss – Your appraisal is up at the office. The sexy boss has scheduled a time, and you are a bit late because you were completing an urgent task. You knock and enter when you hear 'come in'.
She is displeased with your tardiness and thinks it's quite typical of your attitude. Your weak protestations of work just invite her to tell you to be quiet, she is not interested in your excuses.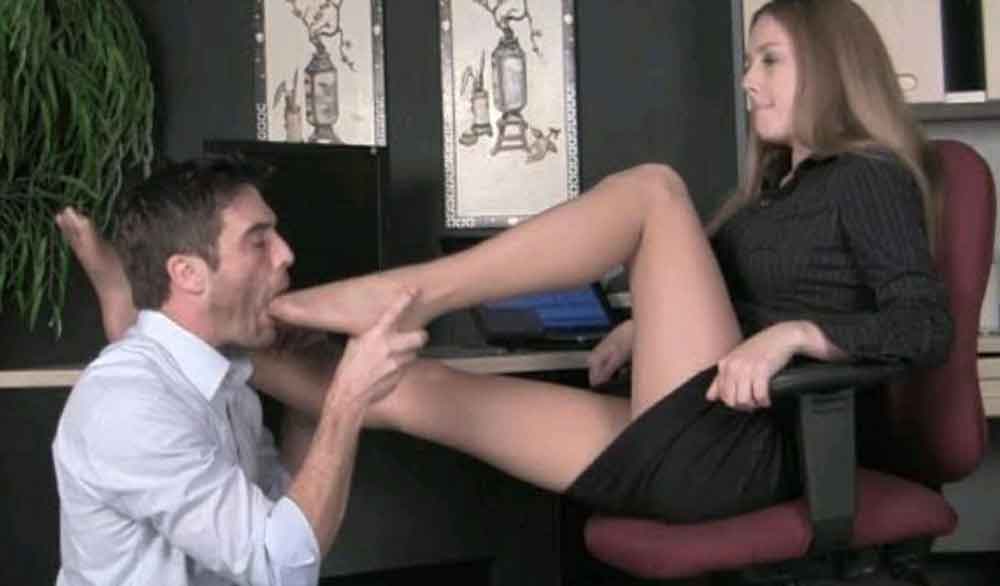 She tells you that you are always late, your work is substandard, your communication skills are lacking and she questions your commitment and work ethic. She wants to fire you, and can't think of a reason not too.
She is dismissive when you answer her questions. The new girl is better than you, you aren't impressive in the office. You don't have personality and wont stand up for yourself.
She tells you to stand up. You do. See, you just do whatever someone says. She walks around the table, grabs you between your legs and declares 'you need to grow a pair of balls' to work in my company.
Feeling you harden, she asks if even down there you aren't impressive.
You stammer that in that department, you are much better off with your tongue. She seems curious and asks for more details. You provide some and she says 'tell you what, if you can make me multiple orgasm with your tongue you can stay. If you can't you're fired'
You get the idea by now, a sexy femme fatale with power over you can be overcome and you can please her. Get her to push the domme bit as much as she feels comfortable.
Fantasy 4 – The School Brat Princess
Most girls can dive right into this one, knowing exactly to model their characterization on.
The sexy school brat – Your hormones are raging and walking home from school you bump in the school brat. She thinks she is all it and knows it. She catches you staring at her cleavage. With these I can get men to do anything I want. It's so easy. Let me show you. She pulls down her bra a bit showing off more then quickly covers up.
Right she declares, if you come home with me I will show you it properly.
You go home with her. Excited, but once in her house she says men are so easy to manipulate. They only think with one thing. I can get you to anything by promising to show you a nipple can't I. She proceeds to get you to tidy her room, and a few other chores she would normally do.
She shows you a nipple really quickly, teasing you.
From this point on you can pretty much run wild. Tying you to chair, and making you watch her pleasure herself might be a good one. The point is that the brat schoolgirl is all about tease. Her supremacy and your weakness in her presence.
Make her tease you as you squirm for pleasure.
Fantasy 5 – The Female Superhero
You probably want to pick a superhero with an attitude. Think Jessica Jones or Catwoman, not Mary Poppins and her flying ability.
This one is simplicity itself. The superhero catches you in a criminal act and sets about trying to teach you a lesson. Using her powers to detain you she goes on a bit of a power trip and makes you do things.
Otherwise, it's a prison for you.
Fantasy 6 – The Psychologist
If you haven't seen the Sopranos, and you should, this provides a good template for this fantasy. The psychiatry profession is very dominated by women, who in a roleplay scenario can manipulate and expose.
They ask a question, and you answer, they are in control of most meetings between men and women in this field.
The sexy psychologist – Lying on her couch and sitting beside you in her sexy business attire, she asks you to talk about events.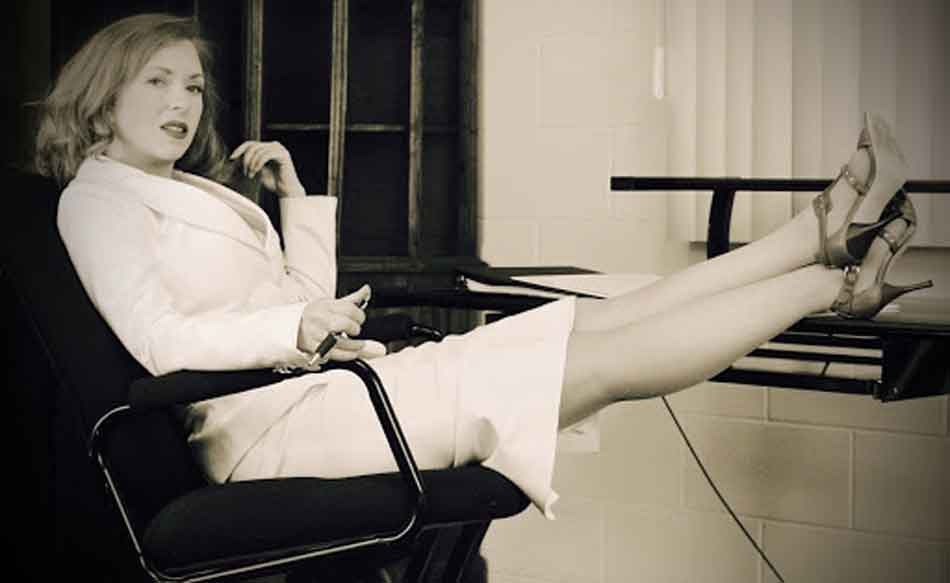 From past chats, she concludes that you haven't nurtured sexually and the frustration is causing you problems. You are a sexually frustrated male, and your misogyny is evident.
The proper treatment is for you to learn how to pleasure a woman. Luckily she has the answers and can guide you through your recovery. You must pleasure her the way she tells you.
Fantasy 7 – The Blackmailing Ex-Wife
This is another one of those fantasies, that you can really go to town on, and isn't just confined to a single session. The domme control here has a wide range but can easily incorporate all fantasies for both of you.
The blackmailing ex-wife – Following a bitter split and divorce your wife tricked you. She came around a little tipsy one night, confessed that she wasn't all bad, and offered some make up sex. You did and during it, she photographed you in some compromising positions (decide whether you want to really do this compromising thing).
Now she just turns up whenever she has a problem, needs something doing, or wants a bit of money. If you say no she will email all your friends, your work colleagues, and family those embarrassing photos.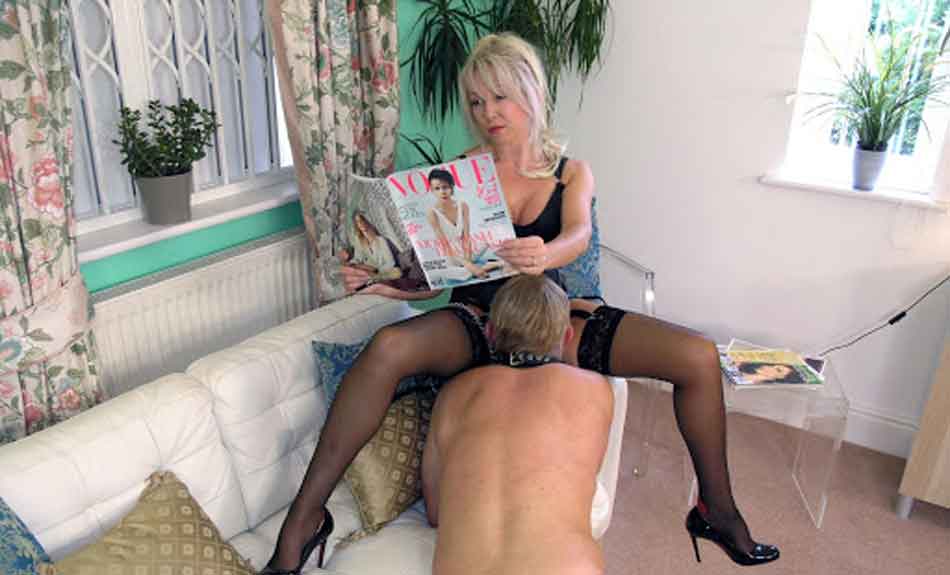 She messages you at work one day and tells you she feels like being pampered tonight. You have to do so when she turns up you have to treat her like a queen, not the blackmailing cow she is.
She loves teasing you about it, knowing she can do what she likes. You are at her mercy. Does she want a foot massage tonight with her champagne or does she want something else. Watching you squirm is her number one social activity and she delights making you kiss her wherever she wants and knowing you hate it.
How to Encourage Her Femdom Side
Above are just some pretty simple fantasies. You can make what you will of them and tone them right down at the beginning of any relationship. They will seem all quite natural.
Maybe have a few and see which one she likes, prefers or could really get into character with. Let her pick one that she feels at ease with. The key is that it can be altered to increase the power disparity as she grows comfortable in the role she is playing and enjoying.
Tell her you really loved the teasing part of the interaction roleplay. She was really good and that made it super awesome for you,
Get her to improvise a bit with the teasing. You can give her indications, in slow increments that you really love how she makes you squirm. More of that, please. Get her to associate you squirming with her being a little more domme like.
Taking the headmistress scenario above, you could say something like.
'Hey honey, you are dynamite as a headmistress. You are really good at making me believe the roleplay. I really love that you tease me before I get to release my load. It's the most amazing part of it for me. I hope we can do this one again, it certainly works for me. I have absolutely no problem you telling me what to do, it is so exciting as a tease. If you stepped that element up a notch it could be even better. Could you try punishing me a little more, only a little and teasing me a bit longer before you let me …….I like it to be realistic so if I do a bad job, feel free to be creative in character and let me know it.
And so, she feels free to use punishment or the natural power disparity between the characters to enhance both your experiences.
Conclusion
Roleplay between partners is as natural as the sun rising. Every couple does, or at least should do.
Getting into roleplay with your head and your heart can really help a relationship bloom.
If the idea of a more assertive partner is enticing to you then, the above list should provide some leeway to encouraging her natural authoritativeness.
It's a good idea to pick out the appropriate clothing together to assist in the 'make believe' of the fantasy. It will also help her feel more the part, which can be especially rewarding.
Get A Convincing Open Letter To Send To A Prospective Dominant
The easy way to get your partner to think about trying a Female Dominated Relationship
Trying to talk to your partner about the benefits of a female led relationship can be hard. Use this open letter to help or to prompt constructive dialogue.