There are many challenges with a burgeoning femdom relationship. Every partnership makes their own rules that work for them only.
The community loosely collected under the term BDSM often has rituals or ideas that have worked in practice for many, and it is wise, even if you are new, to consider what might work for you.
A female new to the world of being a mistress might associate a collar with extreme play, but it doesn't have to. A collar can often be unobtrusive, and symbolise the heart of the devotion of the submissive.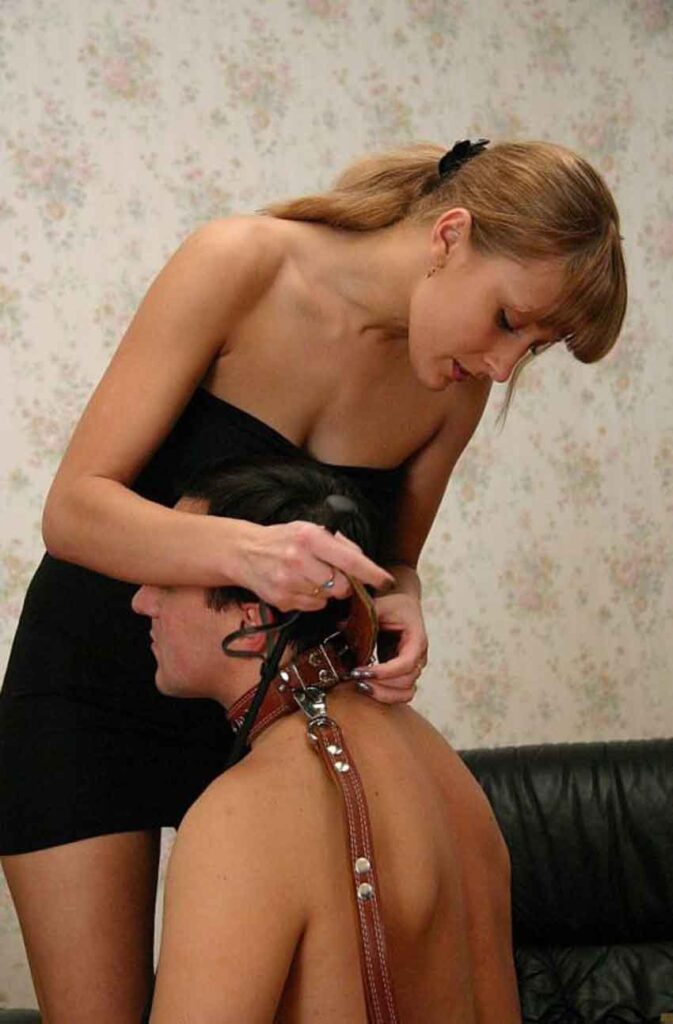 A collar can be a physical representation of the quiet unspoken authority of the dominant female.
In many ways, a collar for the submissive is ideal for a shy girl new to being a mistress.
A collar for a submissive can be intrusive or subtle, or indeed convey a meaning only known to the participants.
Collar Symbolism
There are many opinions on collars online, however there are no hard and fast rules. They can mean whatever you want them to mean.
Traditionally the collar is only worn by a submissive in order to convey status within the relationship.
The submissive is then placed in the category of 'being owned' with the dominant having the responsibility for that ownership.
A new mistress can use a simple general collar to be a physical reminder to the submissive. A lot of new mistresses might be somewhat awkward about the role in the beginning and utilize the psychological impact wearing a collar will have on a submissive.
Simple reminders of the collar may be enough to remind the submissive about obligations and authority without any confrontation.
There are no formal requirements for a collar, just a physical representation of the femdom relationship. It can be privately worn, or worn with pride at gatherings in the full knowledge of the true meaning to others.
Make your own ideas as to what a collar on the submissive means to you both.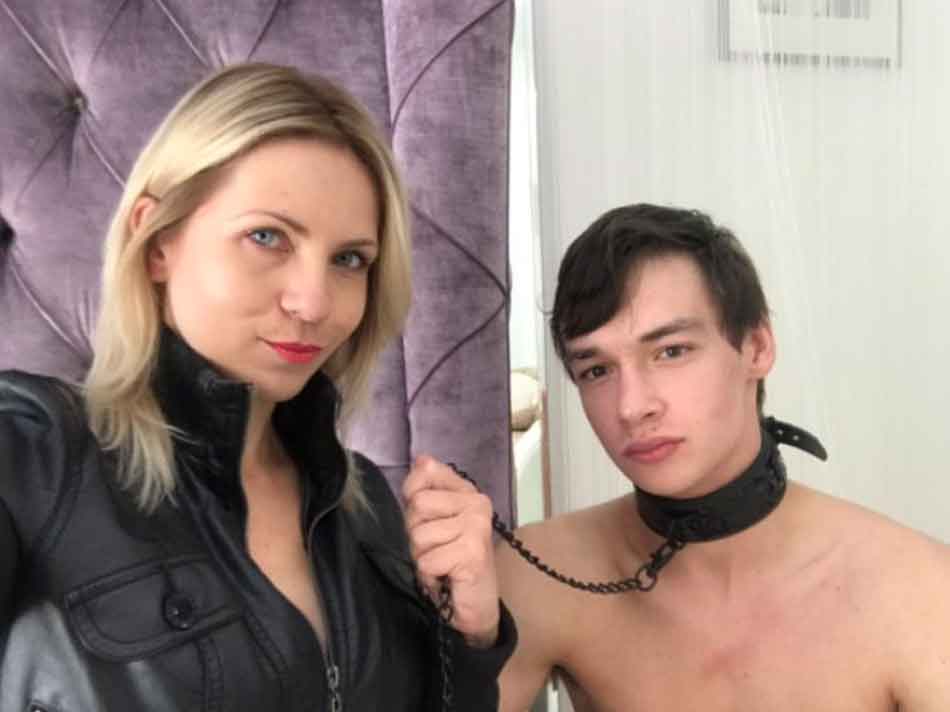 Some wear collars with little thought, other than for the dominant to display in private, while for others it carries the significance of a wedding ring.
Many use ceremonies to commemorate the act of wearing the collar. Many don't treat it that seriously and use it for play, or humiliation.
A collar is a personal statement between a dominant female and her submissive, and it's meaning is only defined within that partnership.
There is no correct way to display a collar, nor any meaning that can be inferred. You aren't making a statement to anyone else but the two of you.
Styles Of Collar
Along with the wide variety of symbolism for a collar, it nicely compliments the various physical forms.
A collar in its physical form can be an unobtrusive leather band, almost plain, or it can be large, ostentatious, with rings and padlocks.
A mistress who wants to collar a slave must think about the environment with which she wants the collar displayed, and whether it's realistic for the submissive.
The more it will need to be worn without respite, the more comfortable it probably needs to be.
It's perfectly possible to change collars and have different collars to symbolize different means.
A submissive may wear a secret collar to work, which isn't easily identifiable as a 'collar', yet have a more general one for private home use. A mistress might also have a collar which is brought out to humiliate her submissive, and a further one with a D-ring she uses to tether her submissive to a location.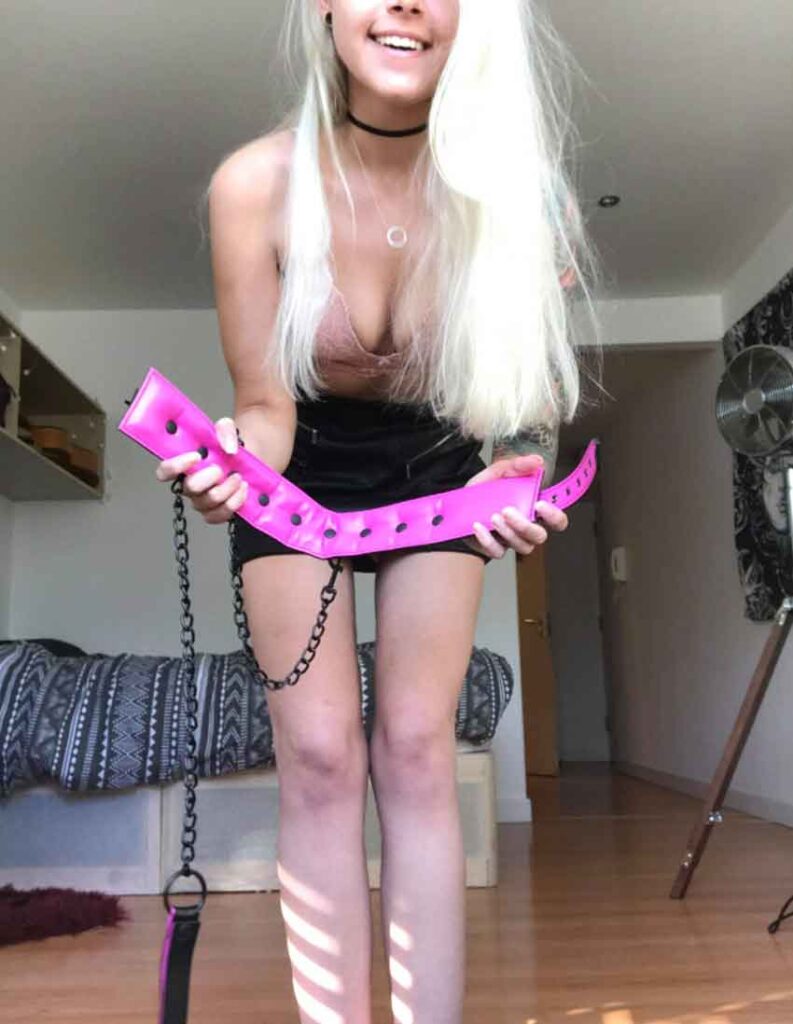 A collar helps a mistress maintain authority by placing the 'lock' of ownership on the submissive, and can be unspoken yet ever present.
It's also entirely possible for the submissive to not wear a collar until the mistress decides it's necessary. Many femdom relationships don't use a collar unless a specific purpose for one is needed.
Without further ado, here's a list of collars that a new mistress might want to consider and their symbolism, offered as a guide only. Feel free to change meanings to suit your individual requirements.
The General Collar
This might also be termed as a default collar for use by mistress for a wide variety of activities.
It's a simple collar that the submissive doesn't really identify with any particular aspect of being a submissive.
Typically it'd be a neck collar, made of sturdy leather with a small ring. This gives the collar a multitude of uses.
It should be comfortable, not too tight and can easily be worn as a symbol, yet still be identifiable as a collar.
It's simple wearing denotes submissiveness yet is practical enough to use for use with a lead or chain.
The Secret Collar
The participation in a female led relationship can often be a very private affair. I've no hard data on this but I'd suggest this is the majority of people.
Keeping the relationship dynamic between the partnership is often preferred.
The mistress may request a secret collar that acts as a symbol and replacement for a physical one, which emulates the mental effects without the need for an identifiable collar.
For this purpose it's common to use a necklace, bracelet, beads or some jewelry to serve this purpose.
It doesn't have to be neck worn either but a physical token of the collar.
It's by no means a necessary collar, as a mistress may prefer collars purely for their physical and practical purpose.
If a mistress wishes a submissive to always carry a collar as a reminder then some sort of secret collar will be needed for polite company with family and friends as a general rule.
This is often called the 'day collar'.
The Play Collar
This is a collar usually worn to signify there is a move away from general use and into play.
It would typically be worn during play and taken off when the play is over.
The collar should reflect the type of play that mistress and submissive are into.
They can have rings for reigns, sturdy leash anchors, or areas to attach wrist restraints.
Play doesn't necessarily mean the collar should be just for show. It often needs to be sturdy. A collar with a chain leash can be used to force the submissive's head into a certain position. A mistress receiving oral pleasure may use the collar and leash as a tool to keep the submissive's head near her genitals.
Or those into pegging might require a collar and leash in order to keep the submissive in position.
Although there is no hierarchy for collars, the wearing of the play collar usually symbolizes a mindset change to prepare for kink, and his assumption that kink will be forthcoming might be justified.
The Sports Collar
A mistress who requires her submissive to show permanent devotion through a collar might need to consider what is to be worn for those submissives who are involved in active sports.
While you can keep a secret collar in a pocket during a chess game, or wear jewelry, it's often not a good idea for those involved in hockey or another similar sport.
A simple sweatband might suffice or a small velcro bracelet should be used here.
The Humiliation Collar
This is a collar with a specific purpose.
The humiliation collar usually will replace the current collar being worn, both physically and as a symbol that the submissive is to endure some humiliation.
The humiliation collar will be specifically tailored to the submissive. Submissives are humiliated in different ways.
A mistress might decide to replace a discreet collar, even within private use, and exchange it for something very unbecoming. Large, ostentatious, and in a bright girl color like pink may be enough.
It could also be a collare with a D-ring on it which you attach to a pet dog via a leash, and the mistress tells the submissive to follow the dog's lead.
The D-ring can have weights attached to it, a placard left dangling from it, or even a simple tag acknowledging the fact that the submissive is owned.
Overtly feminine collars can also be used, often to make the submissive uncomfortable.
The Tether Collar
The is a strong and simple collar that is perhaps more like what most people might think of as a BDSM collar. It's sturdy, robust, and can often take quite rugged use without fear of breaking.
It's used more as a shackle than a collar.
Typically it might be reasonably wide and more belt like. It will almost certainly have good stitching for one or more D-rings on it.
It's purpose is specifically to be worn and used with a chain or leash.
Padlocks can be added with ease on the chain and the chain itself tethered to an immovable object such as sturdy table leg or other anchor point.
The submissive can wear this collar when the physical aspect of a collar is needed, such as walking on a leash in the woods, or tethering to a location for a chore to be performed.
A mistress may choose to tether a submissive to some bathroom anchor point as a small humiliation for procrastinating on his weekly chores.
With the roaming space limited the effect would be to concentrate the mind on the task that needs performing.
The Discreet Collar
This collar is still identifiable as a collar but isn't quite so ostentatious and might easily be hidden beneath the shirt collar or a sweater.
The point is that it might be easily hidden.
It can still have practical aspects like a small ring for a lead, but it isn't specifically designed for the robustness that the more general sturdy collars might put up with.
Small hints that the mistress might reveal it while out invites compliance.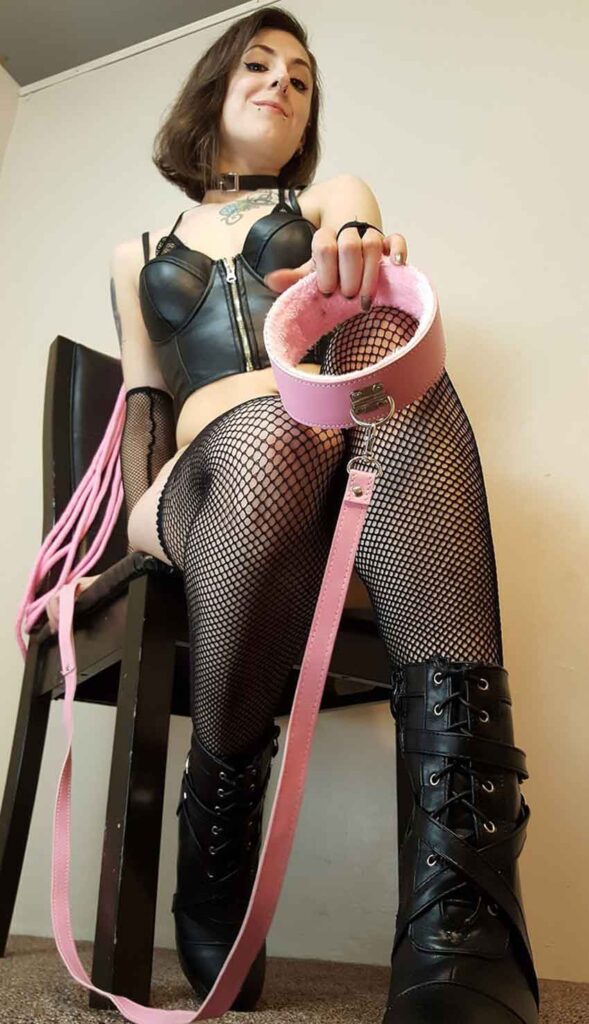 The collar might be more considered a piece of jewelry but is still visually identifiable as a collar. It's normally thinner and more lightweights.
The Restraint Collar
This would be a sturdy collar with the specific purpose of acting more like a shackle than a collar. A tether collar could be used in a dual purpose role.
The restraint collar might have sturdier D-rings, and often more than one. The D-rings will be able to loop chain through and are often used in conjunction with wrist restraints, or even ankle restraints.
Also called a punishment collar as very heavy weights might be able to be attached without fear of breaking.
Padlocks can easily be used and look sturdy. The image of futile escape may be made with this collar.
Often the submissive cannot remove this collar without the help of the mistress., thus its use as a restraint collar.
Would be used to make the submissive feel more like a prisoner than any other collar.
All in all, there are many collars with specific purposes, such as a posture collar, the only limitation is how a mistress and submissive wish to use them, if at all.
They aren't a requirement for a BDSM relationship but can add some injected fun and interest into the activity, as well as practical uses.
Get A Convincing Open Letter To Send To A Prospective Dominant
The easy way to get your partner to think about trying a Female Dominated Relationship
Trying to talk to your partner about the benefits of a female led relationship can be hard. Use this open letter to help or to prompt constructive dialogue.