So, he has handed you the keys to his soul.
Thoughts are racing through your head about many things. What does it involve? What is expected from me?
It's a little overwhelming. You may be a little concerned, but you needn't be. He is just trying to fulfill a need, a desire within him, and trusts you enough to give you control.
If you are a beginner, then it can be really engulfing to come up with some tasks for him to do. Maybe it's a little weird and you are concerned.
Fear not, for here is a great list of tasks to give him.
You should not ask for these to be performed. With quiet authority, just simply and plainly tell him what you want him to do.
These are quite low impact, and minimal in interaction, so if you are new to this use these tasks to reflect on what you desire out of the deal. You can assess whether he is enjoying your control over him without feeling the need
REMINDER – Tasks are different from punishments. Tasks are there because you need something done, you think might be funny or you are interested in him performing. Punishments are deliberate actions to correct and punish behaviour you find acceptable.
QUICK TIP – Consider getting a separate messaging app for your smartphone to convey your tasks using your domme persona. Call yourself mistress and tell him that this is where your tasks will come from when you are not in physical proximity. This helps you differentiate between Mistress tasks and a request to pick up some milk on the way home,
Task 1 – Pick a favorite drink of yours and be really picky about how it is prepared. Say coffee with between 50 and 60 granules, a level tablespoon of milk. The water is to be freshly filtered, boiled in a cleaned kettle and left for 2 minutes before pouring. Pick a favorite mug and make him make you it, as often as you like.
Task 2 – Require him to ask permission to use something or before something. Say requesting to go to the toilet, or before he has a beer. Try getting him to request permission by smartphone if you are not close.
Task 3 – Ask him to come up with a list of habits that he wants to change. Pick one, and then tell him to learn about the best strategies. Give him instructions from those strategies.
Task4 – Pick some daily affirmations that you like, add a bit about obeying you. Get him to chant them in the bathroom mirror every morning. Get him to record it and send you the video.
Task 5 – Get him to write out a pledge of allegiance to you. Nothing short either. Get him to put in some effort.
Task 6 – Get him to record a shortened version of it, or swear a daily oath to it and send you the video.
Task 7 – Get him to be your personal shopper. You want to buy a lava lamp, say, or coffee grinder. Get him to do research on which one you should buy. Get him to go through cost, brand quality, reader reviews, where you should buy it at the best price, warranty on each option etc and get him to come up with the best option, a budget option, a recommended option and a best value option. When he is ready, sit down and make him stand in front of you with his findings.
Task 8 – Tell him to go and buy all the local brands of aftershave or deodorant. Make him wear a different one each day. Give that one a score and go onto the next. At the end of the line of products ask him which ones you liked most. Test the op 3 again. Make him wear that one when you want him to.
Task 9 – Get your favorite meal, and tell him to research several recipes. Get him to cook each one over the course of the next few weeks, lay the table for you when you dine to try it. Pick the best one of the three. Rinse and repeat for different culinary styles.
Task 10 – Those bathroom taps are filthy. Get him to clean them to royal standard with a used toothbrush. Inspect them.
Task 11 – Get him to buy a journal and record his thoughts on his new life. Every Friday he is to hand it over to you so you can read it at your own leisure. Occasionally tell him to record a specific incident in the journal 'you want to read about that later'.
Task 12 – Get him to log ideas on how to improve himself. Pick one you want from him. Get him to research it and then give him a goal a month from now. Remind him occasionally that you want to see improvement on the issue. You don't want daily reports, you just want to inspect them in 1 months time.
Task 13 – Get him to house work in an apron. Get him a humiliating one or one you find funny. Get him to do it in his underwear only occasionally.
Task 14 – Tell them to learn smartphone photography properly, as in how to take professional ones so you can have pictures taken of you when out and about. Get him to take ones of you occasionally and choose one for an fb post.
Task 15 – Get them to learn something current you should know about, or a topic you want to know more about.You can make it reasonably complex, like I heard on the news that Saudi Arabia is at war in Yemen. Research that for me and give me a 2 minute version so I can have an educated opinion at work.
Task 16 – Take 10 or 15 minutes a day to do something beneficial. Like press ups and sit ups, Make him do them in front of you while you are doing something else.
Task 17 – Get them to read a book before you and summarize whether you should read it.
Task 18 – Get them to watch a movie so you can decide to watch it. Research critics reports and write 1000 words on whether you should watch it.
Task 19 – Get him to browse YouTube to find some funny or interesting videos. Pick one to send to your friends and pretend you found it.
Task 20 – Choose their outfit for the day. Pick everything.
Task 21 – You deserve some high heels. Get him to research online which ones to buy.
Task 22 – Pick a pair of heels that are polishable. Tell him to research how the army cleans their boots for parade. Tell him to do that as you want the shiniest pair of heels. This is the pair that he will keep clean and polished like army boots for you (hint – this takes a while but the shine is amazing when leather looks like a reflected mirror)..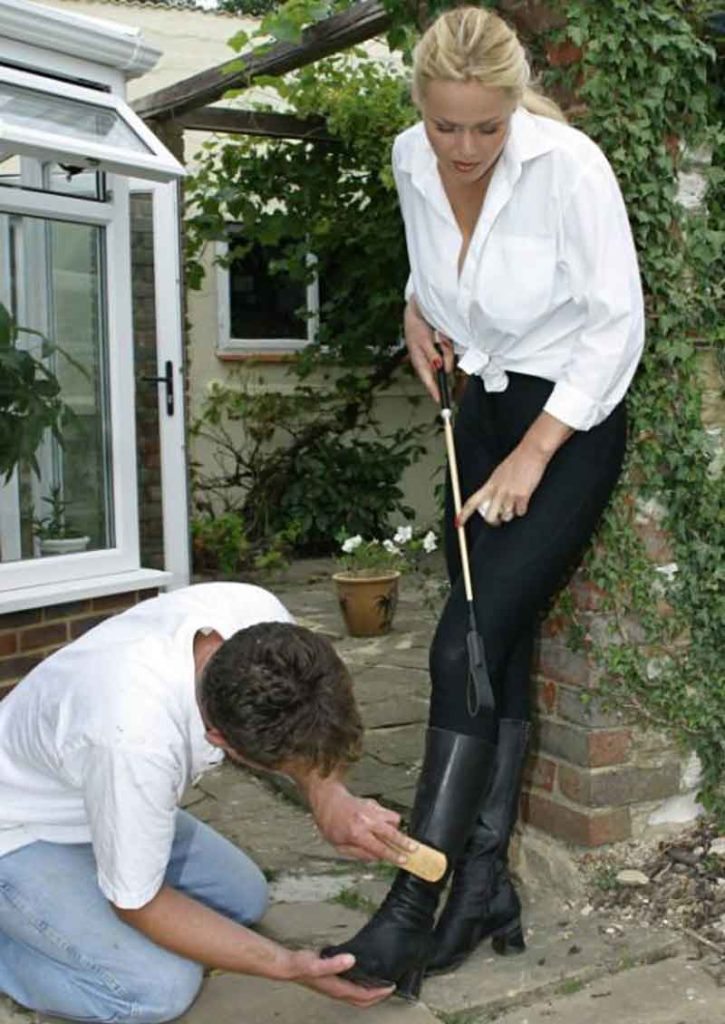 Task 23 – Get him watching darning videos on YouTube. Give him an item of clothing to repair.
Task 24 – Get him to research how a Mistress is to be obeyed. Get him to stand in front of you with what he has learned.
Task 25 – Get him to make an excel spreadsheet of something you'd like to track. Their calorie count, household budget, time spent on PC. Get him to itemise it for your perusal and thoughts.
Task 26 – Get him to come up with his own points system for obedience and punishment. Keep a little diary on his tally. Keep it a secret from him. Refer to it every now and again before any rewards come his way.
Task 27 – Get them to research a womens sex toy online. You want popular models, and summarized customer reviews.
Task 28 – You deserve a professional masseuse but why waste money when you have him. Get him learning how to do professional foot rub. Either take a course, attend a class or read how to do it. Get him doing foot rubs when he feels he has mastered the art.
Task 29 – You want a firmer foot rub, so get him using wrist grips daily to strengthen the power in his hands and fingers.
Task 30 – Give him time, but tell him on Sunday you want breakfast in bed.
Task 31 – Get them to learn about coffee. You want to know what each brand tastes like to make a better drinking decision. Get them to purchase each one, learn how they are graded, and create a spreadsheet. Get him to serve a different one each day. You want to become an aficionado and informed coffee expert.
Task 32 – Get him to give you a 2 minute news synopsis each day about the important things in the world. Say 3 from your home Country, 2 from around the world and 1 honorable mention. Occasionally get him to present it like a newsreader. If he is away, get him to record it and send it to you. Or get him to record it and send it to you before 10pm each day, just like the real news.
Task 33 – Get him to make you something, like a bowl, ashtray or jewelry box. Tell him you want a hidden compartment.
Task 33 – Get him to learn how to manicure. Purchase the best tools and keep your nails in good fashion.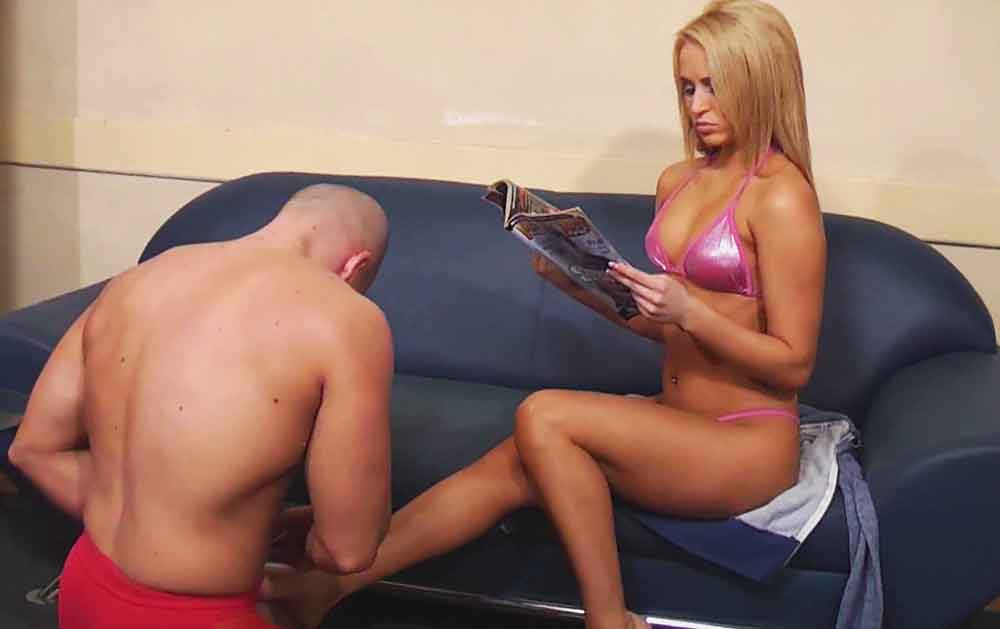 Task 34 – Get him to sell something you don't want anymore, and put the money in your bank account. Put it on ebay for a 7 day auction and get him to tell you each day what the bid is on it.
Task 35 – Get him to recite a few poems to you (your favorites) then get him to write the one you like out in calligraphy, and frame it.
Task 36 – Get him to make you a different fruit smoothie each morning so you can pick your favorite.
Task 37 – Get them to update and revamp your CV – you want 5 styles, and an example covering letter for each.
Task 38 – He needs to learn how to brush your hair like a stylist. Why waste time yourself. Get him to practice on a wig and once he has reached your standard get him hair drying your hair and making you look fabulous.
Task 39 – Make them go into a store and buy you something that would be embarrassing for them.
Task 40 – When out in public, make them look at you for permission to speak to someone. If you don't give it they are to ignore them.
Task 41 – Order food for them when out together, don't let him pick the meal.
Task 42 – Prepare a bath for you. Warm water scents, candles burning, perhaps some rose petals and be on call to fill up your wine or change the mood music.
Task 43 – Clean your car. Inside and out. Tell him there will be an inspection at a certain time.
Task 44 – Get him to empty your handbag on the bed and place each item into categories. All the lipsticks together, keys, misc, etc. While you are wondering what to change, trash or include, get him to clean it and make it like new.
Task 45 – Pick a word from the dictionary and get him to use it in context later in the day.
Task 46 – Make him stand at the door at the time you go out to work each morning. Make sure he has a checklist of all things you need. Handbag, keys, etc that way you won't forget anything.
Task 47 – Make him prepare your work clothes for the next morning. Tell him to place it all the same spot. Shoes cleaned, tights, underwear, blouse skirts are all to be inspected for cleanliness so you never go out looking improper. Tell him the right way to fold things so they don't crease as he prepares them.
Task 48 – Get him to make something that assists you in a hobby of yours.
Task 49 – Get him to learn, and practice a magic trick to impress you.
Task 50 – If you have a personal goal at the moment, get him to track it, in charts and graphs.
Task 51 – If you follow a certain celebrity or famous person to learn from, be it Kim Kardashian or Ellen Macarther, get him to keep an eye on the news for them each day for them. Get him to set up google alerts. Get him to present a folder to you each week with what they have said and done during the week, that contains print outs and newspaper article cut outs.
Task 52 – Get him to line his clothes up. Pick a few items you really hate him wearing, and tell him to take them to the charity shop and give them away.
Task 53 – Thinking about a new career. Get him to investigate the career, how to start, whats needed, average wage and collect a few adverts for each career choice you are thinking about.
Task 54 – If you are after a new job, get him to search the internet every day and present a folder to you early in the evening with printouts of jobs you might want.
Task 55 – Design a bit of jewelry and get him to make it for you.
Task 56 – Do you have a perfect dress or skirt you want but can't find. Design it, draw it out and get him to make it for you. In fact, any item of clothing. It's his job to find out how to make it, not yours.
Task 57 – Go through some old clothes with him. Get him to take up the hem of some that are too long. Get him to turn some old pants into some sexy shorts.
Task 58 – Ever wanted to see what one of your rooms would look like if you rearranged the furniture. Get him to take photos of the room from all angles, change some of the stuff around, and take photos again. Try it a few times so you can look at the pics and decide the way you like it. Also, use him as a bit of furniture to see if you like the chairs there.
Task 59 – Take an online course in a skill that you want to acquire. Get him to do all the work and take the tests in your name.
Task 60 – Every now and again get him to type out a fantasy like homework. Get him to print it out, and keep the copies in a folder. Give him the fantasy and ask him to write his thoughts on it.
Task 61 – Get him to make a whipping cane, a paddle and a paracord bullwhip. In fact get him to make any piece of equipment that you might want to use on him.
Task 62 – Do you have a favorite alcoholic drunk. Whisky? Rum? Get him to make some from scratch. Prefer wine, get him to make some of your favorites. Get him to design a label with your picture on and present you with some bottles and a drink date.
Task 62 – Get him to make you some pampering beauty products. The internet is a veritable fountain of knowledge on what can be made from soaps to bathroom bombs.
Task 63 – If you are a lover of chocolate, get him to make some luxury chocolates, not the simple stuff from local shops. You want the finest ingredients and taste. Get him to make a selection, like a shop and choose your favorites. Give him a small order list every month and ask him to come up with some variants or your choosing so you can continually improve and refine your tastes.
Task 64 – Get them to ring you each day at a specified time (you don't have to answer) but they should ask if there is anything you wish them to do today.
Task 65 – Have them clean and wash regularly and do random body inspections.
Task 66 – Give your man a typed note in an envelope that he hasn't read, and tell him which person you want to hand it to. Get him to walk up to strangers with an unknown note. You can make him stand there while they read it if you like. Have some fun with this. Never tell him what you wrote.
Task 67 – Get him to read a passage from a self book to you every night. Say a chapter every night.
Task 68 – Think carefully about who is the boss where you work. Who's influence do you need to get a promotion? List their interests and give him the task of keeping you informed about what is going on. If your boss is interested in a soccer team, then give him the task of finding out about them. You want a 5 minute briefing every Sunday night, and critical updates of anything important in the confines of the task If your boss is from another Country, then get him to keep you apprised of all that is going on there.
Task 69 – Build a habit that you desire. Some habit forming behaviour you want from him. Get him to keep repeating it. Tell him when you want to see it done.
Task 70 – Whenever you spot something outrageous you want to do get him to email the person required and ask for something from them via email. Free stuff from celebrities, big companies promotional departments. Get him to write emails whenever you fancy from a new email account in your name. Use him to get free stuff. Email Nestle and say you found a spider in the coffee. Can you have a free voucher?
Task 71 – Give him the task of learning negotiating. Get him to read books and take courses. When you see something you want, get him to negotiate for you so that you always end up with a deal. Never pay full price again.
Task 72 – If you have a favorite movie, get him to act out the scene you like best. Learn the lines and play the character.
Task 73 – Do you have a favourite columnist whose opinion you like to read. Someone you follow on twitter. Get him to record him reading the article or tweet as an audio file or tweet and send it to you every time they publish something.
Task 74 – Get him to wear stockings and suspenders to bed.
Task 75 – If you have a favorite fruit, get him to come up with several ways to make it in different formats. Say you like strawberries, tell him you want him to make some strawberry yoghurt, a strawberry pie, a strawberry smoothie, a strawberry cheesecake and a strawberry daiquiri.
Task 76 – Weigh him naked at the same time every morning and record the weight. Tell him you want him to lose a lb by this time next week.
Task 77 – Is the keyboard of your PC a bit sticky and needs cleaning. Get him to order some isopropyl alcohol spray and some earbuds. Get him to meticulously clean it until there isn't a spec of dirt on it. Tell him to do it once a week and message you when he has done it so you can check.
Task 78 – Are there people in your industry at work that if you connected with would boost your career? Get him to create an email account in your name, and report to you daily with what he is doing. Get him to compose emails or write to the person when he has done something significant or interesting. Get him to read influence books. The purpose is to get him to respond and engage to help your career.
Task 79 – Get a chin up bar for him and put it in the doorway to the bathroom. Every time he wants to go to the toilet he is to do some pulls ups. Alternatively get him to ask permission to use the toilet. Everytime he does, get him to do some press ups afterwards. Increase the number as he gets stronger. Get him to kiss your foot occasionally on every press up.
Task 80 – If you want to smarten him, or even if you don't, make him parade like a soldier in the morning for inspection. Make him salute you if you want and no half baked measures either. Get him to do it properly, press ups if he isn't doing it. Inspect him for ironed shirts, button cleanliness, show tidiness. Give him areas to improve until he looks like a model from a catalogue.
Task 81 – Get him to do a glossary of all known BDSM terms and their explanation. Get him to grade whether he likes them from 1 to 10. Get him to write why if it's over 7 or under 3 on the score after he has completed the first bit. This is a good initial way to understand what he hopes to get out of it and how you can both motivate and humiliate him.
Task 82 – Get him to do your christmas card list, handwritten, whatever time of year it is.
Task 83 – Make him your repetitive task reminder. Monthly bills, birthdays to remember, subscriptions, reporting dates or data organization. Whatever you want, tell him to remind you 5, 3, and 1 day in advance.
Task 84 – Get him to investigate and set up google alerts for anything you want to keep up to date with. Get him to message you and show a link with whatever google alert brings up. Never miss what you need to know again.
Task 85 – Give him the mission of getting you a dinner date or coffee with someone you want to meet locally.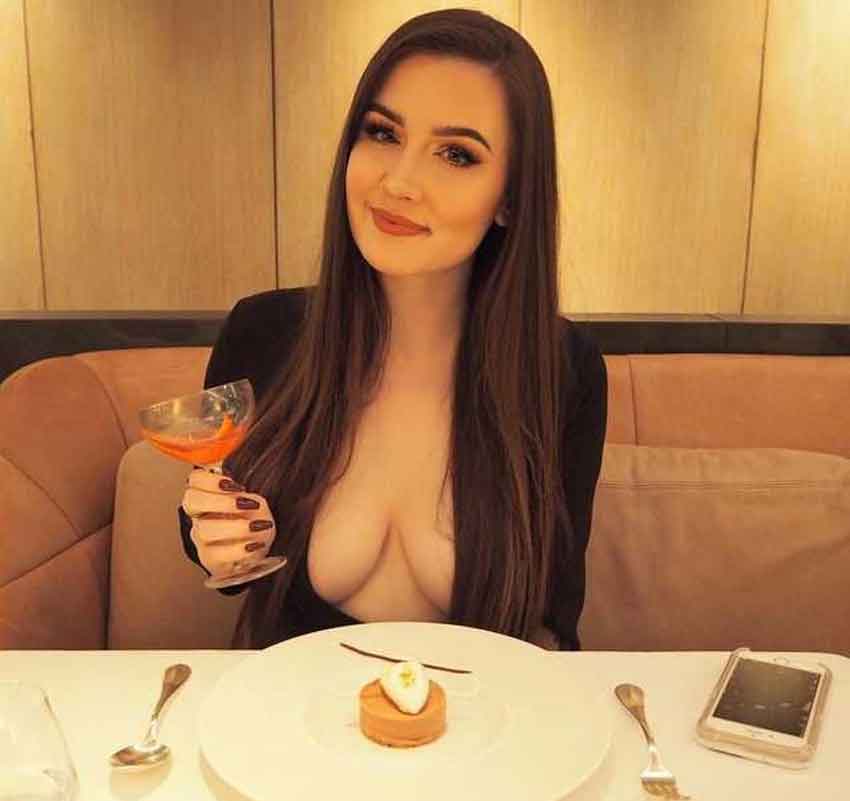 Task 86 – Get him to read 'how to be a better domme guide' to you out loud while you relax.
Task 87 – Get him to buy you 7 pairs of the finest panties you want. Also 7 matching bras. Call each ensemble collection Monday, Tuesday, Wednesday etc. Then get him to research expert hand laundry, let him get the best soaps and conditioners. You want the appropriate set meticulously hand washed, dried with a hairdryer and hung to air in a specific place, ready for tomorrow. He must do each one the night before, not en masse.
Task 88 – He must text you a witty one liner by 10am every workday morning so you can appear more witty at work.
Task 89 – Get him to maintain a watch on your favorite celebrities hair styles. Make sure he lets you know when some important figure does a fashion change.
Task 90 – Get him to start and run your online blog for one of your interests. You do the design, he performs the task functions. Get him to write articles, which you then edit, and demand rewrites. He publishes the content.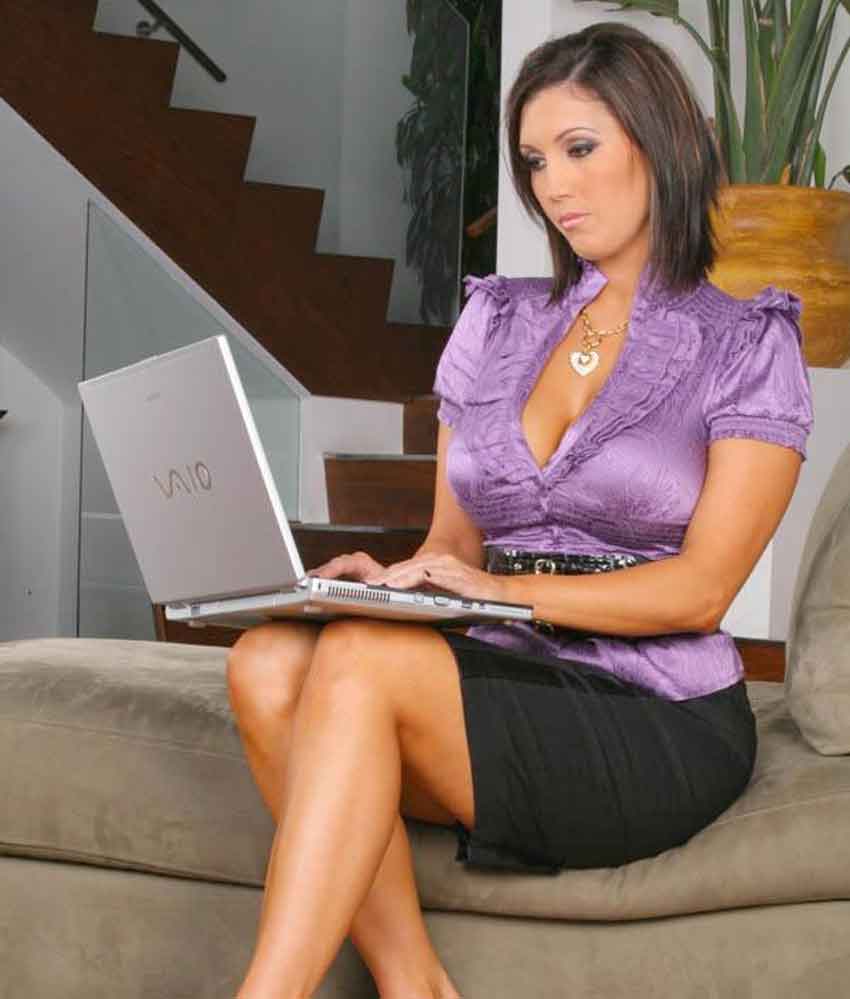 Task 91 – Get him to make you a hat. Or a beret, whatever piece of chic headwear you desire.
Task 92 – For any semi formal occasion, whether it's a meal out or a city visit somewhere. Get him to prepare you in advance. If you are visiting somewhere get him to provide a list of hotels, places to eat, entertainments and places to visit for fun.
Task 93 – Schedule an evening, or a day when you want pampering. Get him to produce a menu with fancy writing in a leather folder. Get him to provide 3 draft menus, pick and choose then get him to do the final menu. Approve it, and then give him the day you want it.
Task 94 – Use him to improve you in some way, say get him to get a clever word and explain to you its meaning and context. Make him find a funny kinky line to use it in context. You want one new word a day.
Task 95 – Make him clean your sex toys. Especially if you go into a room and masturbate yourself. Get him to lick it clean then wash properly and return to the draw. Paddles, canes all need a wipe down and to be kept in order for a moment's notice.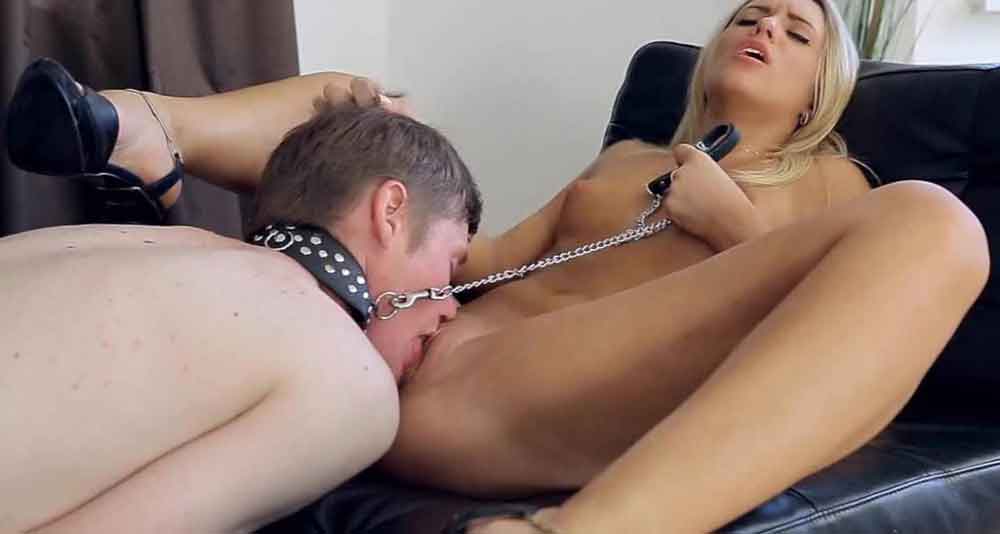 Task 96 – Turn his profession into your personal free service. If he is a lawyer, get him to advise you legally on things. If he is a gardner, get him to mow your grass. If he works as a cashier, give him 5 items you want to purchase, tell him to find the best prices, add them up and give you a figure.
Task 97 – Give him a personal talisman that is a symbol of his personal devotion to you. Get him to send you a photo of him kissing it every day. Or whenever you feel like receiving the photo. Items that hang on a key ring are good.
Task 98 – Make him wear your underwear from yesterday as his workday clothing. Or at least keep them in his pocket all day.
Task 99 – Get him a white t-shirt and write something embarrassing on it. Whatever works but 'I am a cuckold', or 'I am a crossdresser' and get him to wear it to work under his shirt.
Task 100 – Get him to ingratiate himself with someone whose help you'd like.
Task 101 – Whatever his normal politics, get him to argue something different. Get him to learn how to persuade people, and use him to convert other people to your point of view.
Longer Tasks
Task – Get him to prepare some long term food storage. You need 1 months supply of food, water, spices, medical etc in case of emergency. Tell him to research how to do it, prepare a brief Q&A session of the info he needs from you and get on with it. Come back to me when you are about to store it. Don't want the details.
Task – Get him to make a website, journalling his sub desires. Get him to watch online tutorials on how to build a wordpress website. You will be creative director, and he must ask you before making aesthetic decisions, choosing the theme etc. He can then detail his journey online, Choose a pseudonym for him.
Task – Have you ever wanted to learn about something. Something important. Maybe a good friend of yours has a hobby, or you would love to know how something works or is made. Get him to research it and make a stand up presentation, with slides pointing out what you need to know. Stand up presentation to be for 45 minutes.
Task – Get him to prepare your domme laptop. You want to write your thoughts, ideas, track his progress and talk to other dommes. Everything related to his new life you will research on this laptop only. Get him to look at encrypting, passwords, favorite sites for thoughts and ideas. Get him to set up software for journaling. You want to know how to back it all up. Let him put together a little package. Get him to write the password down and show you how to change it. When he shows you what he has done, change the password in front of him and keep it stored away. That is your secret domme center.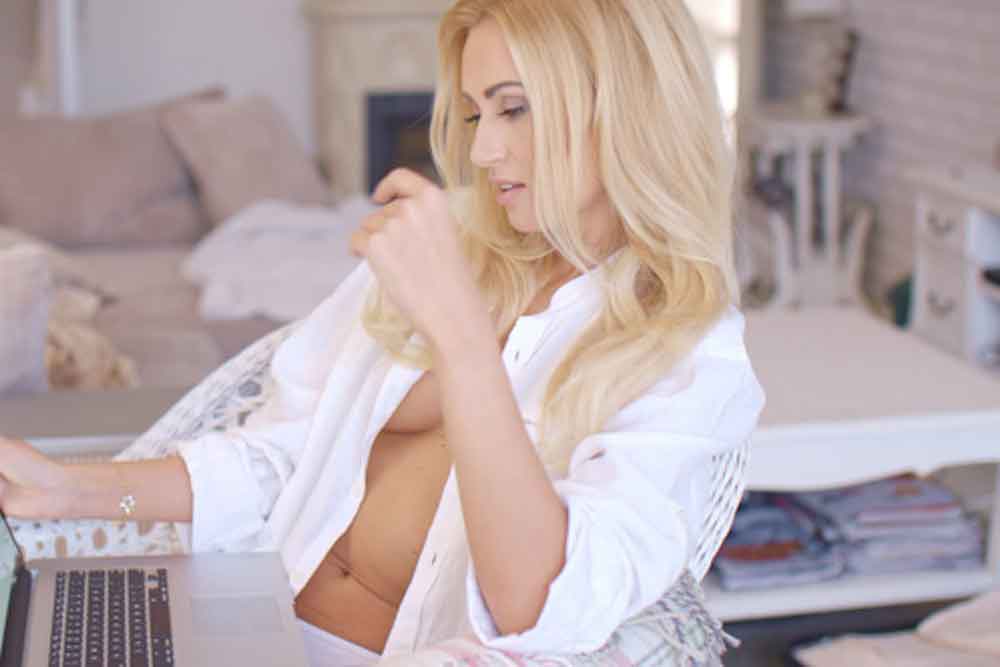 Task – Get him to find something out that will require work and effort. If you have a friend who needs some help with something, get him to do it for her.
Task – Let him be your private investigator 1) – Is there something you want to know. Where somebody lives maybe? Get him doing the research, going out on the ground, asking questions, ringing people and
Task – Let him be your private investigator 2) – Is there someone at work you want to secretly know more about. A rival maybe. Someone you suspect is lying. Assuming he doesn't know her, get him practising surveilling people in his spare time, both on foot and in car. Give him random people to follow. When you are out shopping, go to cafe but get him practising. Have a coffee while he follows someone. Get him to make a report. When he seems ready, give him the task of surveilling someone you want to know about. What do they do on the weekend?
Task – Let him be your private investigator 3) – Get him to do online research on a target you want more info on. You will decide if it requires surveillance later.
Risque Tasks
While simple tasks will be OK as you start, injecting some risque ones in early as you begin will spice things up a bit. Don't let him set the agenda for this as much as he may want to.
These aren't roleplay or sexual just really suggestive. They can also help you learn what you need to know about his obedience and limits.
Task – Get him to learn how to tie ropes for BDSM – get him to teach you how they work, and which one to use for which situation. Then practice on him with what he is teaching you.
Task – Get him to learn how to shave your pubic hair. As often as you want to keep it trimmed, get him to do the job for you. Let him learn how he has to do, what length and style you like, then let him do it.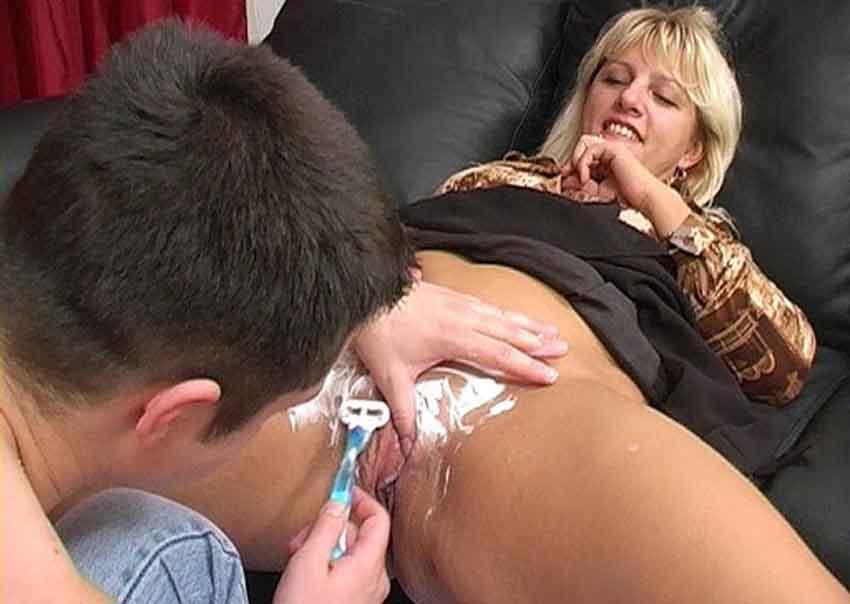 Task – Get him to make you a costume, or piece of bedroom attire. If you want a negligee from satin silk, tell him you want him to make you one.
Task – Get him to make any costume he wants to wear himself. Tell what looks good and get him to make it.
Task – Tell them to drive to a local sex store, and buy some toys. Make it femdom orientated so the cashier knows their fetish.
Task – Get him to practice a lap dance routine for 5 minutes. Give him a week to perfect it and a time and date when you expect to perform. Consider filming it.
Task – Purchase some replica penis' and vaginas. Get him to practice his oral technique. Give him books to read on performing better oral and watch him practice. Get him to video it and show you. Point out where he is going wrong.
Task – Get him to put up a coat rack in the bedroom to an observer. Make it to a sturdy wall and get him to put a shackle in the centre. That way you can collar him to it if he displeases you.
Task – Under his clothes make him wear a bra and panty combination when you go out. Maybe even fishnet stockings and suspenders.
Task – Get him to buy every penis desensitizing spray he can find. If he finds 10, then set aside a day to test each one. On each test day get him to stand naked and get himself erect. Put on gloves and give his penis a good covering in the spray. Every 5 minutes come back and dig your nails in. Do this until he starts to feel the spray wearing off. Get him to note how long this one lasted. Later in the day repeat it again until you have 3 timings on how long the spray lasts. Do this for each product, and get him to record the data. After a while he should have a spreadsheet of which spray desensitizes his penis the best. Get him to buy 10 aerosols of that spray and give them to you. Use it on him when you want to tease him.
Task – Buy a tiny butt plug and some lube. Tell him to practice how he likes but to let you know when it is easy for him to insert without resistance. Test his claims, and if he passes, then get him to buy a slightly bigger one. Then repeat the process. Keep going until he can take whatever you decide you want up there.
Task – Buy a blow up sex doll. Make him sleep with it.
Task – Pick a video from a porn site, Get him to write 1000 words on what he thought about the scene. Keep a record of all his writings to refer to.
Task – Pick a penis pump from a website and use it on him. Don't let him use it. Just tell him what to do when you want to try it out.
Task – Tell him to get a selection of penis extenders. The sort that slips on his manhood to extend size. Tell him to decide which one is best at the size you want and get him to model it for you.
Task – Get him to make you a luxury bra. The skills can be learned and you can have fun with him measuring you. Tell him the idea for design and get him to come up with a sketch of a few of your favorites. Pick one, and tell him to make it. More than one if you feel like.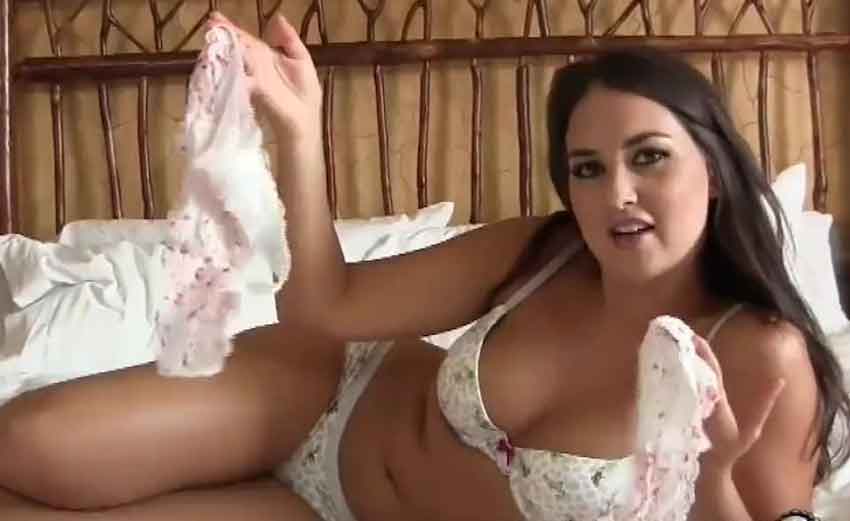 Task – Get him to walk around the block of your house as a peeping tom. Make him get naked, or even in womens underwear. Put on a long coat. Tell him to walk to a destination, take a photo, send it to you and come back.
Conclusion
These are all easy beginner tasks that if you are new to domming and don't know how you might feel about it too try.
Nor do you have to try every one obviously. Pick and choose those that you feel like.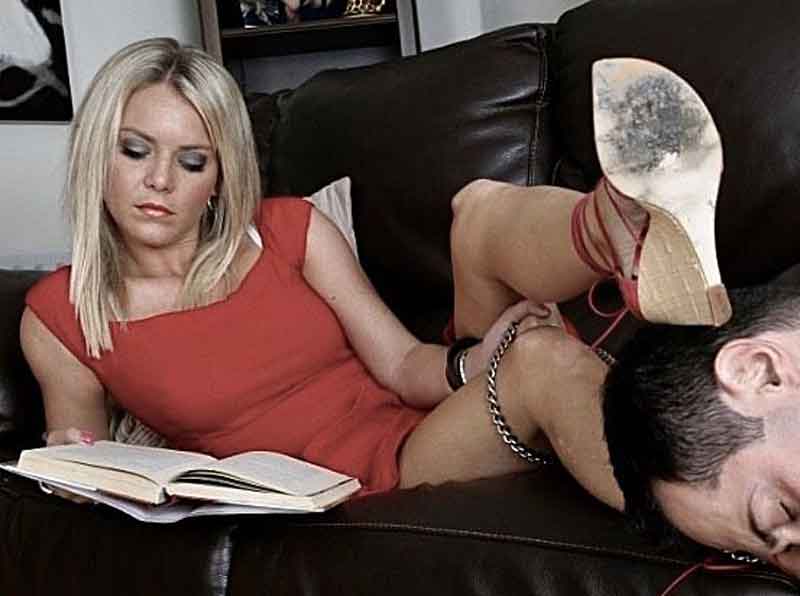 As a reminder these are tasks for him to perform, he has given you control, so he should be performing them to the best of his ability. They aren't punishments.
They are specific tasks for the purpose of you showing displeasure, and to teach him that he should try harder to please you.
Get A Convincing Open Letter To Send To A Prospective Dominant
The easy way to get your partner to think about trying a Female Dominated Relationship
Trying to talk to your partner about the benefits of a female led relationship can be hard. Use this open letter to help or to prompt constructive dialogue.