When entering the new and exciting world of female domination it's fair to assume the new domme will do a lot of reading about her role.
She will try to consume as much information as possible in order to make the experience as pleasant and pain free as possible.
On the online world there are many posts that give tips, but the tips can be somewhat generic and common sense. Like communicating, respecting safe words etc.
There seems to me room for a post where things a little more practical in nature might be needed, and that's why this blog post exists.
I've tried to put a few tips or hacks if you will that are reasonably simple, but capture the essence of the art of domination.
Hopefully you enjoy the list, and please feel free to comment below and let me know what you think.
Try Collaring Him
A new mistress might associate collaring with a lead, and more public displays of female dominance.
A collar implies a lead can be clipped on, and it might seem strange or awkward to have to walk around leading another with a leash.
While you certainly can do that, a collar doesn't have to just be used in its practical sense.
It can also be a talisman of ownership
So get a collar and place it on your submissive. It doesn't need to be massive, with overt BDSM overtones, but just big enough for it not to be forgotten when it's being worn.
The effect on the submissive is quite profound.
Owned live property have collars, free people do not. This simple fact is a permanent reminder to the submissive that he has an owner.
So if in the start you ever feel like you need a simple gesture to remind the submissive he is under a superior authority, then just pop a collar on him.
Try The Naked Male Option While Remaining Clothed – Dip Into CFNM
Being naked for humans is related to feeling vulnerable. We are generally only naked with people that are intimately trustworthy.
Also, it tends to be a shared experience, with both a female and male being naked at the same time.
It's human equality in motion.
Consider this scenario. Imagine a male and a female on a couch, sitting next to each other on the couch apparently watching TV. Now imagine the male is naked with no apparent physical contact.
It would look weird right?
Consider why that might be?
The male must be naked because the female has taken the initiative. Otherwise the male might be attempting physical initiation of sex.
Doing chores like vacuuming or washing the dishes naked for a male is a big 'the woman is in charge of this relationship' to the world.
It screams it silently, but the concept is there.
So get your submissive to do stuff naked once in a while, and just treat it as something normal.
Control is in the mind of the submissive.
Try A Little Selfishness
A long term partnership works just like that, a partnership.
It speaks equally of a relationship that exists for the benefit of both parties. Men and women pair together to form bonds and both need each other's strengths.
Selfishness in normal society acts as a warning sign to others that an individual thinks of themselves more than others, and is thus shunned by those seeking true partnerships.
So selfishness seems like something a domme might want to avoid.
A female domination relationship works a little differently though, and it's entirely wanted by the male that the female might act to her own benefit.
A mistress acting selfishly by its very nature makes the submissive feel less than an equal.
This is normally precisely what a submissive male seeks. An escape from responsibility and consequence.
A mistress in a long term partnership should use selfish behaviour sparingly but it's a good technique to use.
The reality is that putting one's needs before a submissive isn't actually selfish as the submissive actually craves the lowering of his status. It's probably a good counterbalance to his normal professional environment.
So despite that it seems naturally counter intuitive, a mistress should give herself permission to be selfish occasionally and use the submissive as a tool.
So that includes utilising the submissive as a chauffeur or hired help for a variety of tasks.
Or indeed a butler and chef for a meal, or even a masseuse should she feel like one.
A great area to stray into with selfishness is with sexual gratification. So if a mistress is feeling a little frisky one evening, why not require the submissive to give you some mind blowing oral sex. After the orgasm, there is no need to return the favor.
Selfishness works in a femdom relationship.
Spanking Is Where It's At
Adult spanking is not just about punishment, but can even be incorporated into play.
It has a wide spectrum of severities as well as uses.
Playful spanking can be an initiation ritual to some fun or moving into its more severe form can be used as a punishment.
As such, a mistress from the very start should practice spanking.
She should read about hand spanking, riding crops, and the uses of a paddle. Or even a hairbrush.
Also, she should think about the positions to spank someone, whether over the knee or bent over a couch.
She should master the art of delivering a stroke aimed with precision.
After the basics of technique and position, she should concentrate on severity and duration.
That way she can deliver a playful tap, to a swish expected to deliver some pain and leave a mark.
It's very likely that at some point the submissive will test the authority of a mistress with which a punishment will be deemed necessary. She can ground for long periods of time or take away privileges, but there's nothing quite like a good spanking.
Having the ability to deliver harsh corporal punishment should be in the armory of females if they wish to have the ability to punish properly.
A submissive male will secretly revel in the knowledge that a mistress can decide to spank him quite harshly.
Spare the rod and spoil the child if you will.
The Art Of Faking It Till You Make It
There have been entire TV programs built around this concept so it's worthwhile thinking about applying it to BDSM.
The aphorism speaks to a mistress imitating confidence, authority and power without expressly having any reason to do so.
It may feel a bit unnatural at first but it's a good strategy to get the results you seek before you gain experience.
It works best when the mistress identifies accurately what she wants before trying it out. The more unsure about what a mistress wishes to achieve the less effective it may prove to be in practice.
So as a newbie mistress try having a 'confidence avatar' in your head with which to draw upon. This is the strength that will propel you forward if you are a bit shy with the first steps.
It's OK not to know everything in the beginning and having a bit of oomph with speech can work wonders
So an occasional "get that ass into that chair" when he isn't quite doing what you want fast enough is a fine way to go.
Start Small And Build Trust
Starting with big goals and expecting to accomplish them flawlessly would be a good way to stumble forward as a new mistress.
A new mistress can easily put pressure on herself by thinking hse has to be perfect right off the starting line.
It's thus best in the early stages to set more process orientated goals rather than results based goals.
What this means in practice is that you can issue commands in order to go through with a process.
Take spanking, or something similar. If you wish to spank your sub, it's best not think about the result, that of a sub quivering at your skilled punishment, but the process of how to spank.
Feel free to declare that you need some practice or need to make an assessment. Get him bare butt naked and find what works for you before you need to dispense any proper punishment spankings.
With kink play, don't focus on a mind blowing orgasm, but the process of a scenario. Take some time out to practice an area of kink play without pressuring yourself for a result.
A new mistress can practice exciting her submissive without pressure as well.
If necessary put the submissive in a penis cage in order to ensure that is what you can focus on.
Build A List Of Standing Orders
A new mistress can be a little overawed by the thoughts of dishing out orders each week.
The thought of monitoring bathroom cleanliness and tasking her partner to clean it can sound like a full time job when applied to running the household.
It doesn't need to be anything like that hard.
'Standing orders' are a military term but can be applicable for a new mistress.
Standing orders are orders that stand with the full authority of the mistress that are ever present and do not need repeating. They are presumed to be in effect despite any lack of communication to that effect.
Examples are things like
We are not to run out of milk
The toilet must be kept spotless at all times for use by mistress
Clothes not in use are not permitted to be left lying around
The bins in the house should never get to the point where they are full and cannot be used for their purpose
As you can see, with a set of standing orders that are always assumed to be orders still standing, a mistress can keep the fridge full of milk and the bins should never get to be overflowing.
So a new mistress can come up with her own likes and dislikes about a household and think how the submissive can maintain her preferences without her having to constantly remind him about a chore.
If the milk has run out then the submissive has failed an order and can be remonstrated, or punished if necessary for that transgression.
It's quite a simple way of ruling the household, but it's extremely effective.
From His Likes To Your Desires – The Secret To BDSM Play
Any long term femdom play takes into the account the desires of the male partner.
In fact, many couples limit their BDSM activity to the bedroom only. It stops at the bedroom door.
The male is submissive sexually only.
If this is the case then a mistress should find the true desires and exciting aspects of submission from the male. Essentially what turns him on about his submissive nature.
Knowing these facts the mistress can then turn them around in order to tease the male.
For example, if the male has a small feminization kink, then the mistress should 'play' a character that gets turned on by a restrained male in panties and stockings.
So as the male is tied to a chair she can straddle him and act turned on by that feminization.
It can work for any kink with some imagination. Just make sure the things that turn on the submissive are the lavish desires of the mistress and you should be good to go.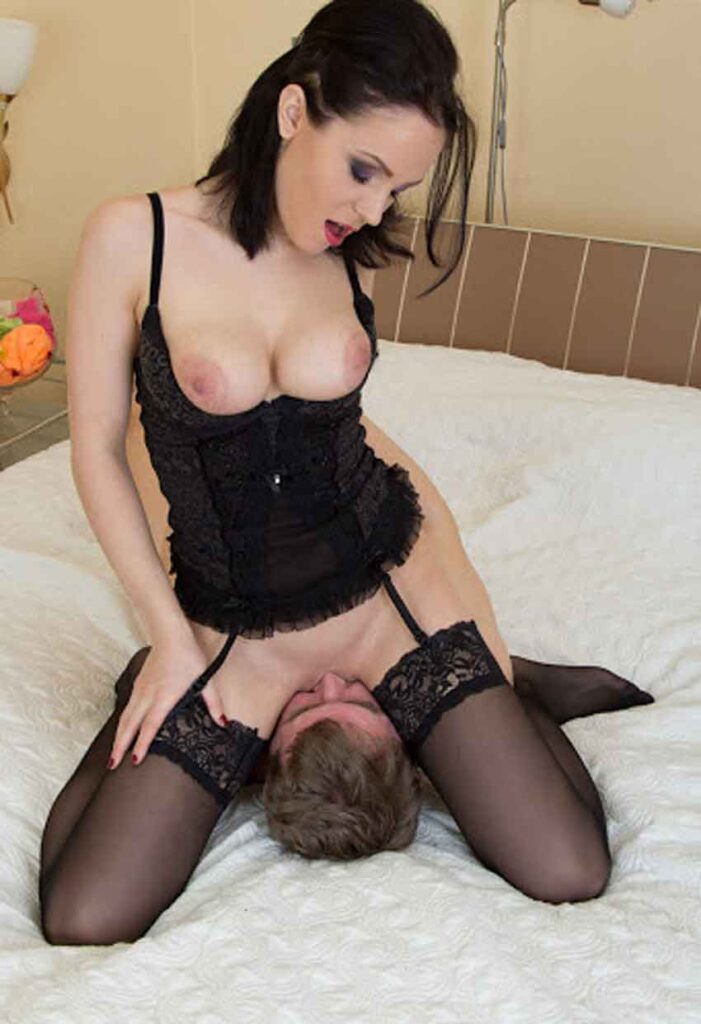 Another little secret is to try play that resolves naturally around female authority.
There are natural scenarios in life where the authority could well be a female. Soldiers and fireman fantasies would center around a strong male character.
Kink play involving nurses, headmistresses, psychologists, or female business owners can naturally accentuate play.
Simple Deference
Servitude doesn't have to be in chains and bracelets.
Servitude to female domination is all in the mind of the submissive.
A new mistress doesn't have to do a great deal to feel the effect of that authority. If the submissive willingly consents to female dominance, then it's effective to stress this with simple acts of deference.
Deference is humble respect for authority.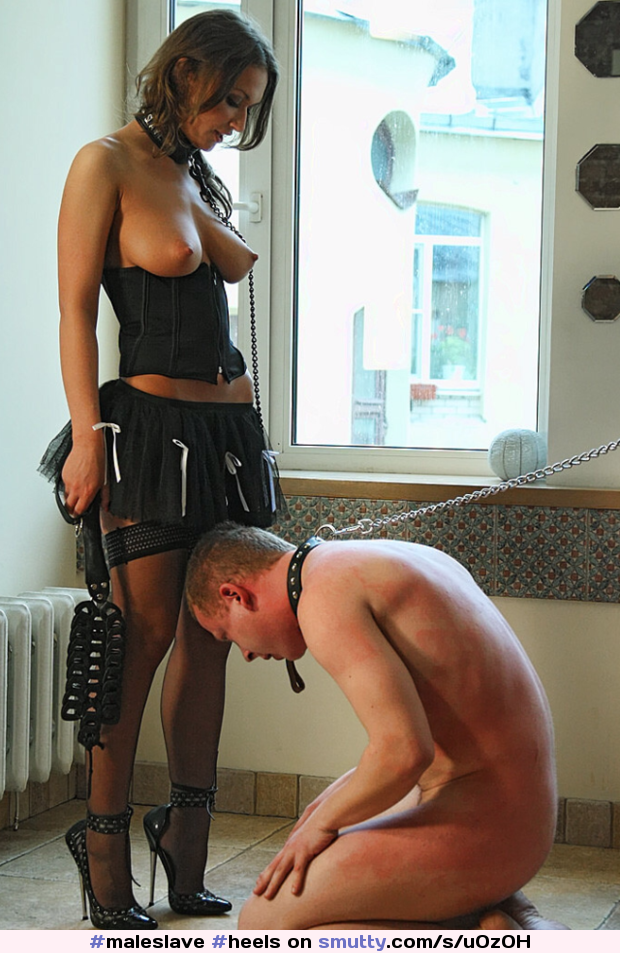 A mistress can ensure that deference in a few ways, for example.
Oath recital – Daily a submissive can speak an oth to his mistress at an opportune time. Or daily text messages of allegiance.
Kneeling – Perhaps a bout of kneeling at mistresses feet per day
Speaking – When the mistress speaks the submissive should close the mouth and listen. He is not allowed to interrupt but the mistress is.
Simple acts like this place the constant mindset for the submissive that he has someone to defer to, all without the mistress actually doing anything.
It's all in his mind.
Get A Convincing Open Letter To Send To A Prospective Dominant
The easy way to get your partner to think about trying a Female Dominated Relationship
Trying to talk to your partner about the benefits of a female led relationship can be hard. Use this open letter to help or to prompt constructive dialogue.