Having an idea of the roleplay can be critical to making the domme and sub dynamic work. Working out what you both intend to get from it is a major part of why it works.
The sub may enjoy the orders from the domme and go along consensually without being asked, but equally, in different scenarios it might be correct to talk beforehand openly.
Below I have made the scenario as domme more masculine, and the sub as more female. This is quite common but feel free to change things around as you desire, or that will work.
All the following scenarios I've made the power dynamic as the sexily clad female and the sub as the slightly humiliated and feminized male. If this isn't your preference, then please feel free to adapt the clothing so it is different and more applicable to your tastes.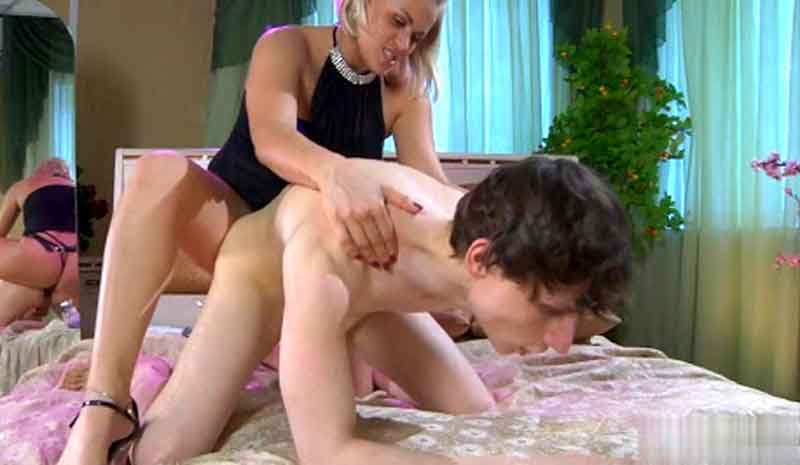 The key is the power dynamic.
Roleplay at the beginning can be awkward, it takes some experience and enthusiasm to get into, but once comfortable with it, it can really enhance a domme sub relationship.
Thus finding a role that you can comfortably play into is a challenge. You don't need a massive budget, but clothing and style can and will make an impact.
This is just a guide.
Have some pre negotiated language of what everyone likes to hear, and words you don't or that are a turn off. And remember a safeword.
Have fun
Teacher / Student – Dressed in a low cut top, short skirt and stockings you've asked the swotty schoolboy to stay behind to discuss why his grades are dropping. Gently the teacher teases out of the student that he has 'confused' feelings. He admits to being attracted to boys but the teacher looks so gorgeous that he cannot understand his sexuality. 'Well', says Miss, 'men like licking pussy and gays like cock in their ass' as she walks around the desk and gets out a strapon harness. 'Let's see which you prefer'.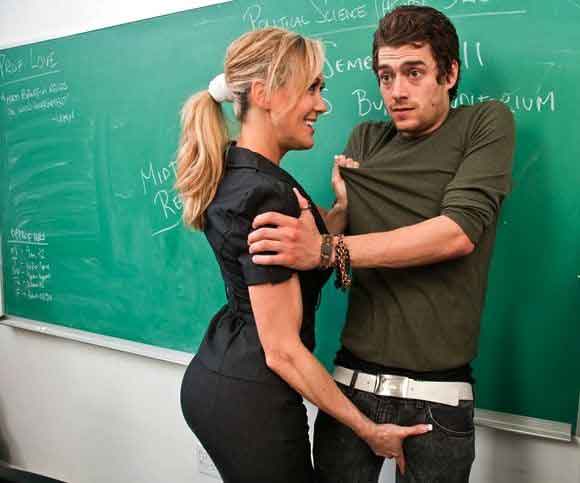 Doctor / Patient – A patient comes into the room for a repository to be placed. The doctor is a stunning woman dressed like something from heaven. She orders the patient's shirt off to check his heartbeat. Which is slightly higher than normal. She then orders you to strip naked and bend over, and to spread those cheeks. Trying to lighten up the proceedings the patient asks how she got this job. The doctor replies 'Oh I like it. I love shoving things up a man's ass, it really turns me on. If I stimulate your prostate you will do anything for me, even suck a dildo to get it wet before I shove the repository further up there with it. Let me show you'.
Abused secretary – In a small office a secretary gets tired of her bosses unreasonable demands and lewd comments. Since working there he always pats her bottom, glares at her breasts, brushes his manhood against her at every opportunity. He is also extremely lewd. He makes her dress sexily to turn him on, and bend over to pick up stuff he has deliberately dropped. One lewd comments about her ass though is the final straw. She snaps. She pushes him back on the desk and grabs his tie. She demands he strip. The boss is a little taken aback so she slaps him across the face. Strip NOW she says a bit louder. She gets him naked (possibly gets him into some girlie clothing), bends him over the desk, lubes him up and takes him with the strapon she has in her handbag.
Hot nanny / single dad – The extremely flirtatious and outgoing hot nanny seems to not notice the chat up lines of the hot dad. Catching her on the phone one day, he notices she is talking quite sexually to another girl. She is explaining what she wants to do to her. That explains it. Mentioning it to her afterwards she tells him that she only gets turned on being sexually aggressive. The dad teases he should be her next conquest. 'Why not' she says, unpacking the strapon and ordering him into some garter belts and stockings.
Burglar / victim – Waking up in her house in the dead of night, the extremely hot and talented FBI trainee senses something is wrong. Wearing only her sexy negligee she leaps out of bed to hide. A man dressed in black enters the room with a bag, and she pounces. Using her skills she soon has the man face down on the bed and in an armlock. She interrogates him, who are you? What are you doing here? She handcuffs him and pads him down noticing that he has a nice 'package'. Begging not to go to prison, the trainee FBI agents eyes her strapon draw and thinks of some kinks as yet unplayed.
Policewoman / lawbreaker – A policewoman is questioning a suspect who she suspects is guilty. The more he talks the more he seems to entrap himself. Realizing he is getting nowhere he attempts to bribe her. She starts to arrest him but he finally begs to not do this, he will do anything. Anything hey. This policewoman has some ideas.
Boss / employee – An attractive female businesswoman is about to do a performance review on a subordinate. He knocks on the door, and she invites him in, sitting opposite her. She asks him a lot of work related questions, how have the last 6 months gone, how do you rate yourself, what do you want from the next 6 months, how would you improve your communications skills. Finally she mentions that he is a good employee, but she has doubts about commitment or some other issue. Asking how he can improve or prove his commitment, the boss mentions that the girlie gossip is that he is good with his tongue. Rubbing between her legs she says 'if you could just come over here and persuade me, I might not have any doubts any more'. I also have something else for you to get wet.
Housemaster / maid – A sexy maid wanders around the house. She flashes, and teases him, but any advances are rebuffed. While she is cleaning one of the bedrooms, she looks fabulous in those stockinged legs. Looking so sexy he takes a chance and starts to feel her up. She protests and squirms away. She explains that she isn't submissive and only wants complete male bitches as her sexual playmates. He looks a bit shocked as she gets a strapon harness out of her bag and tells him that he'll be her little ass bitch soon.
Millionaire / commoner – A wealthy businessman meets a commoner at a coffee stand. They chat and the sexy commoner. They seem to get along, but mentions that money can but anything. They agree on love not being able to be bought but he says you can buy an awful lot of sex to compensate. They laugh, and he cheekily suggests he could buy a blowjob from her. She surprises him by saying $500. He says OK, and he will take her back to his place. He goes into the bathroom to get ready after her and when he comes out she is standing there with a strapon. 'I meant on me' he says. 'I didn't' she retorts. She grabs his hair and brings his head down to the dildo, 'now getting sucking bitch, this is gonna be a long night'
Royalty / servant – As a sexy part of the Royal family you have a servant who follows you around, performing your every whim. Being bored you take a shower and get him to dry you. Make sure my breasts are dry you tease. He helps you get into sexy stockings and as the panties go on, you ask 'do you really have to do everything I say'. He mentions to the affirmative so you walk onto the bed, lie down and ask for some royal pleasuring.
Firefighter / rescued girl – Having bravely broken into an ablaze building and rescued a sexy girl, the gorgeous lady thanks her rescuer and needs to thank him. He rejects all advances of flirting, promises of dinner, or a movie. Finally she gives it one last go, 'well I could take you up the ass'. He turns. 'Now that's something my girlfriend doesn't do – see you at the end of my shift'.
Hitchhiker – A girl is driving home late one night, when a man runs out into the road. She brakes and he tries to flag her down. She winds down the window cautiously. He says he needs to get out of here fast. He says he'll do anything. She takes the opportunity to mention she has some kinks he can help with. He agrees and gets in. She pulls over a bit further up the road, and tells him to get naked, spread that ass, and bend over the hood.
Hooker – A nervous man rings up a hooker from an advert. It's clearly his first time. She ask what he is interested in, and he tells her. He is excited by sexy powerful women, and would like to try strapon. She asks about roleplay, safewords, demeanour etc, and he tells her his preferences. At the end, she quotes her rates and tells him to come over, giving the address. He nervously knocks on the door. She opens the door, grabs his tie and yanks him inside. She is dressed as a sexy secretary with a strapon. 'Put the money on the table you little bitch, get undressed and in there. I have some serious shagging to do and you're my slut for the next hour'.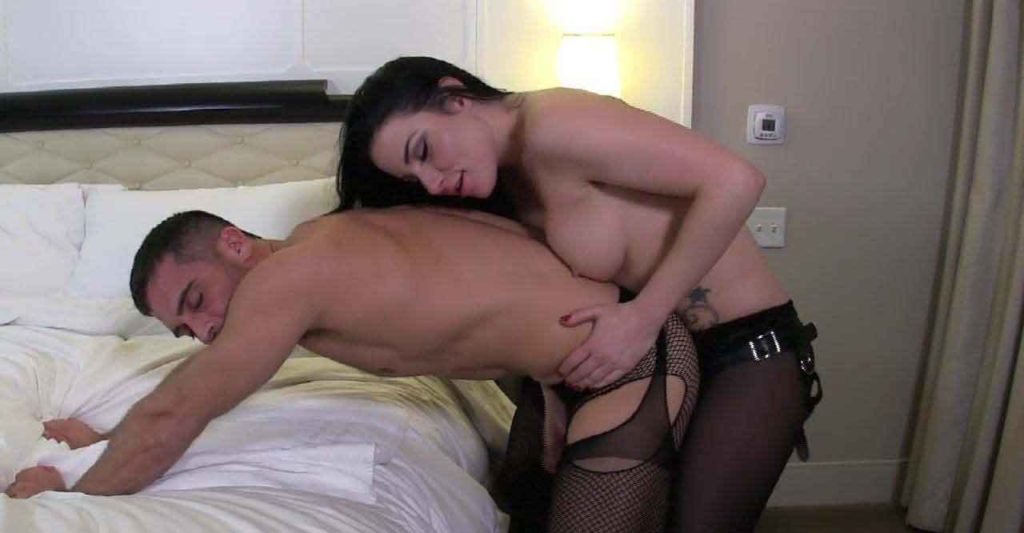 Pirate – You as a bloodthirsty rampaging pirate have attacked a local village for treasure and have taken the sexy daughter of the chief. With a bottle of rum you take your conquest to the captain's room and get the strumpet to fall for your evil charm. In the morning though you wake to find yourself tied to the bed and a pair of underwear stuffed in your mouth. Your captive is putting on a strapon saying 'my turn big boy'.
Superhero – Each pick a superhero and get into costume.pretend you've met on a balcony looking for crime victims. The superheroes argue about who is better, and start to tease each other. Finally they fight it out, the winner shags the loser.
Police/ speeder – A busty and seductive actress and movie star gets pulled over speeding by a bored cop. She tries and pleads to get out of the ticket, but he doesn't relent. He politely asks her about her role, and she mentions that she plays a lesbian bitch, who uses her sexual prowess to dominate a weak male boss. She notices him getting stiff, so she pulls out the strapon for her role and rubs it against his crotch. Say, if you wouldn't mind tearing up that ticket then you can help me rehearse for my role.
Porn – You are one the leading protagonists of a new porn film. The sexy lady who you are to star with is a professional dominatrix and legend in the porn world. You are nervous and let her lead you. The cameras start rolling and she makes you pleasure her, demanding you make her come. She teases, slaps and otherwise takes control, before bringing out the lube and strapon.
Secret agent – A man wakes up, in a suit and tied to a chair in a dark room (TIP – have some information like a name to be concealing, write it on paper and put it in an envelope). As he stirs he looks up to see the femme fatale. The sexy interrogator, stands in front of him, the one who will get him to talk. She asks him who he is, and he refuses. She tries slapping him, but he's tough. Who's your contact? Still no answer. She gets a strapon harness on and places dildos on the table next to him. 'I will get that answer out of you' she says as she unzips his pants.
Headmistress – Your teacher caught you masturbating in class again, and sent to see the headmistress, the new gorgeous and sexy one. You enter her room to see her dressed so sexily you can't can't yourself. She sees your lust. She sits you down in the chair opposite, and gets you to explain why this is your 3rd time here. You explain. She sighs, and says she can only think of aversion therapy to cure you. She shows you her panties and tells you it's because you want this isn't it. She tells you to stand up and strip from the waist down. She gets out a strapon and puts it on. She bends you over her desk, whispers what she is going to do to you and makes you say scream 'I will not masturbate in class' with each thrust.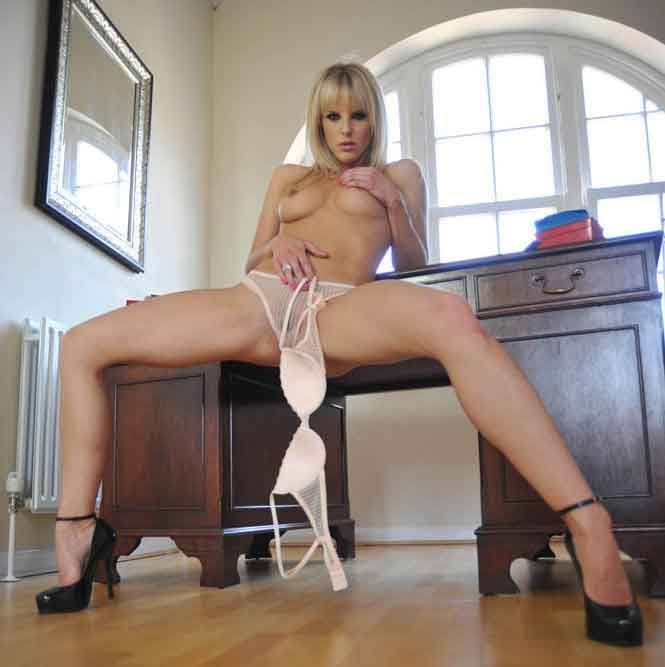 Stud / slut – An alpha female while at work messages her slut male partner, that she will be home soon and she is to dress as a sexy slut. Get into an outfit and send me a photo for approval. The man dresses sluttily and sends a selfie, which is approved with minor alterations. He's told to make the bed and wash the dishes. Sometime later, the alpha female arrives home, comes in and throws her stuff on the couch. She unzips her pants to reveal a nice strapon. Get over here slut, I need some oral.
Psychologist – The sexy psychologist has a patient she is seeing regularly. He is having disturbing dreams about his exuality. She asks him to describe the dreams. He recites how he sees himself in womens clothes, dressed sexily, and describes being dominated by a mistress. He walks her through a fantasy. He turns around to find the psychologist masturbating to his dream recollection. She gathers her senses, and apologises. She gets up, gets a strapon out the desk, and says 'let's f&&k this fantasy out of you'.
Blackmail ex wife – Your ex wife has compromising photos of you that she threatens to release. She has a fetish, and got you to do it once and recorded it. Since the divorce she uses it to control you. Sometimes for money, sometimes for help shopping, but most often to indulge her preferences. At work you get a message from her. 'Be home tonight and ready to plesae me'. You are revolted but have no coice. Later that night, she knocks on your door, and you let her inside. She strides in like she owns the place, puts a strapon on and sits on the couch. Crawl over here and suck this she demands. You do and she videos it for more humiliation blackmail. After you have finished she slaps the dildo on your forehead and ushers you into the bedroom. You are going to be her bitch again for the next few hours.
Air stewardess – Sitting in first class a wealthy businessman, during a long flight when everyone is asleep, you get chatting to the extremely sexy air stewardess. After some chat you ask her about the mile high club. She says she has seen a few people go in there, but not done it herself. He asks what would make her do it. She says she has a slight kink. He seems interested, as she runs her hands up his thigh. With her other hand pulling up her skirt, she says, 'you are only getting this if I own this' as she grabs his penis.Now get in that restroom and face the mirror.
Bitch boss interview – A man goes to an interview for a salesman's job. He is desperate for cash and needs this job. He interviewer is a stunningly sexy successful entrepreneur. She sits you down and goes through your CV. She is very dismissive but asks you why you want the job. You give her your best answer. She further ask you about skills, previous experience, fitting in with a dynamic motivated team. Towards the end she says she is not impressed. You have poor communications skills, lack motivation and appear to be easily swayed and, are quite frankly, a bit of a wimp. You protest, and end up begging for her to reconsider, you really need this job to support yourself. She says she has a role for those with less ability here. She has an all female board here, and we like a bit of fun here sometimes. You can be the new bitch boy for the office and your job is take what you are given. She gets a strapon out the desk, tells you to strip if you want a job.
Soldier – The sexy female physical instructor has been asked to give you some physical punishment. She gets you to strip to the t-shirt and underwear, and puts you through some tough physical exercise. She pushes you down with her foot during press ups and otherwise abuses you during the exercise. She notices your erection, and strokes it. Getting told what to do excites you soldier. She orders you to strip and bend over, taking the strapon harness out of the backpack.
Prison guard – You are in a prison, in a cell with a devastatingly sexy prison guard who does the rounds. She's been teasing you and abusing her power for ages. Wandering past, and adjusting her breasts, or bringing you your dinner plate and putting her hand down her panties to rub some juice on your food. You wake one morning to hear a final click of some handcuffs. You are face down on your bed with your hands cuffed to the top and your legs splayed apart and shackled. Your sexy prison guard is standing there with a strapon and she forces it into your mouth. After gagging for a while, she goes behind you and you feel your prison pants being pulled down.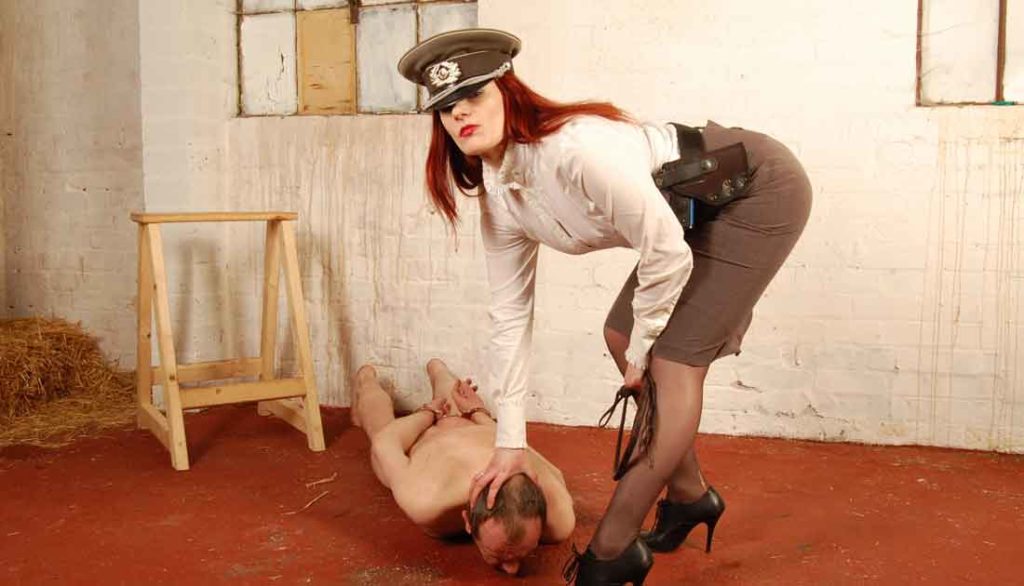 French maid – Your sexy french maid who is an utter stunner, is going round your house polishing and dusting. You let her get on with it, and do some work. You eventually go into the bedroom where she is making the bed and cleaning. You tell her she looks awesome, but she laughs and carries on. Before you can stop her, she opens your wifes bedroom locker and is shocked as she picks up a strapon harness and dildo. You blush, but she seems excited. 'So', she says, grabbing your ass playfully, 'that butt takes a good length does it'. She orders you onto the bed face down and starts to take off your shoes.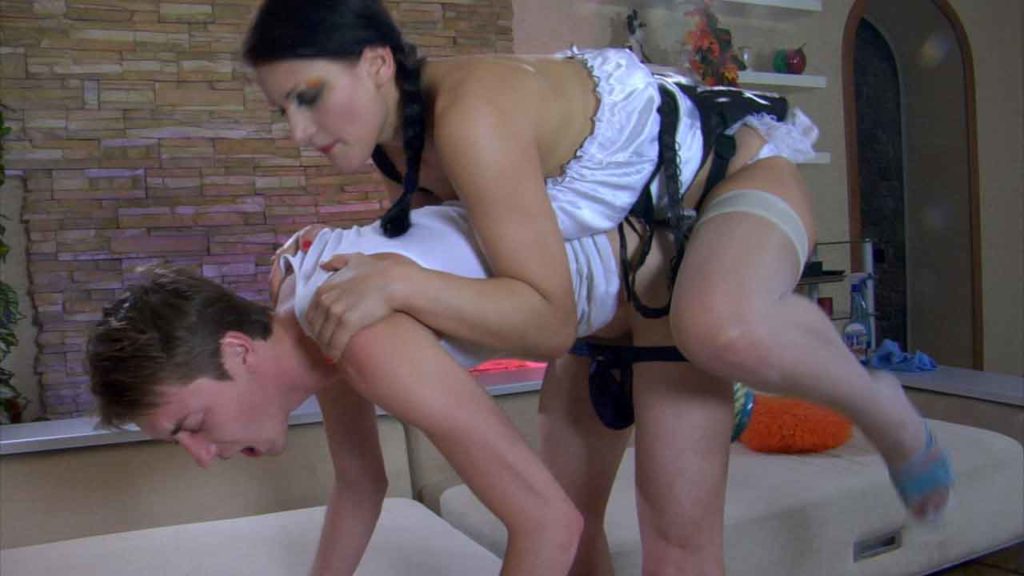 Dominant lesbian – While frolicking with your girlfriend, she whispers in your ear hat she has to tell you something. I want to try some lesbianism. You are excited and ask if she has anyone in mind. No, no, you don't understand. I want you to be my submissive lesbian lover. She pushes you into the bedroom and starts to strip you. When you are naked she gets out some stockings, garter belt, bra and panties and starts to put them on you. When you have them on she pounces on you and starts controlling the sex. She starts telling you, you are a 'sexy bitch' and grabs the draw near the bedside, pulling out the strapon harness. Now she wants to take you doggystyle.
Egyptian / gladiator – An Egyptian Pharaoh Queen welcomes back the all conquering General of her armies. He kneels and presents her with some token of her vanquished foe. She compliments him on his skill and bravery. He thanks her and suggests he will yield for no man. The Queen disappears for a second and comes back with a lovely strapon. Will he yield for this she wonders.
Pop star / bodyguard – A beautiful and sexy singer comes off stage following a gig. The bodyguard follows to make sure she is ok. The sexy singer is a lesbian. She is feeling horny after the gig, She invites the bodyguard into her room and tells him to strip so she can strapon him. He refuses, but she threatens him. She gives him an ultimatum, either take it up the ass, or she will get him fired and he will never work again. The pop star princess has her wicked way with him for the rest of the evening.
Farm hand / racing mistress – Coming in from her morning ride the sexy and gorgeous stable owner, gives her horse to the stable boy to take to the stalls. With the horse tied, she notices he is hard. She decides to have some fun, and starts stroking his crotch, teasing him. Finally she demands he get it out and once he does she taps it with her riding crop. He seems to enjoy it a bit, but the pain makes his erection wither. The mistress takes a strapon harness out of her satchel and mentions that she should probe the prostrate to get him hard again.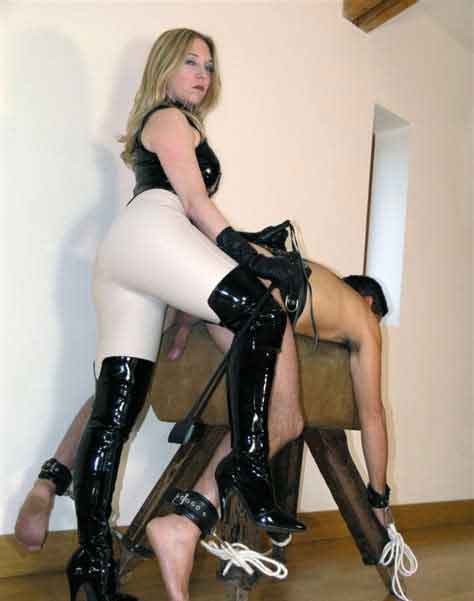 Schoolgirl / virgin – A sexy and gorgeous schoolgirl known for being a bit of a nymphomaniac is approached by a nervous and timid schoolboy virgin. She teases him and he says he will do anything for her. She smiles and tells him to meet her at her secret 'doing it' place, tomorrow after school. They meet after school, outside in a field, near a tree. She gets him to lick her breasts and nipples, before making him give her oral. She gets him to insert a few fingers to stimulate her G-spot. Eventually she orgasms. Reaching into her school bag, she takes out the strapon harness, dildo and lube. Right. Let's find your G-spot.
Brat – The sexy and popular school sweetheart, has realized she hasn't done her homework. On the way home she shuffles up to the school nerd. With her cleavage showing, and sexily teasing him invites him back to help her. Once they are back she weedles out of it and gets him to do it. She sits on the bed teasing him, with her skirt riding over her bottom. When he has finished he gets him to stand up and teases her bottom into his crotch. She asks if he likes bottoms. When he says yes, she says 'so do I'. she shoves him on the bed and goes to get her harness.
Princess / prince – The beautiful and sexy princess of a faraway land is expecting the Prince of a neighboring Country to visit. She expects to be offered a hand in marriage. The Prince duly arrives at the boudoir and proposes. She deliberates and says she will consent only if they are sexually compatible. The Princess tells him he will be much embarrassed if she says no. The Prince has no choice. He agrees. The Princess takes the strapon out of the desk and tells him to strip. The Princess wants to know he will take it up the ass for the duration of their marriage.
Beach babe / stag party – A gorgeous and sexy babe is tanning herself on the beach in the sun. A man from a stag party bets his group that he can shag her. He tries to chat her up but she isn't interested. In desperation he tells her that he has a bet with his stag party. She motions for him to follow her to the small private beach chalet. Once inside she orders him to strip while she puts on a strapon. She explains to him that he better take it from her or she will tell his group he couldn't get it up. She puts him against the wall on slides inside him, pumping rhythmically. She whispers in his ear that he likes it up him, Then much louder for his mates to hear outside 'oh you're so big'. Then into his ear again 'you are such a little ass slut', before going louder so his mates can hear again 'it feels so good inside me'. The man exits at the end with his ass sore but his mates thinking he scored.
Singer / groupie – A gorgeous and famous singer comes off stage, following a gig and signs some autographs backstage. She talks to a complete groupie for her and invites him backstage. He seems completely devoted, laughing at everything she says, hanging on her every word. This is time to try a kink she hasn't tried. Back at her hotel, she asks if he'd do anything for her. He says yes, obviously. She takes out the strapon, pinches his ass, and shoves him on the bed face down.
Delivery / repair – A gorgeous and sexy housewife has a hunky repairman come round to fix the boiler. He fixes that and they chat. She has a cupboard draw that he fixes while drinking the coffee. They chat and get on well. He's being a bit flirty so she plucks up a bit of courage. She asks him to come upstairs as there is something that isn't working. She takes out her vibrating strapon that doesn't vibrate properly. He fixes it and teases her, so your husband likes that does he? All men do, she replies, here let me show you.
Taxi driver / passenger – A sexily dressed taxi driver is taking fare, but when she gets him to the destination, he can't find his wallet. He searches, but asks how he might be able to pay. The sexy driver, parks the car up where they are alone. She gets a strapon on, and gets in the back of the car. She orders him to come into the back seat and start sucking. She needs it wet and slippery for the next place it's going.
Housewife / pool boy – The sexy housewife, is having an afternoon smoothie while watching the poolboy clean the pool. The sun is out and she is admiring his butt. She is getting sexually excited as he works in the sun. She goes to the sunbed and starts to look as sexy as she can near the pool. He notices, and starts to get hard. She notices that and mentions that it'd be a shame to waste it. He professes she is married and he shouldn't have sex with a married woman. Well, she says, what about if I took you up the ass instead, would that count?
Landlord – The landlord comes round to collect the rent. The sexy tenant invites him in. She explains that she has had a hard month and can't make the rent payment this month. The landlord says, well, if you can't pay it, would you like to defer it, or would you like to clear it. She wants to clear it, but is unsure what he means. He tells her he likes strong and powerful women to take him sexually. He hands her a strapon harness and tells her to put it on. She does and he starts to give the strapon an oral session. She gets into it and tells him to strip and and get his ass up on that bed.
Librarian – The gorgeous librarian is approached by a male member of the public who returns a good book on female supremacy. She smiles and scans it. It is over a month late coming back. She asks what he learned, and he replies that women need to be obeyed. She motions for him to follow her. He follows the stocking clad bombshell to the backroom. She tells him to strip and bend over the table. She administers corporal punishment by smacking his bottom for the late book. Finally she gets out the strapon and mentions that a further lesson is needed in female dominance..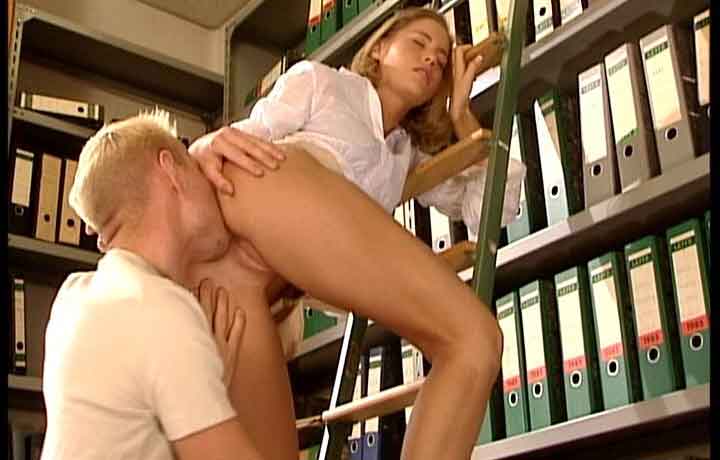 School stud – The sexiest girl in the school is proving hard to get. Many school kids have tried to get a date but failed. Kids are challenging the school stud to try. He finally has to ask her to keep his credibility. When he asks, she agrees but only if she can control the sex. He readily agrees, not knowing what he is in store for. In her bedroom, she shackles him to the bed like a starfish. She then gets out the lube and strapon.
Evil nurse – A patient awakens from an operation, to find himself immobile. He is shackled to prevent him from moving. In walks a sexy nurse, who locks the door. She saunters to the bedside and tells him she is always turned on by men who can't move. She starts stroking him and teasing him. She removes her panties and climbs on the bed. She forces him to give her oral. She has an earth-shattering orgasm and then gets off him. She turns him over and reshackles him, so he is face down. She orders his ass in the air as she puts on her strapon harness.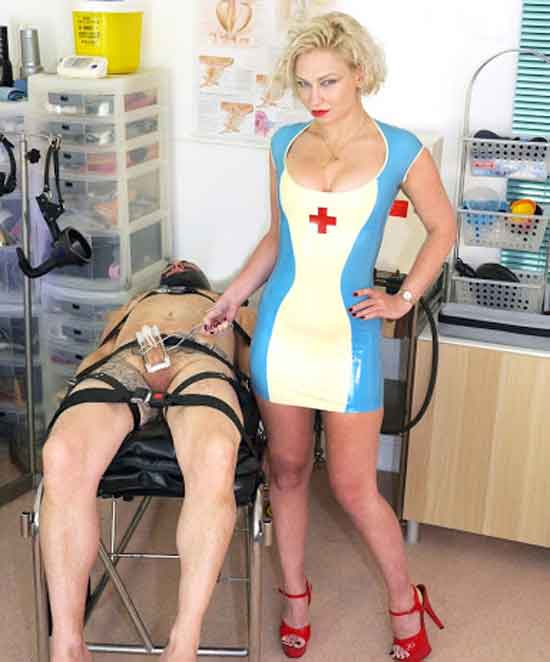 Coach / cheerleader – Following some cheerleading practice, the sexy star of the performance goes to see the coach. She goes into his office and catches him masturbating. He starts to stop and cover himself, but she says No. She tells him she will tell everyone if he doesn't stop. Feeling trapped, the coach continues to pleasure himself while the girl watches. She pulls up her skirt to watch him jerk off to her. When he finishes she tells the coach he has been a naughty boy. She gets him to stand up and bare his bottom. She smacks it before getting her strapon out. The coach needs to be taught a lesson.
Mad scientist deprogrammer – The sexy bombshell mad scientist has an underground lair. She has captured a hapless delivery boy for experimentation. Her thesis is that all boys are really girls in mentality. She drugs him, which makes him do what she suggests. She gets him into the lair and tells him to strip naked. She then tells him to get into the sexy negligee and stockings. She tells him that he is really a lesbian. She gets him to give her oral and eventually strapons him, all the while the delivery boy thinks he is a girl.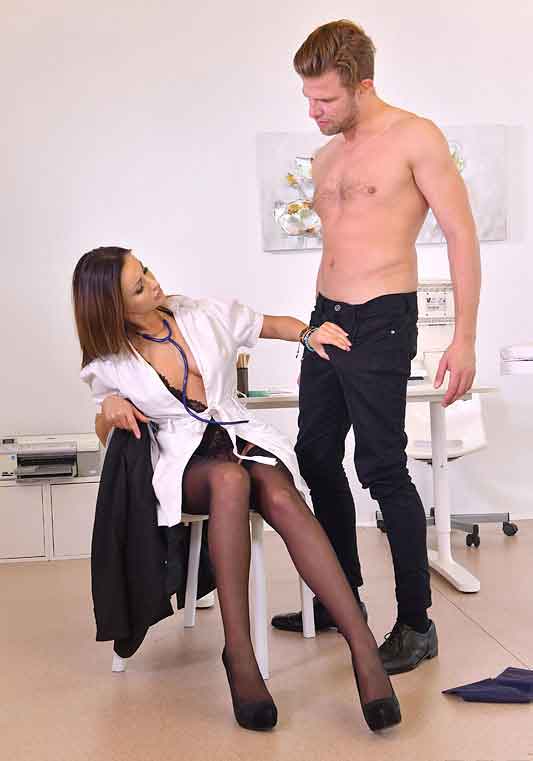 Night security – The very sexy night security guard catches someone with a bag. She takes him back to the office where she empties the bag and finds a few stolen items. She now has to strip search him. She gets him undressed and stood up against the wall. She kicks his legs apart and goes through the clothing pockets. She then puts on some rubber gloves and lube and probes his anus for contraband. Noticing he is hard, she teases him about liking things up there. She then goes to her locker, gets out her strapon, and takes him against the wall.
Fetish model photo shoot – During a fetish photoshoot, the ultra-sexy female model in dominatrix gear and fetish clothes has her bound and hapless slave performing all sorts of slave tasks and kinks. The slave has to have a strapon in his mouth and smile at the camera. When the shoot is over they both go back to their dressing room. The dominatrix confesses she has never thought about BDSM before. The slave confesses he hasn't either. She tells him she loved the power play and it made her feel invigorated and turned her on. The slave feels the same. So she slaps his ass, bends him over and takes him from behind.
Amazonian tribe warrior / explorer – A hapless and lost explorer trying to find gold, stumbles into an unknown Amazonian warrior tribe. The sexy leader has never seen a man on his own before. The men of the tribe are subservient to the sexy women. They are not normally allowed out on their own. She talks to him like a serf and he seems to have his own authority. This isn't allowed. He is told he will yield to the tribe or be killed. The explorer must be broken in to the customs of male subservience. She takes him to her bedroom, and makes him perform oral on her, pleasuring her first. She then takes out the strapon, the instrument that will break his will and confirm his slave status.
Get A Convincing Open Letter To Send To A Prospective Dominant
The easy way to get your partner to think about trying a Female Dominated Relationship
Trying to talk to your partner about the benefits of a female led relationship can be hard. Use this open letter to help or to prompt constructive dialogue.