The world of BDSM has many devotees and followers. Most either love the submissive nature or the power of their dominant role.
One thing everyone seems to agree on is that they should enjoy the kink.
Kink has many levels, from secretly wearing girls' panties under instruction from mistress all the way up to severe pain, and humiliation. Everyone has tolerances and hard limits.
Kink can obviously be either participatory or stand alone.
One aspect of kink and gentle femdom is that of the strapon. Most associate it with pegging, the process of anally inserting the dildo so a mistress can penetrate her submissive. Pegging also has many devotees.
While you might consider that a strapons primary purpose, there is something else a mistress can do with it. As it's obviously designed to replicate a man's penis, then why can't a mistress demand the same pleasures a man might ask for.
The truth is, she can, and if you ask quite a few people it's a hell of a lot of fun.
I realise this isn't for everyone. It takes a certain kind of woman to dominate like this sexually, but if you can, your submissive may love the experience. Compliance alone is very submissive, thus enriching his experience as a sub.
There's also levels that we can talk about here.The title might be somewhat provocative but the fact is you can do it in a much milder manner, and still make it a fun kink or a humiliation for your submissive.
Up at the more hardcore elements it can look brutal, but ask anyone who does it, it's an exciting form of roleplay.
So a mistress can sort of feel her way around what feels natural and go from there.
Why Force A Strapon BJ
Well, I'm tempted to say because you can, but the whole point is to very viscerally expose the role reversal, and for male submissives it is a demeaning experience they actually like.
Well, most of the time.
Males are used to being the sexually dominant of the genders. Men pursue it and women OK it. To swap those roles around, and make a female the sexually provocative of the relationship can be both kinky but also cements her dominant authority.
The purpose is to debase him, to bring your sub down to the level of a sexual toy. A mistress can demand and make her submissive perform unnatural acts for him.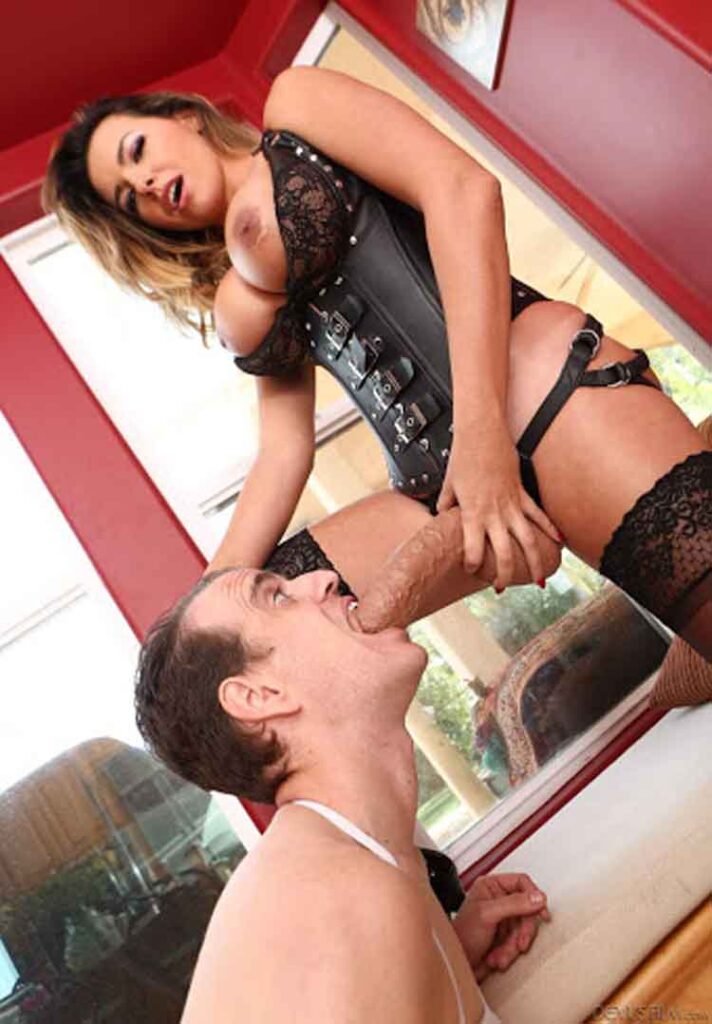 This makes him a tool or a supplicant to mistress' desires.
It's intense submissiveness, and the intensity combined with heightened sexual arousal which can be enriching and fulfilling to some subs.
Commanding him to perform sexual acts, for your apparent pleasuree also enhances authority and dominance over him.
Why Your Sub Will Love It
I say 'your sub' as if everyone will like this. Not all, but a bit of light kink is enjoyed by most, and as a mistress you can comfortably push the boundaries.
Obviously receiving a BJ is normally the preserve of men, so there is also a psychological component to it, in that he will be subservient to you.
A mistress demanding a BJ produces a complex set of emotions but there's compliance, subservience, acquiescence to authority and humiliation as well.
All this goes into making him being put in a very submissive position, and as you are instructing it, counterbalances your dominance.
Forcing a male to swallow a penis, even if it is a real one, and assuming he is hetersexual is very demeaning and submissive, which will ultimately satisfy him that he was subservient to you.
It's highly sexual, especially with a mistress yet he is being confronted about performing oral on a dildo.
It is the very epitome of a mistress and her sexual dominance.
Get Him Practising
Every potential submissive who will end up with mistress' dildo in their face and orders to start sucking has to start somewhere.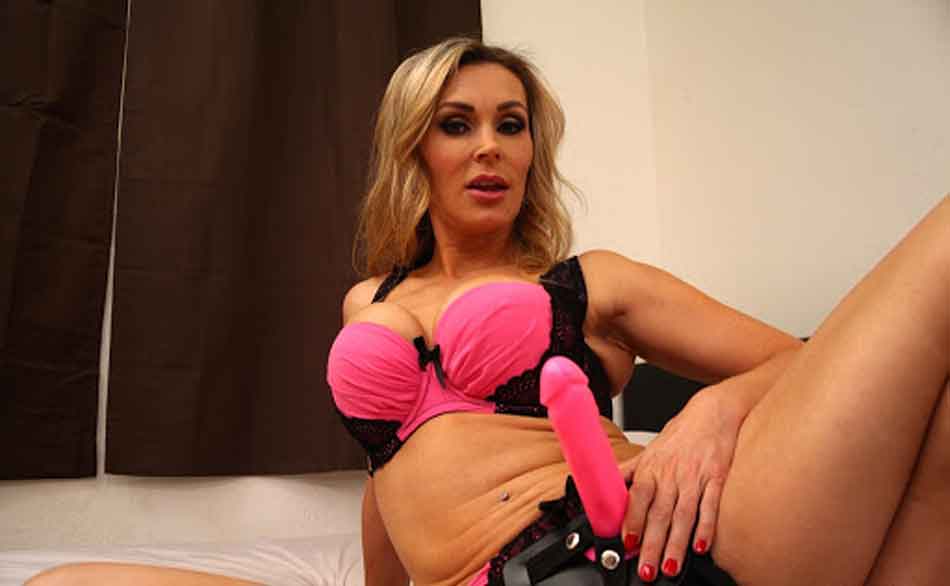 Every woman did, so your submissive needs to get practising his skills to up his game and performance.
So, it might be worth purchasing a range of strapon dildo's from small to begin with and moving up to the large poles that he will eventually end up deep throating.
You can start with a banana if you like, whatever works for you but he needs to learn how to start swallowing cock.
He needs to learn technique, and ability so he can take whatever you want to make him swallow, length wise.
TIP – While you have him practising you can get a harness for a strapon, try on what you like. He should be practising for a while, and you can taunt him with getting him to fasten your strapon harness.
As you get to the larger dildos there will come a pint when it's not necessarily gentle sucking, kissing and making lip suction. The submissive will feel the dildo at the back of his throat,
So let's get to what you want to see from him practising.
Enthusiasm – this is perhaps the most important factor over the long run. You submissive must learn to 'give head' like a pro. No light kissing or gentle tip sucking, or reluctant throating, eventually he must overcome all of these.
He will probably start slow but eventually you want to see some enthusiasm. In fact, many would say that enthusiasm is the single most important factor when giving head.
Enthusiasm means you listen eagerly to instruction.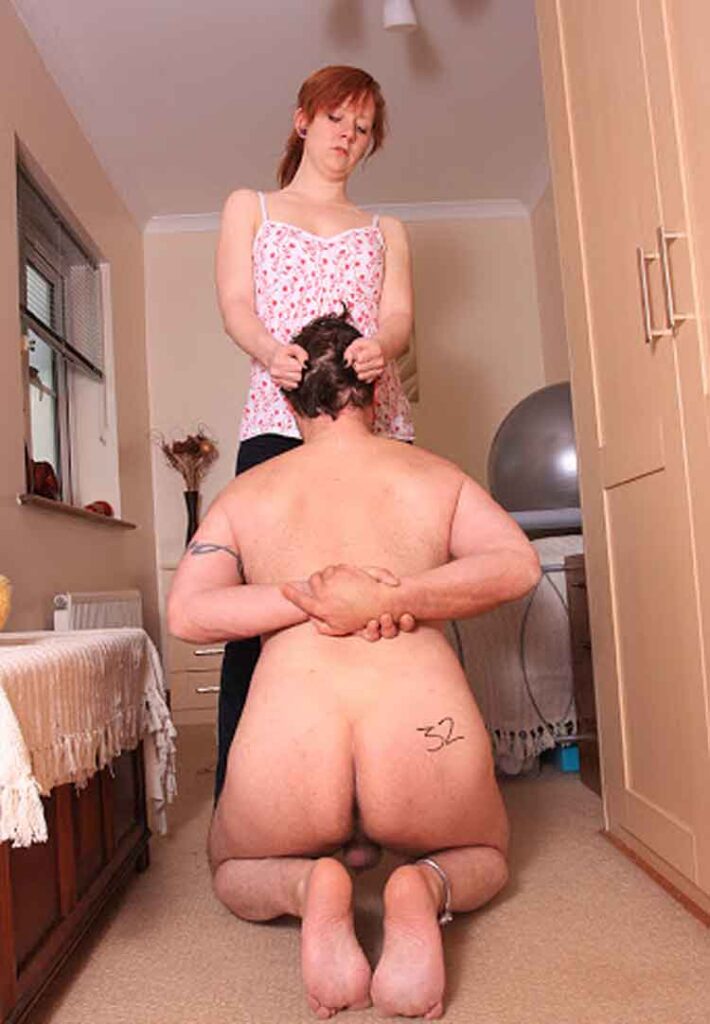 Listening to instruction, being enthusiastic and energetic is the very heart of giving head. A submissive who enthusiastically will bob up and down, suck, slurp, kiss, tongue and generally get lip suction on a shaft will always be considered as giving a good BJ.
Language – there's nothing like those sweet murmuring sounds of the submissive giving oral. Make sure he is appreciating and enjoying the task.
Relaxed – the submissive needs to be comfortable and relaxed as he is learning to give head. If he is tense then his jaw will tighten up and teeth may contact the dildo. Get a good steady rhythm for him going as he slurps that shaft.
Tongue – make sure that tongue is a good slippery buffer between the shaft and the lower jaw. No teeth, no no. Make sure that tongue does its massaging tricks.
Slow and fun – not everything is a race. Giving head is about varying pace, and changing it up and down. Some long slow licks and light caressing, followed by some quick bobs and slurps.
Suction – you remember that BJ slurping sound right, well that's the lips breaking suction and causing a partial vacuum in the mouth.
Technique – make sure he changes his technique often so he gives a good BJ. It isn't just a repetitive motion from start to the end. Start him doing random change ups, and learning how to really give good head. If the dildo he's sucking has balls, make him tickle them.
TIP – get a real looking one with a suction cup. The suction cup can then be put on the window or door, to which you can have your sub kneel in front and show you what he's learning.
Once he is sucking and slurping like a professional, you can move onto your own strapon dildo.
Moving To Sucking Yours
This is the stage where he goes from practising in the theoretical world to actually putting the theory into practice.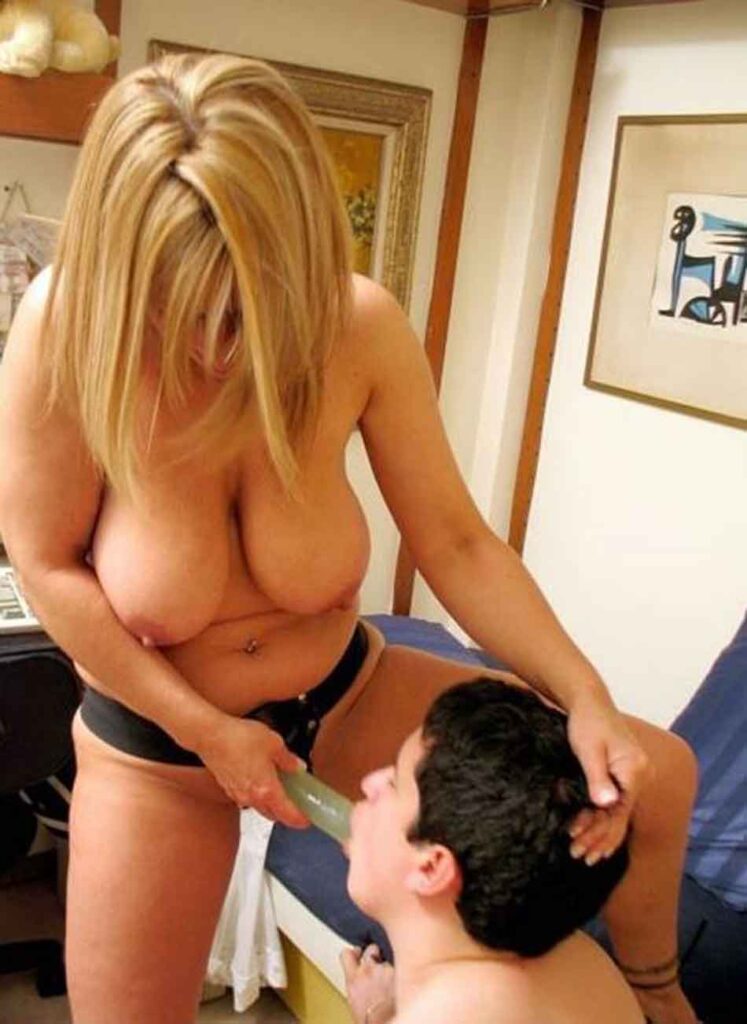 Once he is enthusiastically sucking and getting the lip suction on a stand alone dildo, it's time to don the harness, place in the strapon, and get him on his knees and sucking you like his life depended on it.
Probably best to start with a small dildo, as now it's a more live environment, but you can start with a size that is comfortable.
At least at first, as you will eventually be pushing that a little.
You can definitely have fun here, and ask for a BJ before you go to work, or the last thing at night.
You can even watch a romantic movie, and ask for one after it ends, or even during if it feels right.
The point to be made is that your submissive should now be sucking and licking that strapon as if it were real. You don't need to start rough but he needs to get used to giving you a BJ when you ask for one.
Ideally you want to see a transference of skills from him.
Once he has mastered the art of giving you a nice pleasant BJ, then it might be time to up the ante to those of a true professional, and get him into deepthroating you.
Making The Sub Learn To Deep Throat
What a lucky submissive you have, he impressed you enough to graduate to a strapon with mistress.
Also, he might well have to learn how to really give a mistress some fun by learning how to take that dildo right down his throat.
One of the first things you are going to need to teach him when learning to deep throat is to overcome the gag reflex.
Gagging is a perfectly normal reaction to objects going into the mouth towards the throat. One study seemed to suggest that around 4 in 10 people don't possess one, but it could be that your submissive has lower sensitivity, and thinks he doesn't possess one but he's not been exposed to extreme circumstances.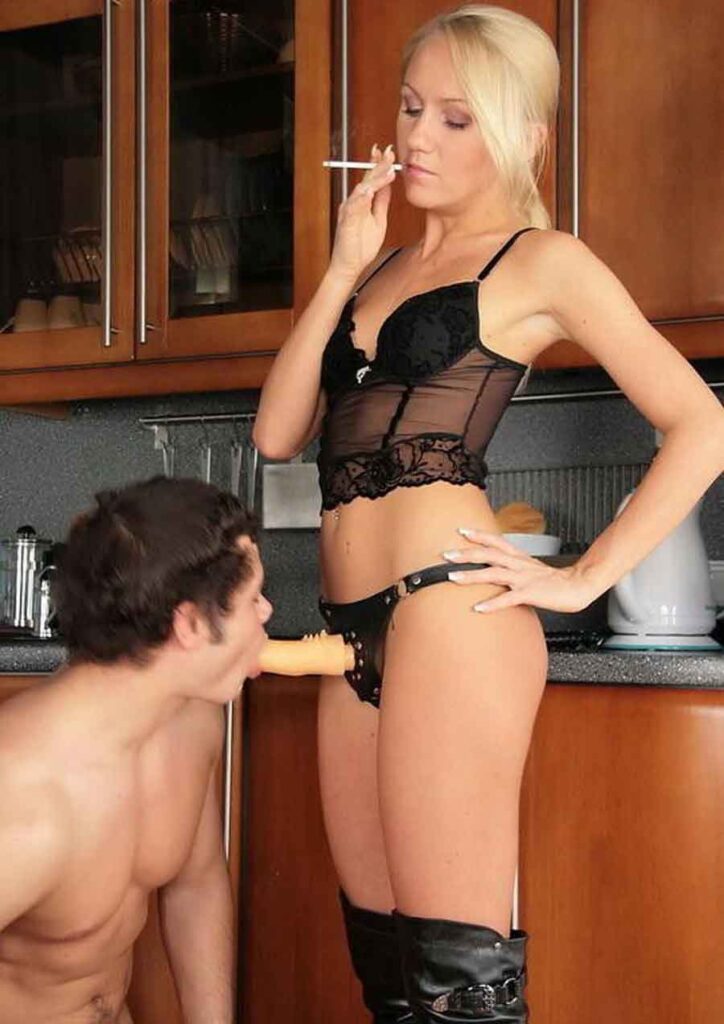 The message is clear, go slowly, as you teach him to take that dildo down his throat.
What should be known is that once you get that gag reflex under control, then deep throating will be pretty easy as it's the main obstacle. In the beginning the head of your dildo will likely trigger the spasm of the gag reflex.
This can be trained out of your submissive.
To simplify the process all you need to do is desensitise the area so the gag reflex doesn't trigger. This way he will be sucking you right to the very last inch.
It's not a quick process but getting that gag reflex under control is very doable. You need to prepare him. He can either do it on his own with you testing him every now and again, or he can do it under your supervision.
What he will be doing, either way, is to train the back of the throat right down to the tonsils to not initiate the gag reflex, which naturally spasms to eject whatever is causing the area to gag.
So, that training schedule.
Step 1 – If you have a range of dildo sizes then use these starting at the smallest, but a toothbrush or anything non sharp but phallic like will do. Run it under the hot tap to sterilize it, but get a range of phallic shapes together. Up to and including your strapon dildo.
Step 2 – Place it in the submissive's mouth and ever so slowly edge if back towards the gag reflex.
Step 3 – Move slowly, but at some point the dildo is going to hit the gag reflex. Stop moving the dildo in any further, and get your submissive to actively suppress the reflex. Bring it back a little if you have to but try a few times and keep repeating but not too much. The idea is he gets the beginning of the spasm but learns to suppress the reflex.
Step 4 – With the dildo in the submissive's mouth, get him to breathe through his nose, all while making sure the breathing relaxes the throat. This is quite tricky but eventually your submissive will relax as long as no rough placement is used. Slow and gentle, but eventually he will nose breathe while the dildo touches his gag reflex.
Step 5 – Without thrusting the dildo in and out as if they are really giving a BJ, place the dildo against the dildo at the back of the throat in 10 second increments.
Step 6 – Your submissive should try practising this around 5 times a day. Putting the dildo in his mouth pushing it back to the gag reflex and breathing through his nose. After 7 days or so you will probably find they are much better at taking that dildo down, as the gag reflex gets less sensitive.
Step 7 – Keep practising. Once it becomes easy with the small dildo while in a stationary position to suppress the gag reflex, you can start to try a little movement. Nothing rough, but just off the back of the sensitive area and then back on. This simulates the repeated stimulation of the gag reflex.
Step 8 – Still keep practising. A repeated stimulation of the gag reflex is very different and you need to be gentle, as over thrusting can bring about the feeling of being sick. Be very gentle at the start, but keep him breathing through his nose to stay calm.
Step 9 – Over time, probably a few weeks your submissive will have desensitized the gag reflex, to the point where the dildo can now slip in and out with relative ease. Your submissive should now be quite relaxed as you slip a dildo down his throat.
Step 10 – Slowly start increasing the size of the dildo you use, so eventually he will be able to take whatever monster you have in store for him.
Now that he has successfully learned a take mistress' dildo deep into his throat, mistress can now watch that submissive head going down on her any time she wishes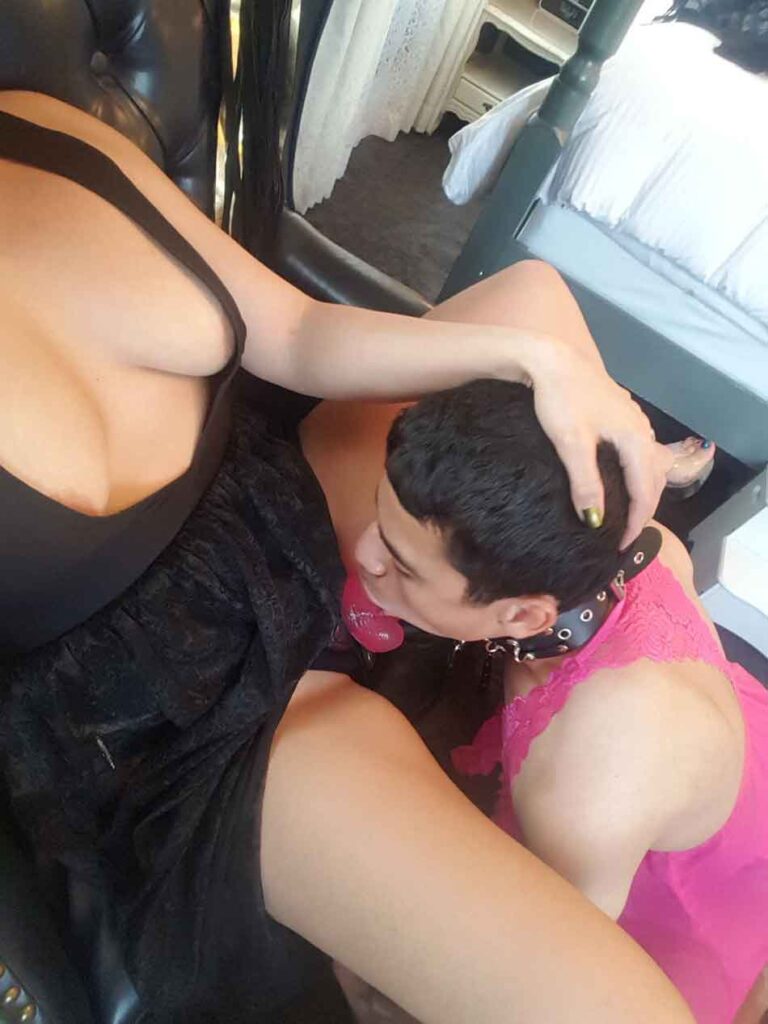 Understanding The Levels Of Forced Head
This isn't a BDSM agreed list of acceptable definitions or anything, it's just my take on the sort of levels that you might expect to see within the confines of a mistress and submissive relationship.
Not everyone is comfortable either performing or being on the receiving end of a deep throat that is rough.
These aren't to be seen as levels to aspire to, whatever level you are comfortable is fine. Some mistresses don't like the rough deep throating from a sub but like it for a bit ok kink.
Nothing wrong with that, so what are the levels that I am talking about?
Mild – This is just for the kink lovers. It's a level predominantly for play and light humiliation. The submissive may be required to 'crawl naked' towards the cock but in terms of fellatio it's light sucking, licking and didldo teasing. A light mocking from mistress might happen.
Medium – With moving up a level in severity, the submissive is taking the dildo into the throat as he's been trained. Mistress will likely tease the submissive more, and perform face slaps with the dildo. The language is harsher with taunts of "oh god, you are sucking that cock so well" and "you were born to give head". The submissive will be performing fellatio as if it were a real penis, including the act of deep throating.
Hard – Mistress is now acting like a very sexual dominant. The submissive is much more compliant as a sexual toy. Forcing the dildo into the mouth is now allowed, and mistress as well as making him deep throat can hold the submissive's head in position. Humiliation is now encouraged, and mistress' language now refers to the submissive as 'bitch' or other dereogatory terms. The submissive may be restrained and forced to suck and deep throat.
Extreme – Mistress now acts as if she has been overcome with sexual lust and is selfishly pursuing her pleasure. The submissive essentially becomes her 'bitch'. She is aggressive and forceful despite resistance. Hip thrusting the dildo down the throat of the submissive is now in play. The submissive will be gagging and drooling as the mistress is forcibly deep throating the submissive.
Rough Your Language Up
As ever with femdom, especially with a sexual component language can play an important role in the experience, both for the dominant or the submissive. Language from a mistress heightens the sense of authority and submissiveness.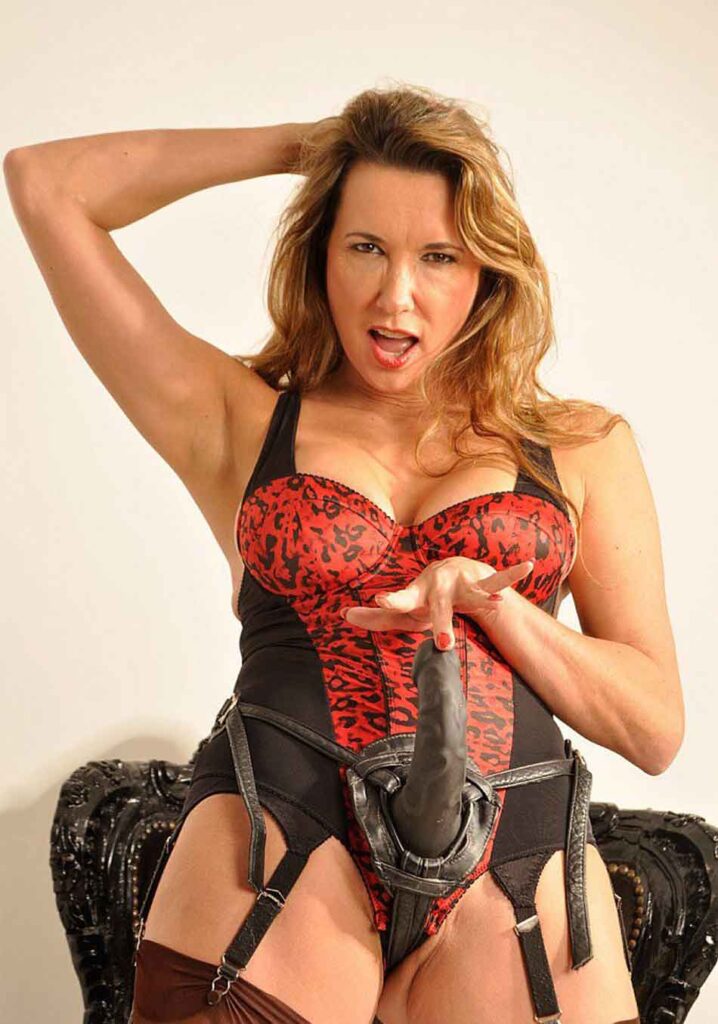 There are probably types of language, gentle, moderate, and forceful, each conveying a different tone and intent.
Let's walk through what I mean.
Gentle language
This is light and mocking, almost sweet, while being comforting and complementary in nature. It might be termed encouraging but the submissive should follow most instructions.
The language here is made to mock or slightly humiliate as well as provide an encouraging tone about ability or the pleasure received by the mistress.
So statements are thus
That's it baby, crawl over here to suck mistress' cock
Lick the shaft sweetie, get me all hard and wet
Oh baby you look so good taking me in your throat
Take it further down baby, make mistress proud
That's so good baby, faster, faster
You're such a good cock sucker honey
You're such a natural at this sweetie
I'm sure you get the idea, nothing too extreme, but more of a comforting and welcoming.
Moderate language
This is a little step up from gentle and it starts to treat the submissive as a bit of a toy to the point of being a slut.
What I mean by that is phrases like;
Get your bitch ass over here and suck this
Suck and lick it like the whore you are
You look such a slut taking my cock
Balls deep baby, I wanna tickle those tonsils
Get it right in there, swallow me whole
Show me some more enthusiasm, suck it real good
Oh yeah, you've done this before, such a good cock whore
I'm gonna blow my load soon, you'd like that wouldn't you
Again, the language is a little more sexual and direct and will make him feel like a sexually submissive toy.
Forceful language
This is the language of wanton lust and deprivation, with a no holds barred approach. You're submissive is nothing but a living slave to give you fellatio.
So try;
Get over here now whore and suck my cock
Get it wet for me so I can make you gag on it
Such a sexy bitch as you gag baby
Suck it till you choke baby, i want to see you gag
All the way down the throat whore, all the way down
Swallow me up baby, i want to see that chin on my balls
Get that dick down there whore
Such a cum bucket baby, suck it deeper
Nearly there whore, you'll be swallowing my load soon
You are trying to make him feel like a sexual toy.
Extra Humiliation
Although the idea of giving fellatio to a mistress might be considered submissive enough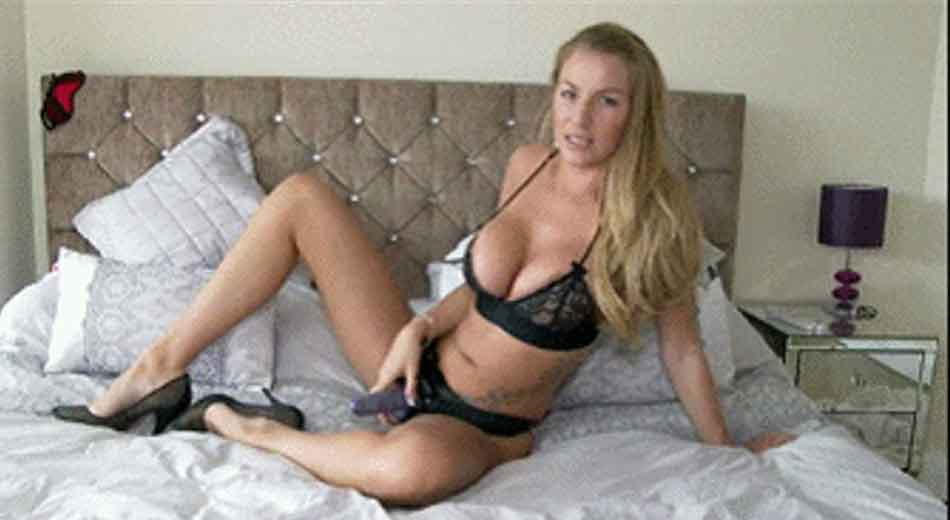 However, if a mistress really wants to taunt her submissive there's a whole world of imagination out there, but try this;
Taunt – Although a lot of femdom strapon is spontaneous, there's no reason why it can't be a little more planned, at least by the mistress, as there's no need for the submissive to know. On a secure app if he's at work, why not enhance it with some anticipation.
A mistress can easily take some prearranged photos for the purpose and send some taunting text messages
Blonde wig – "i want a BJ from a pretty blonde tonight"
Strapon POV – You'll be sucking this tonight
Sexy underwear – I want you in this gear and giving me head this evening
Make him beg – Once the submissive is at your feet or sitting near the dildo, kneeling even waiting for the instruction, you can prolong it with some teasing by making him beg for your cock.
Taunt him that he's just waiting to have a taste of the cock, and make him stick out his tongue. Just lightly slap the tip, or even slap his cheek with the shaft. However, make him physically beg to be able to suck. Directly ask him to ask for the cock, and how he wants the chance to suck, lick and deep throat it.
Feminization – As a female normally delivers a BJ, at least percentage wise from a population, why not dress him up like one.
The submissive can be made to dress in sexy underwear, a skirt and blouse, a dress, and even complete the outfit with awig if a mistress so chooses, but the point is he has been feminized before performing oral.
Some Kink Tips To Consider
If you want to add a little spice to the mix then mistress can think about trying these suggestions.
Act like it's a real penis – As a mistress why not act and use language as if it's a real penis. Act the part up a bit.
Make the appropriate noises as he kisses, licks and sucks. Act up as if you are really being stimulated. The mistress can make appreciative murmurs but as the submissive gets into rhythm, she can fake spasms of pleasure.
Or she can withdraw and say "nearly blew my load there sweetie"
Face slaps – This is a toying trick but a mistress can move away a little if she has a large dildo and slap the shaft into her submissive's cheek. Maybe even a few times before placing it back into the mouth,
Tongue rest – The submissive should be made to stick out their tongue and remain still. The mistress can then place the strapon on the tongue and ride the curled flesh in and out of the mouth. The submissive doesn't do anything but take the mistress' hip movements.
A mistress can even lightly tap the tongue with the head and demand he get the shaft wet.
Squirting dildo – You can actually purchase a dildo that has the ability to ejaculate. A syringe or bulb is filled with liquid and depressed and the dildo obliges by disseminating a sticky load. As you can make 'fake cum', why not try.
Then when the mistress is receiving her next BJ, she can proudly proclaim she is about to come, stroke the shaft a bit and unload into the submissive's face.
BJ porn – The submissive should be looking at deep throat porn videos to see how they practice, and what they can take. He can then take the mistress' dildo.
Restrain – The submissive can be physically restrained. Multiple options here, on a bed, a chair or tied to a tree in the garden of nearby woods. The submissive has no escape and has to take the dildo as hard and as fast as the mistress desires.
Hold the head – When the submissive is deep throating, then mistress can declare he hold, grab the back of the head and hold the submissive in the gag. It can produce a slight choking, but it is very submissive and authoritative, as she essentially has control over her subs breathing.
Produces plenty of spittle as well.
Tied hands – The submissives hands are tied, so he can't balance properly, nor can he resist a head hold quite so effectively. It enhances the submissive nature of the fellatio.
Chastity cage – This is something to screw with the mind. The submissive prior, during and sometime after can be placed in a chastity cage. This forces the submissive to concentrate on the mistress' cock and not his own.
Mistress has the dominant member,
Manhood comparison – When appropriate a mistress can do a manhood comparison, and put the two cocks together. She can make unflattering remarks about sizes, and perhaps mention that the one with the biggest penis gets the BJ.
Sexting – Endless pictures and texts while the submissive is at work can prepare him for the night's ritual. Or even if he is just out. It adds that little extra kink so he knows what the evenings activity might be about.
Mouth plop – The mouth plop is the sound a cok makes breaking suction as it's slid across the cheek. A mistress can have fun inserting the dildo, pushing it to one side of the mouth so the shaft bends and then forcing it out the mouth at an angle.
Humiliation – If the submissive is particularly good and enthusiastic a mistress can comment about what a good cocksucker he is, and how much she could rent him out for in the gay magazines. If he isn't then she can say "not going to make much money from you with these skills.
Eye contact – Demand eye contact for that sexy extra little touch, and watch back into those eyes as the strapon slides in and out.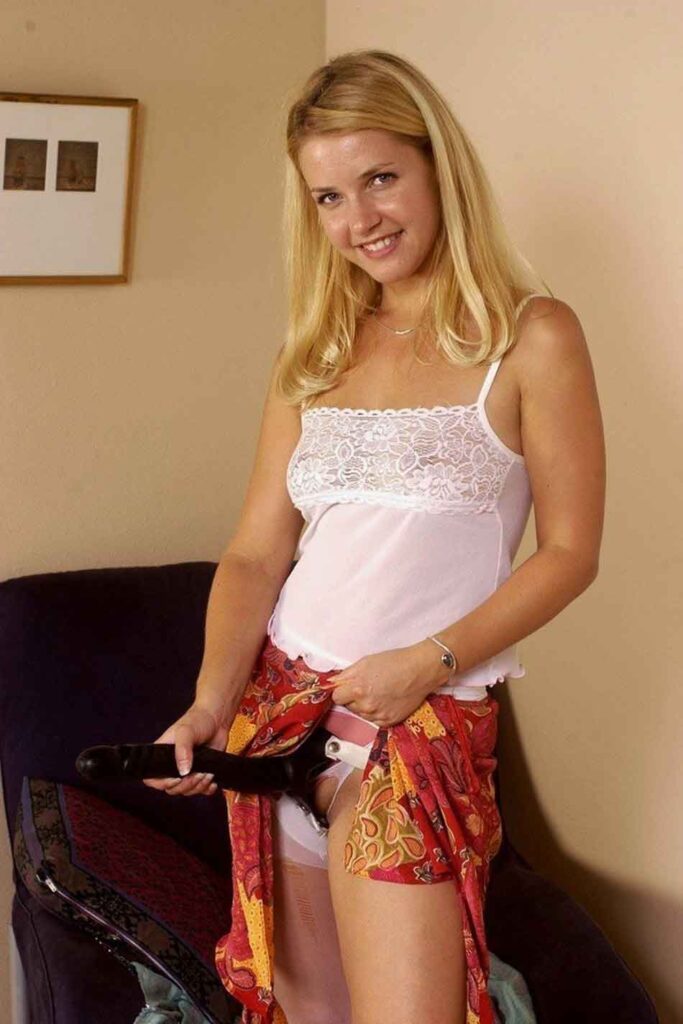 Mouth opener gag restraint – You can actually purchase gags for the mouth that keep it open, that way the mistress can slide her strapon in and out at will. If the submissive is restrained then he is truly helpless.
Final Thoughts
So, there you go, a few ideas for kinks to both satisfy a mistress and a submissive.
As a submissive you must be willing to learn skills that will satisfy your mistress, and if she enjoys the sight of that strapon sliding into your mouth, then so be it.
As with everything is to have fun, albeit safely, but use the tips and techniques to truly enhance that gentle femdom relationship.
Get A Convincing Open Letter To Send To A Prospective Dominant
The easy way to get your partner to think about trying a Female Dominated Relationship
Trying to talk to your partner about the benefits of a female led relationship can be hard. Use this open letter to help or to prompt constructive dialogue.